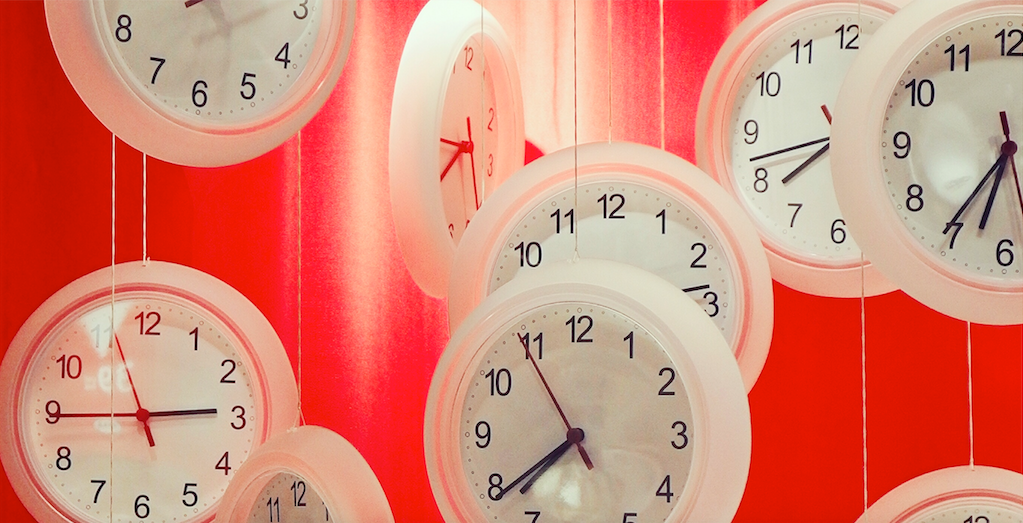 Event Marketing Strategy: Timeline, Template and Tactics
If you run events, you know that no matter how amazing your events are, they very rarely just "sell themselves." Annoying, right?

To sell tickets, you need to be armed with an event marketing strategy that effectively promotes your event, and reaches your target audience. You know you want to use social media, email, and word of mouth to drive your ticket sales, but the best event marketing strategies follow a timeline and a logical sequence — each promotion reinforcing the last.

Of course, it's impossible to create a perfect "catch-all" event marketing plan. Every event is different — as is every lead time, budget, and target market. That said, there are some common tactics that can help guide you as you create your event marketing calendar.
1: Pre-Event
Pre-event page
One of the most common mistakes people make in marketing their event happens before they've even started! Too many organizers forget they can create an event page and push it live to capture early interest, even if all of the details aren't yet finalized.

Once you've created a pre-event page, you'll have a central page to drive people to. You can use it to capture leads and early interest (which can then be contacted later) and it will help build up your SEO authority with Google.

If you do go down this route, you can also offer a super-early bird incentive to those who pre-register, helping you to capture even more early interest.
Blog post
The next action item in your pre-event marketing strategy is to tell people why you're organizing the event. This is your mission statement.

If you're not sure why it's important to have a mission statement or explain "why" you are organizing an event, take a few minutes to watch this video from Simon Sinek (you won't regret it!).

You can use this to fuel the rest of your pre-event marketing, rally people around your idea, and convince them of the need for your event.
Social media
Getting on social media early is an important way to create momentum for your event promotion, building a community and spreading the mission that you've written about in your blog post (which you can link back to in your posts).

At this stage you should already have created an event hashtag (read this post on how to create a good one), and should already be using it in your social posts.

Don't forget the huge range and diversity of social media available to you now. Facebook, Twitter, or LinkedIn might be obvious choices, depending on what kind of event you run, but consider Instagram, Snapchat, Pinterest, or YouTube.
Partner outreach
Event marketing partnerships can be crucial to your event's success, so you need to start reaching out to potential collaborators, complementary brands, and media partners early — way before your event has officially launched. This way they can help you spread the word from the very beginning.
2: Event Launch
Email
Emails about events have a 26% open rate — much higher than typical marketing emails — so email should be central to your campaign and ticket sales. With your event now ready for prime time, get your first major email blast out to your potential attendees, including those who pre-registered.
Press release
While it's unusual for events to be picked up by national press, it's still worthwhile issuing a press release and sending it out through free distribution channels.

If you write it your press release with key search terms in mind, then anyone with Google Alerts set up for those terms will see your release. You may get some local, trade, or niche press pick-up (not to mention blogs and other personal authority sites).

If you are looking for wider press coverage, avoid talking about your event in a formulaic way — go beyond the date, location, price, etc. Instead, focus on one of two unique angles.

Angle option #1: Why your event is completely novel, strange, a landmark first, etc. Think about whether someone would chuckle about it — or take a second glance — if they saw their event in their Facebook newsfeed. If they would, a journalist may also pick up on it.

Angle option #2: dive into the human element. Are you (or anyone involved in the event) an interesting story? Have you overcome adversity or challenges? Is there a weird or funny story attached to how and why you've come to organize this event? Telling the human story is a universal strategy of mainstream press, so play to that if you can.
Blog and social
Your second blog post should focus on benefits of attending your event. Who are the headline bands, keynote speakers, celebrity chefs, etc.? You can then take the content from this post, rework it, and use to create a series of social media announcements.
Partners
Now is the time to ask your partners for their marketing support. The event is at its hottest when it's first launched and all the details are fresh and new.

Don't make your partners work too hard for you. Instead, you might want to write the emails and social updates you want them to send, and then just ask them to copy and paste.

It's good for all this activity to hit more or less at the same time. Even if the same people are being targeted, it will give them a sense of the event's momentum and importance, while helping to reinforce your message.

If you want to track how well your various event marketing partnerships are doing, you can use custom tracking links.
Day-to-Day
Regular email, social and blogging
You've now arrived at one of the toughest stages of event marketing. With the initial excitement of the event launch behind you, it's time to knuckle down and find ways to keep the momentum going.

The best way to achieve this through a cycle of content creation, social promotion and engagement, and email support.

If you continuously send out sales messages, these will get old very quickly and turn your audience off. Balance them with high value, interesting content that your target attendees will appreciate and find valuable.

You can then use your social channels to promote this content to your audience, invite them to comment (or create their own) and keep a conversation going about your event.

Email is also a great support tool, helping you get your content directly in front of your audience, and offering them something of value beyond asking them to register for your event (again).
Thought leadership and guest posts
Blogging on your site is important, but you need to reach new audiences beyond it in order to find new attendees. The best way to do this is through guest posting or creating pieces of thought leadership that others will be happy to share.

Again, what the specifics of this look like will heavily depend on your event. For conferences and B2B events it's relatively straight forward as you can create an industry report or offer a white paper that combines top tips from all your speakers.

For consumer events, it might be less obvious: You could create interesting infographics, gifs or other visual assets; write about 'what's hot' and breaking trends; or produce a series of YouTube videos, or podcasts, that capture their attention.
Early Bird discount(s)
As mentioned above, once you've gone past the initial launch excitement for your event, you'll need to engineer more reasons to encourage people to register (and register now rather than later).

This where you can use the "early bird discount." Early bird discounts work by staggering your ticket sales to go up in price the closer to the event it gets. It's not uncommon to have more than one of these events.

The rest of your marketing activity should be geared towards building up interest and leads in the run-up to the expiry of your discounts, helping you create spikes of ticket sales.
Paid promotion
The day-to-day event marketing period is the best time to invest in paid advertising. There's no point doing it too early when you have nothing to sell. But wait until too close to your event and you won't give it the time to have a meaningful effect on results. So whether it's paid social media (promoted posts) or Google Adwords, PPC and retargeting, now's the time to put cash behind your campaign if you're going to do it at all. (For getting to most out of your paid digital marketing, check out our guide).

With any of these options you can turn them on and off at will. Concentrate your spend a few weeks before each early bird offer, helping to reinforce and amplify all your other marketing activities so everything enjoys maximum reach and impact.
Last Call
Final email blast, social, and blog
Whether you've been marketing for a matter of months or weeks, your event will eventually loom large in front of you, and with just a couple of weeks (or even just a couple of days) to go, it's time for your last-push marketing.

This will probably be in the form of another volley of blogs, social media updates and email blasts.

If there is any networking involved, then it's a great idea to use the concept of "social proof" at this stage. Show the world who is already going to be at the event, which will help convince others they should be there too.

Your final blog posts, social media updates and emails should now take on a more urgent, sales-focused message as you've spent the past few weeks or months building up a relationship – now is the time to be super clear with your direct calls to action and convert that long-term strategy into ticket sales.
Attendee referrals
This is a frequently missed opportunity. Many organizers focus solely on bringing in new attendees, forgetting that they have a potentially killer marketing tactic at their disposal – those who have already been convinced of your event's value and registered their place.

Why not reach out to your existing attendees and incentivize them to promote the event on your behalf? Word of mouth is consistently shown to be one of the most powerful and effective marketing tactics you can utilize. You could even offer them referral fees if they become an affiliate, which is easy to track and manage with Eventbrite.
Influencer outreach
If you're looking to fill a few last-minute places or get word out in an impactful way, then influencers could be your best shot. While it may be advisable to contact them at the start of your campaign, there's a good chance they'll be busy and so won't have committed. Even if they did, by now they might have forgotten about it.

Now's the time to re-engage with them and, if they are free, they'll no doubt appreciate the invitation and repay your generosity by telling their network about the event.
Phone
Employing telesales teams is expensive, and only effective if you've got a great inbound marketing program to support them with lots of fresh, warm leads. Don't hesitate to pick up the phone yourself!

If you've noticed that a few of your targeted attendees, or some of those pre-registered leads, have still not bought a ticket, why not give them a call?

Ask if there's anything you can help with? Do they have any questions? It doesn't have to be a hard sell, but it is much harder to ignore a phone call than an email or one of a thousand tweets on their timeline.

You'll probably find it's a relatively time-intensive but effective way of securing a few more sales if they're needed.
Conclusion
If you take the suggestions above as a roadmap to help shape your event marketing strategy, you will be in a much stronger position to build momentum and ultimately achieve more ticket sales. And now that you have your marketing strategy, set up your event now and put it into action.