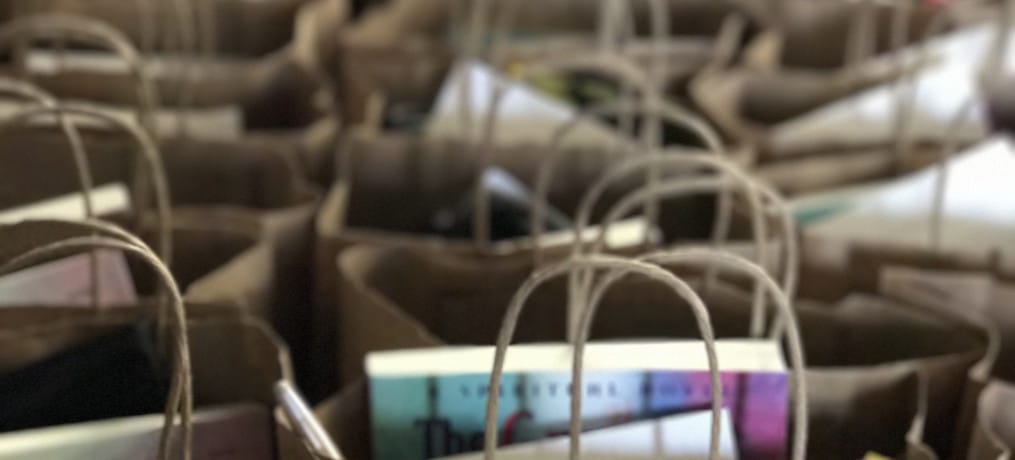 13 Original Swag Bag Ideas to Thrill Your Attendees
Swag bags might be synonymous with events, but if you're giving away free stuff that attendees have no use for, you can guarantee it'll end up in the trash before they leave the venue.
Ultimately, your swag's quality reflects your brand. And since attendees are inundated with free giveaways everywhere they go, it's important to choose items that they'll actually hold onto and use in everyday life. The goal is, after all, to expose as many people to your brand as possible.
To help you choose the right swag, here are 13 unique giveaway ideas to thrill your attendees.
Swag Idea 1. Eye masks
The easier it is for your swag to be packed into a carry-on, the more likely it is to make it home with attendees. Eye masks are useful, never go out of style, and can help get your brand seen when event-goers wear them while traveling. Just make sure to go with a quality option!
Swag Idea 2. Portable smartphone chargers
Busy professionals rely on their smartphones for networking, emails, event navigation, and a whole lot more at your event. The last thing they need is to stop and charge their phone, which is why a portable charger makes such a great swag bag idea. They'll love skipping the outlet!
Swag Idea 3. Cord tacos
One day, everything will be wireless — but until then, we have to manage the cords in our lives as best we can. Cord tacos make it easy to wrangle headphone, USB, and power supply cords into neatly contained bundles for knot-free usage straight from your bag. Plus, they're really cute.
Swag Idea 4. Self-care kits
Modern life is hectic and with all that busyness comes a serious need to de-stress and relax. So why not tune in to the burgeoning wellness movement with a collection of anxiety-reducing activities? Adult coloring books, colored pencils, and candles make a great calming trio.
Swag Idea 5. Wine corkscrews
If alcohol-related swag is on-brand for your business, then a personalized wine gift set can add a nice touch to your giveaway bag. Including a stopper, waiter corkscrew, drip ring, and pourer in a round gift box, the set can be branded and is compact — a bonus for traveling attendees!
If your event attracts beer lovers rather than wine aficionados, bottle opener keychains are perhaps the only keychain swag that will leave attendees happy instead of rolling their eyes.
Swag Idea 6. Tumblers
A lot of people own glassware with a logo on it. That's a pretty convincing argument for splurging on high-end drinkware for your swag bag. Plus, tumblers can be used for any type of drink and come in all shapes and sizes — and are a nice change from more typical branded water bottles.
Swag Idea 7. Beer glasses
Loyal beer fans take pride in owning beer glasses with their favorite breweries' logos on them, but offering branded beer glasses isn't just reserved for beer festivals. If your attendee demographics are the right fit, consider offering a beer glass branded with your own logo.
Swag Idea 8. Experiences
Want to avoid the chance of your swag ending up in the trash altogether? Offer an experience. For example, you could include a voucher for a special, VIP experience at your event, or tickets to a nearby attraction. This especially works well for attraction-rich event destinations like Las Vegas.
Swag Idea 9. Drones
Whether you think drones are no better than a remote-controlled toy or a serious tool for applications spanning videography to delivery, they're here to stay. Yes, they're expensive, but how excited will attendees be when they receive one as a giveaway?
Swag Idea 10. Complimentary headshots
Want to grab attendees' attention at a professional conference? Set up a photo booth and give away complimentary headshots! Many event photographers can serve as headshot photographers as well, and the result is more valuable than any plastic keychain.
Swag Idea 11. Seasonal items
Depending on the season your event takes place, tying in your swag to the time of year can be a fun way to stand out. In summer, for example, you can offer branded flip-flops or sunglasses. In winter, seasonal tie-ins include hot cocoa kits and a warm hat.
Swag Idea 12. Webcam cover
You can never be too safe when it comes to technology and security. A webcam cover protects laptop users from being seen or recorded in the event of their webcam being hacked. More durable than a piece of tape, attendees can simply remove the cover to use the camera.
Swag Idea 13. Unique snacks
Finding unique food items that offer unusual flavor combinations or a healthful spin on classic snacks can be an exciting giveaway for fans. People need to eat, even when lunch is provided at an event, and a high-quality snack is always appreciated.
Bonus Swag Idea: Workout shirts
Sure, a t-shirt might be one of the most cliched pieces of swag, but it's also one of the most popular items given away at events. In fact, people in the U.S. own more promotional t-shirts than any other type of swag. So how can you entice attendees to wear yours out of the house?
By choosing an athletic shirt over the traditional 100% cotton "box" cut. Most people wear these types of shirts to the gym — which is way better than the bottom of a pajama drawer! People love the free shirts they get from marathons and races, so why not from your event, too?
Most importantly, what you put in your swag bag needs to match your event's brand. Show off your swag after you set up your next event with Eventbrite here.