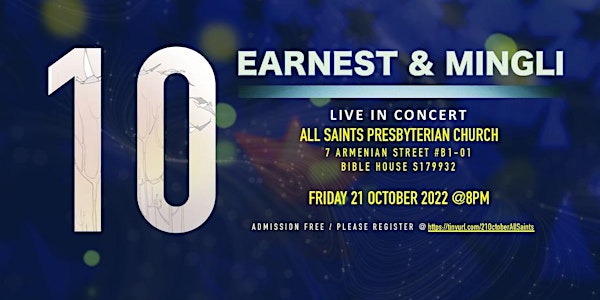 "10" - EARNEST & MINGLI live in concert at ALL SAINTS PRESBYTERIAN CHURCH
To celebrate ASPC's 24th anniversary, EARNEST & MINGLI are playing LIVE - join us for an evening of acoustic music story telling !
When and where
Location
The Bible House 7 Armenian Street Singapore, 179932 Singapore
About this event
By God's grace, 2022 is the 24th ANNIVERSARY of ALL SAINTS PRESPYTERIAN CHURCH. ASPC has invited EARNEST & MINGLI to play a concert for us as part of our celebration.
Since 2012, EARNEST & MINGLI have played their faith-themed songs and released passion projects including
2 music CD albums PAPERSCAPES, 2012; and TWELVE WINDOWS, 2017, and 'Life Ordinary a song contribution in Micah Singapore's album POETS & PROPHETS, 2020; and
2 video recordings CHAPEL CAROLS, 2020; and a short documentary SISTER OF SANDAKAN, 2021 (both available on YOUTUBE and VIMEO).
"10" is the title of their 3rd album of 10 songs that tell the story of God through musical imaginations of selected Bible narratives. They are playing 10 concerts from now until the end of this year. We look forward to enjoying this concert together with you!
For more info on Earnest & Mingli, visit: https://earnestmingli.com/