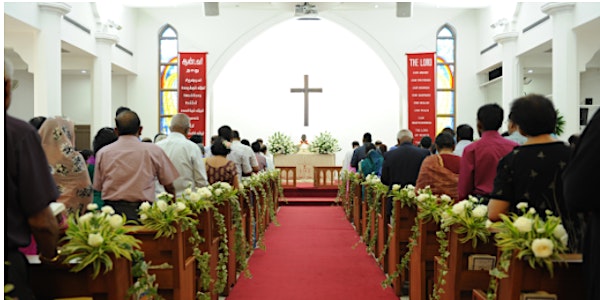 100 PAX Tamil Holy Communion VDS Service |20 March 2022 | 09:15
Onsite Service - Tamil Holy Communion VDS Service. Max 100 Pax. Booking is on a first come first serve basis.
When and where
Location
Parish of Christ Church 1 Dorset Road Singapore, 219486 Singapore
About this event
Important message before you make a booking
In line with MCCY's current guideline, worshipers are required to sit in 'groups of 5'.
As this is a Vaccinated/Exempted/Tested Service (VDS SERVICE) only those who meet this criterion and children aged 12 and below can book to attend this service
Face mask to be worn at all times FOR WORSHIPERS. Non-contact, non-sharing, no crowding or mingling before/after services. No F&B reception before/after services. The Canteen will be cordoned off. Additional caution for vulnerable groups elderly and people with chronic conditions. All worshippers entering the church premises are required to use ONLY Trace Together Token or the Trace Together app for check-in.