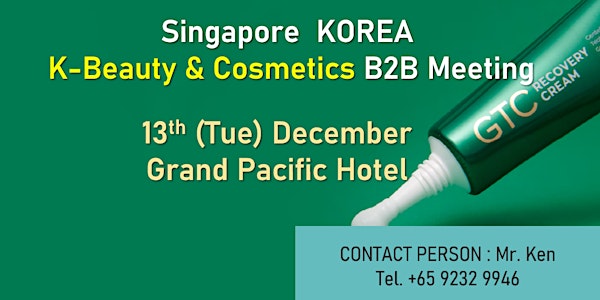 [13.Dec] Singapore Korea K-Beauty & Cosmetics B2B Matching
K-Beauty B2B meeting Grand Pacific Hotel @101 Victoria Street, Singapore
When and where
Location
Grand Pacific Hotel 101 Victoria Street Singapore, 188018 Singapore
About this event
Singapore Korea K-Beauty & Cosmetics B2B Meeting
13th (TUE) December 2022
Grand Pacific Hotel @101 Victoria Street, Singapore
Dear Sir/Madam,
Hello. I am Ken at the Organizing Committee of the Singapore Korea K-Beauty & Cosmetics B2B Meeting
We are pleased to invite you to Singapore Korea Bussiness Matching scheduled to be held on 13th of December(TUE) on Grand Pacific Hotel (L2). The purpose of this B2B meeting is for the Korean Companies to seek the opportunities to collaborate with overseas partners in Beauty & Cosmetics & Lifestyle Industry.
Non-compulsory purchase or any biz deals to make at all. Feel free to join our event, broaden your network and read the current trends of the Korea in the field of Beauty & Cosmetics and Sports shoes.
Date & Time : 13h (TUE) December 2022 (09:00~17:00)
Venue: Grand Pacific Hotel @101 Victoria Street, Singapore
Hosted by: Anyang City Hall
Featured products: Beauty & Cosmetics and Sports shoes.
Number of Korean Companies: 10
Singapore Korea K-Beauty & Cosmetics B2B Meeting : A list of Korea companies
If any of these companies interest you, please provide us the Korean companies you are keen to meet and indicate your preferred time of the meeting as per the below information:
Interested Korean companies for no-commitment discussion: ________________
Preferred time for a meeting (on 13 Dec 2022): eg. 2-4pm ______________
Contact Information (DID or Cell Number) for ease of communication: ________________
Email Address :____________________
Company Name:______________________
Company Website:_____________________
Biz Category: Distributor / Agent / Publisher / Others_____________________
We, the Organizing Committee shall arrange a meeting for you based on your preferred date & time & Korean Companies you are interested in exploring more.
▪ Meeting Process: One-on-one speed meeting for about 35-40mins per session.
▪ Korean - English translator shall be arranged per meeting.
▪ Deadline Application by 23th NOV
Looking forward to hearing from you soon.
Thank you.
Kind regards
Mr.Ken
The Organizing Committee of the
Singapore Korea K-Beauty & Cosmetics B2B Meeting
Tel.+65 9232 9946