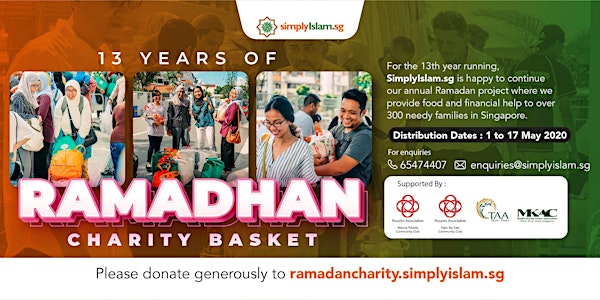 13th Ramadan Charity Basket
Let's help over 300 sick, poor and needy families this Ramadan and Eid with food and financial assistance!
When and where
Location
SimplyIslam.sg 152 Still Rd Singapore, 423991 Singapore
Refund Policy
Contact the organiser to request a refund.
Eventbrite's fee is nonrefundable.
About this event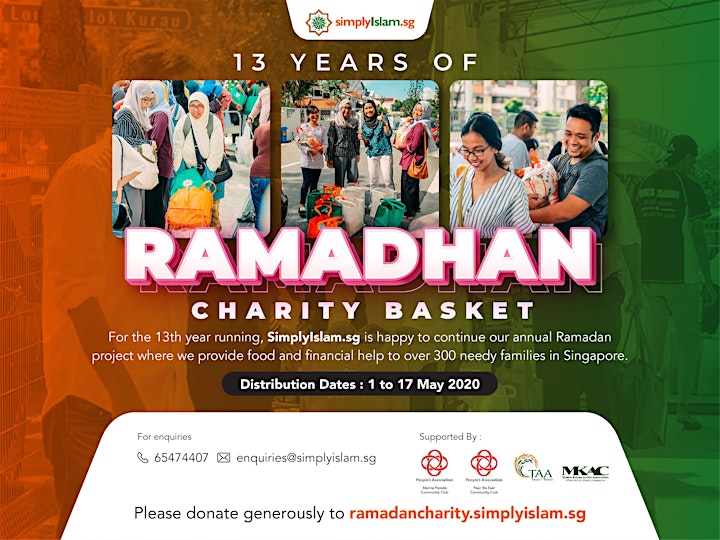 13 Years of Ramadan Charity Basket
For the 13th year running, SimplyIslam.sg is happy to continue our annual Ramadan project where we provide food and financial help to over 300 needy families in Singapore in time for Eid al-Fitr.Watch a video of one of our recipients here:
https://www.facebook.com/simplyislam.sg/videos/10155558736106264/
Our Partners - Muslim Kidney Action Association (MKAC) + Marine Parade CC + Pasir Ris East Constituency + TAA Trust Fund
In the early days, we organised the charity drive with only Muslim Kidney Action Association (MKAC). The organisation provides care and support to Muslims who are suffering from kidney failure and chronic ailments, and provides financial assistance to the families concerned.Over the years, we've collaborated with more organisations and groups, thereby increasing the Ramadan Charity Basket recipients!
On top of MKAC recipients, we will also be helping recipients from: Marine Parade Community Club. The CC supports needy recipients living in Marine Parade, and in collaboration with the Malay Activity Executive Committee (MAEC), the Marine Parade needy recipients will receive the goodies from the Ramadan Charity Basket!
Additionally, we will continue to extend our hand to help some needy residents residing in Pasir Ris East Constituency, specifically, the poor, needy and ailing residents of the rental flats along Pasir Ris Drive 3. These are some of the poorest people in the eastern part of Singapore. They reside in this heavily subsidised rental flats as they cannot afford their own homes. Many of them are old, ailing and unable to work due to their age and health conditions. Your contributions will go a long way towards giving them a semblance of normalcy, and a brighter, happier Eid, Insha'Allah.
TAA Trust Fund
We will also continue with our collaborative efforts to support the poor, sick and needy under the umbrella of TAA Trust Fund. TAA Trust Fund, otherwise known as Tabung Amal Aidilfitri Trust Fund, is an established charity with strong links into the community. They sustain over 3000 beneficiaries, and our Ramadan Charity Basket will be extended to support some of these underprivileged families.
Covid-19 Victims
This year, we will also extend funds collected from this year's Ramadan Charity Basket to families and individuals who have been impacted by Covid-19 and its repercussions. This may include direct victims of the virus who may need financial support, as well as those whose jobs and livelihood have been affected by the impact of Covid-19 on our community. We also have parents who can no longer afford to send their kids to Madrasahs such as ours anymore, and we intend to subsidise the fees for these parents so that their child's education are not disrupted Insha'Allah.
Giving food, Eid goodies and cash to over 300 needy families
Eid, or Hari Raya, is a time when families cook delicious food, wear beautiful clothes and spruce up their homes in anticipation of guests. In Singapore, celebrations go on for a month long! Not all families can afford what the 'typical' Singaporean family enjoys and especially during Eid, it can feel even more lonely.The food provisions include rice, milk, sugar, dry foods and other basic amenities including Eid novelties, and some cash.
Please donate generously so we can make Ramadan & Eid better for these families.
Package Deliveries
If you would like to volunteer to DELIVER the Baskets, please email your Name and Contact Number to enquiries@simplyislam.sg or call 65474407.
Delivery of the Baskets will be conducted over two weeks from: 01 May 2020 to 17 May 2020 (Subject to Change). Please volunteer to deliver especially if you have a vehicle!
How You Are Helping
Each Basket has rice, milk, sugar, dry foods and other basic amenities including Hari Raya (Eid) novelties. They cost around $200 each.
We want to raise $100,000 to continue providing for over 300 needy families this Hari Raya or Eid. If we raise more, each family will get some cash Insha'Allah.
How to Help
1. Share this campaign with your family, friends and on social media!
2. Donate generously. If you are unable to sponsor one Basket, gather a few friends to raise the $200 per Basket!
Cash, NETS, Credit/Debit Card or Cheque
Payment can be made by cash, NETS, credit/debit card or cheque. For cheque payment, please issue a crossed cheque payable to SIMPLYISLAM. Please write your name and contact number on the reverse side of the cheque indicating "Ramadan Charity Basket". Please post the cheque to:SIMPLYISLAM.SG
No. 152 Still Road
Credit Card/Debit Card/Charge Card/PayPal
For payments by credit card, charge card, please choose any of the giving levels on the right of this screen. *Do note that for Debit Cards, only VISA and MasterCard are accepted.
Bank Transfer
SIMPLYISLAM - DBS Current Account
008-901930-9PayNow Proxy 53151494C786
(If you do a bank transfer, please email enquiries@simplyislam.sg with a picture or screenshot of your transfer together with your Name and Contact Number.)
3. Volunteer to help deliver (if you have a vehicle) the Baskets to the families in need.
NOTE: Do note that this campaign will be held concurrently with : LaunchGood.com/RamadanCharityBasket
The total monies collected from here and the link above will be collated and updated at the portal above. The launchgood portal can also be accessed at https://RamadanCharity.SimplyIslam.sg
May Allah subhanahu wa ta'ala reward you for your kind contributions with His Blessings and Bounties in perpetuity, Ameen.