1Q18 Results Briefing by CapitaMallT CEO & SREITs by PCM Portfolio Director
Description
Singapore REITS 2018
Based on Bloomberg's forecast, the projected yield on the S-REITs index is 5.6%* p.a.: one of the highest absolute yields among Asia Ex-Japan REITs.
Join us for this seminar to hear from our special guest – Mr. Tony Tan, CEO of CapitaMall Trust, who will be discussing CapitaMall Trust's Q1 2018 financial results and Mr. Martin Chong, institutional portfolio director of Phillip Capital Management who will be sharing his valuable insights on the Singapore REITs market.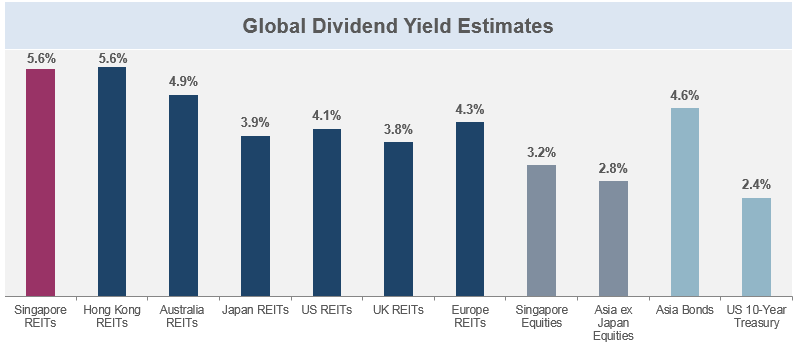 Refer to notes below for source
In this session, we will be covering:
1. CapitaMall Trust
- Financial Results of CapitaMall Trust Q1 2018
- Q&A with Mr. Tony Tan
2. Regular Income Tool – Lion-Phillip S-REIT ETF
- Insights on the Singapore REITs market
- Introducing the Lion-Phillip S-REIT ETF
Speakers:
Mr. Tony Tan Tee Hieong, CEO and Executive Non-Independent Director of CapitaLand Mall Trust Management Limited
Mr. Martin Chong, Institutional Portfolio Director, Phillip Capital Management
Mr. Tony Tan Tee Hieong was appointed as the Chief Executive Officer and Executive Non-Independent Director of CapitaLand Mall Trust Management Limited. on 1 May 2017. Prior to this appointment, Mr. Tan was the Chief Executive Officer of CapitaLand Retail China Trust Management Limited from July 2010 to 31 March 2017. He has 26 years of combined experience in international treasury, finance and risk management in locally-listed companies and multinationals, with the last 10 years in real estate investment, asset management, and capital market. He has a Bachelor of Accountancy from the National University of Singapore and a Master of Business Administration (Distinction) from the University of Manchester.
Martin is the Institutional Portfolio Director at Phillip Capital Management. Together with the management team, he covers the group's business development and facilitates alliances among the institutional channels. Started his career with Permodalan Nasional Berhad (PNB), Malaysia in 1998, Martin moved up the corporate ladders subsequently. Prior joining the company, he was with a UK fund management firm as a Senior Vice President taking charge of the business development in the Far East region. His career in sales team management spans across asset management, agency development, fund platform and online fund distribution. He holds a degree in Bsc. Agri-business (Hons) from Universiti Putra Malaysia. With more than 17 years of experience specialized in business development at financial services industry, he has an in-depth understanding of the Asian and ASEAN's Fund Management Industry.
Event Details:
Date: 24 April 2018, Tuesday
Time: 7.00pm – 9.00pm
Venue: SGX Auditorium, Level 2, SGX Centre 1, 2 Shenton Way, Singapore 068804
For further enquiries, please call 6531 1563 or email us at ferlyntanyj@phillip.com.sg
In the case where you are unable to attend this seminar, you may also register and catch us live on GoToWebinar at https://register.gotowebinar.com/register/4660605879880317186.
Schedule:
CapitaMall Trust Financial Results and Q&A: 7.00pm – 8.00pm
Regular Income Tool and Q&A: 8.00pm – 9.00pm
IMPORTANT NOTES FOR SEMINARS:
Please note that under the Singapore Personal Data Protection Act (PDPA) 2012, Phillip Securities Pte Ltd respects the privacy of all our customers and visitors, and are committed to safeguarding the personal information you provided to us. For event registrations, you will be requested to provide your personal particulars, which include but are not limited to the following:
a) Full Name
b) Contact details, including telephone number/s and/ or email address
Please note that Phillip Securities Pte Ltd will send out "Email Confirmation", Short Message Service (SMS), and events/seminars via email to all registrants for all Phillip Securities Pte Ltd events. All personal data held by Phillip Securities Pte Ltd will be kept confidential, will not use and disclose to third parties.