Description
Adobe Photoshop CS6 Workshop for Beginners (2 Days, 10am to 6pm)
Skills Future Approved & Claimable.
Skills Future Course Code: CRS-N-0040668
Receive a Certificate of Completion from The Good Designers upon completion of the workshop.
Summary of Lesson Objectives:
By the end of the course, you will learn how to design in Adobe Photoshop CS6, with various Design objectives - Namecard, Flyer and 3 fold Corporate Brochure
Day 1 of the workshop:
1a) Introduction to Photoshop
1b) Learn how to design a Name Card in Adobe Photoshop CS6
1c) Design your very own Name Card Design
1d) Learn how to design an A5 Flyer / Post Card with QR code
1e) Saving your files for print and web
1f) Question & Answer Time with Trainer
Day 2 of the workshop:
2a) Recap on Photoshop and its Interface
2b) Design your very own A5 Flyer / Post Card Design
2c) Learn how to design a 3 fold corporate brochure
2d) Design your very own 3 fold corporate brochure
2e) Consultation, Question and Answer with Trainer
To sign up for the workshop with your Skills Future Credits, please email us at skillsfuture@thegooddesigners.com as Peatix and EvenBrite receipts are not accepted on Skills Future.
What you'll need to bring to class:
• Laptop with Adobe Photoshop installed
• Laptop charger
• Mouse, Mouse Pad (Highly recommended)
• A notebook to take notes
• Pens for note taking
• Examples of design you like (optional)

14 Day Free Adobe Photoshop Trial
*If you do not have Adobe Photoshop you may download a free 14-day trial from the adobe website on the link below. Please ensure your computer's operating system supports the latest version of the software before downloading it. Do have the software installed prior to class.
https://creative.adobe.com/products/download/photoshop?promoid=IICUB
About the Trainer
Charmaine, is the Founder and Creative Director of Sky Digital Agency and Chief Learning Officer at The Good Designers.

Having run her own digital agency for the past 7 years, she also brings with her more than 2 years of experience in training adults. She also trains youth at risks under her social enterprise, The Good Designers.


Charmaine makes learning interactive, candid and fun, helping learners to be excited about applying what they have learned in their work or business even after the workshop.

The Good Designers currently has 5 Workshops Skills Future Approved and Claimable.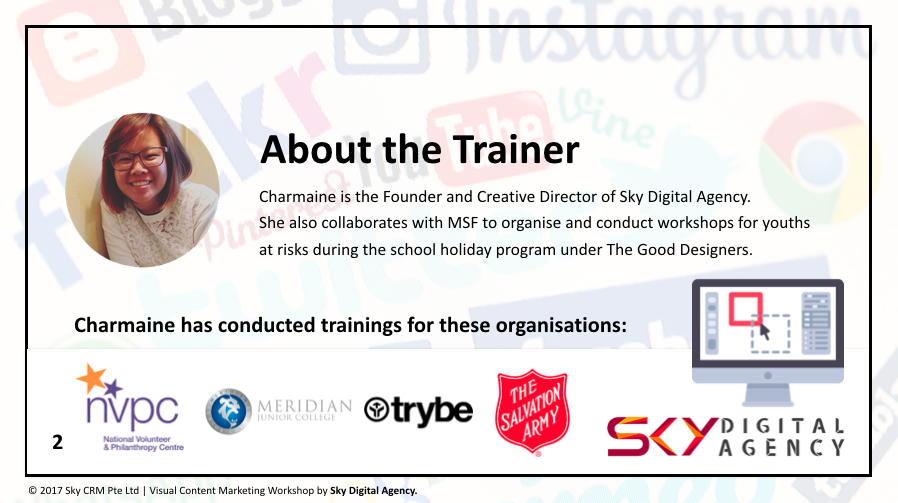 ---
FAQs
1. Who can i contact should i have questions?
You may e-mail us at sayhi@thegooddesigners.com


2. Is there a minimum class size to proceed?
Yes. We require a minimum class size of 4 participants to proceed with the class.
In the event that there is insufficient participants, The Good Designers reserves the right to reschedule the class. Under such circumstances, we will inform you no later than 3 days before the event.

3. Where is the venue of the workshop?
Waterloo Centre, 261 Waterloo Street, Level 4, Singapore 180261

4. What are my transport options getting to the event?

Nearest MRT Station(s):
Bras Basar (Circle Line) - 2 to 3 mins walk
Bugis (Green Line) - 7 to 10 mins walk
For drivers, parking is available in the building's basement at $2 per hour.