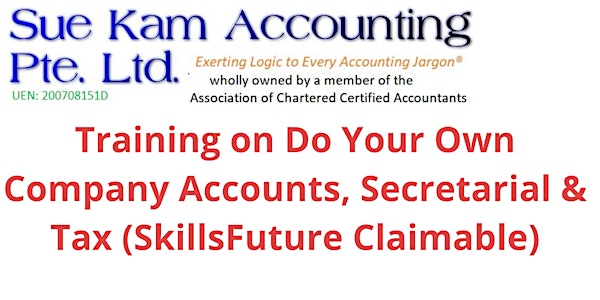 2-Days Training on Do Your Own Company Accounts, Secretarial, Tax (SkillsF
Training on Do Your Own Co Accounts, Secretarial & Tax (Skill Future Claimable) Note: Full training fee is S$688/= 1. Company Incorporation
By Sue Kam Accounting Pte. Ltd., Regn No:200708151D
Date and time
Sat, 22 Jul 2023 10:00 - Sun, 23 Jul 2023 18:00 +08
Location
Conducted via Zoom Synchronous E-Learning 402A Northshore Drive Singapore, None 821402 Singapore
About this event
1 day 8 hours

Mobile eTicket
 Training on Do Your Own Company Accounts, Secretarial & Tax (Skill Future Claimable)
Note: Full training fee is S$688/= per training participant. Balance $500/= you may wish to pay using SkillsFuture Credit or by PayNow or PayPal. If you want to pay the entire course fee using SkillsFuture Credit, whatsapps us at 9632 3790 or acctgcourses@gmail.com.
Training Course coverage:
1. Company Incorporation
2. Prepare full set of financial statements (including Income Statement, Balance Sheet and Cash Flows)
3. Book Keeping for Full Set of Accounts
4. Company Secretarial Matters
5. Tax Computation & Tax submission through Form C-S (for companies with revenue below S$5 million per year)
6. Brief browse on company and commercial law
​This would basically covers all that is needed to handle a small or medium, solvent private limited company (revenue below S$5 million per year) with no corporate shareholders. A small company would therefore only incur $315/= for a one-off incorporation fee and a yearly recurring annual filing fee of $60/=. This training is also suitable for aspiring entrepreneurs, with or without Chartered Accountant qualifications, thinking of setting up a business in providing book keeping, accounting, secretarial and tax services. 
Note: Accounting Software will NOT be taught at all in this training.
Course also Includes:
​​Hard & Soft Copies of course materials (editable sample documents such as Financial Statements, Company Registers, Minutes, Cash Book, Book Keeping, Forms & Our Super Simple Accounts Template 1,2,3 & 3a New).  Template 4, 5 & 6  (with customization),  will not be included in this course but is available at extra costs. Soft Copies of materials will be shared on Google Drive (two months access will be given) and participants' email address will be visible to other participants. You would be deemed to have given us consent to share your email address on Google Drive when you take up our services / products.
Assessment (for those who opted for it at extra cost)

Certificate of Attendance (no extra charge)

Certificate of Completion (for those who passed assessment)
Reference resources will be given for those who would like to do detailed post-course research and learning.
​Disclaimer:
Due to the inherent nature on these topics, we shall not be liable for any wrong,  inaccurate or incomplete information or advice/s or help provided by us (including by the trainer/s or anyone connected to us) in relation to and after this training. We will give our best endeavour to facilitate/guide our training participant/s to successfully manage their own company accounts and regulatory compliance. Due to the sophistication of information technology now a days, we are unable to guarantee that all our downloadable soft copies of files are free from virus/es, though we do not install any virus ourselves. You are advised to use reliable virus protection software.  Hard copies of materials will be given. In the unlikely event of any contingencies, we may need to cancel the training. If that happens, we will inform the participants and refund all fees collected in full to the participants, including SkillsFuture Credit collected by us. However, we have never cancelled any training before.
Our trainees may be added to our Whatsapps group chat (your phone number will be visible to other trainees) and our course materials will be shared with our current and past trainees on Google Drive. Trainees' mobile number, email addresses and other information such as profile names and pictures will be visible to other fellow current and past trainees and trainees are taken to agree to this. Trainees are not allowed to share whatever information on this training, Whatsapps group and Google Drive with any other person outside this group. Trainees must turn on video and display name during the online training.
Note : Our Training is free from all kinds of paid advertising (No Paid advertising nor commissioned sales). During the training, we may refer you to certain sites, such as ACRA, IRAS or other websites as they provide the necessary information but we do not get any form of payment from them for advertising. Training participants who wish to introduce any products / services may distribute / exchange name cards. This will enable a more conducive learning environment without such distractions and without the feeling of being obliged to various purchases or subscriptions.
Full Training Fee (without assessment) is S$688. Please pay S$188/= through eventbrite upon registration. The balance, you can pay by SkillsFuture Credit. Any balance after using SkillsFuture Credit, you can pay us by cash or cheque to "Sue Kam Accounting Pte. Ltd." at the start of the Training.​
Good News! Our Training is Skill Future Claimable on a Nett Fee basis. Eligible participants with available Skill Future Credit will only need to pay $688 - $500 = $188 per Participant. All Singaporeans aged 25 and above will receive $500 credit from January 2016.  Participants will need to go to www.myskillsfuture.sg to apply to pay us using your Skill Future Credit preferbly at least one week before commencement of the Training. Please contact us at 96323790 or email at acctgcourses@gmail.com so that we can email you the invoice for you to upload to SkillsFuture to apply to use it. If you want to pay the entire course fee using SkillsFuture Credit, whatsapps us at 96323790 or email acctgcourses@gmail.com.
Course Reference Number : CRS-N-0050024
Course Title : Training on Do Your Own Company Accounts, Secretarial & Tax
School : Sue Kam Accounting Pte. Ltd.
Area of Training: Accounting, Banking & Finance
Search for us at https://www.myskillsfuture.gov.sg/content/portal/en/training-exchange/course-directory/course-detail.html?courseReferenceNumber=TGS-2020502696
This is a 2-days training with 1 hour lunch break (1 pm to 2pm) each day.
Additional Information:
This course is open to everyone, including Singaporean, Singapore PR and foreigners. Singaporeans can the full course fee of $688/= using their individual SkillsFuture Credit, Singapore PR whom are Company Sponsored can offset the fees with a $28/= government grant thus only pay a net fee of $660. Requirements for this course is 1. Understand basic written and spoken English 2. Understand basic mathematics such as $2,000 + $3,000 = $5,000. You need to have a calculator with you. 3. As the course is conducted online, trainee must have a computer, ipad or at least an iphone to attend the course via Zoom. Computer would be preferable. We will offer help for those who need help to familiarize on how to use Zoom to attend the training, do let us know if you need help at least a few days before the course start. This is a 2 days course from 10am to 6pm both days.
About the organiser
Company Name: Sue Kam Accounting Pte. Ltd.
Regn No: 200708151D
Website: www.doyourowncompanyaccounts.com
Company Address:
1 Scotts Road, #24-10 Shaw Centre, Singapore 228208. (Near Orchard MRT) 
Tel: 64520145
Contact No: 9632 3790
Email: acctgcourses@gmail.com