2016 Family Day by RVHS & PTA 家庭日

Saturday, 15 October 2016 from 08:00 to 20:00 (Singapore Standard Time Singapore Time)
Event Details
Declarations:
PTA has decided against the online payment offers by Eventbrite as we do not wish to pass on their imposed ticket surcharges to you. As such, please ignore the term, "Free" under Ticket Information which is unavoidable due to technical limitation.

For ticket price payable, please kindly refer to the information on each respective ticket type.

For this particular event, we will have to 

collect payment from you prior to the event

 so as to finalise the number of participants with the Adventure Centre. Please read the following section "Important Notes for Registration" before proceeding to sign up.
Many of us are not as close to our kids as when they were younger, thus, let us come together on this day and hopes to provide a chance for everyone to have to a better time when we were closer to one another and hopefully through this re-forge a stronger bond......
The Student Council (SC) will design, plan and facilitate this whole day programme. We, the parents, besides bonding with our teens, will also get the opportunity to witness them showcasing their leadership qualities during the event!
Here are some details of the event:
Date                           :  15 Oct 2016 (Saturday, right after End Of Year Exam)
Venue                         :  MOE Dairy Farm Outdoor Adventure Learning Centre
Duration                      :  1 full day (8am - 8pm)
Tentative Programme:
Ice-breaker games

Adventure 

facilities (General Stations &/or High Elements) with engagement of MOE Certified Outdoor Instructors

B

onding games 

such as Amazing Race, Carnivals

by SC

2 meals (Bento lunch & B

uffet dinner)

Camp T-shirts

Concert or campfire (subject to availability of site)
☆☆☆ 

Don't miss our Early Bird offer for you and your family! 
 Complete payment before 15 Aug 2016 to enjoy this offer ☆☆☆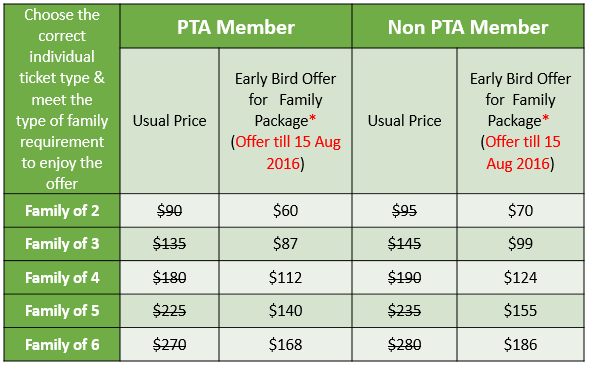 *Each Family Package should include a minimum of 1 RV Parent and 1 RVian.
Examples on registering for Family package:
Participants who take up the package offer for Family of 3, could have the following combinations of ticket type and quantity as illustrated below.
 a)    2 RV Parents [PTA member] and 1 RVian should register for
2 tickets under RV Parent[PTA member]

1 ticket under RVian
b)    1 RV Parent [Non-PTA member], 1 RVian and 1 Non-RVian should register for
1 ticket under RV Parent[Non PTA member]

1 ticket under RVian

1 ticket under Non-RVian
Important Notes for registration:
We will have to collect payment from you prior to the event so as to finalise the 

number of participants with the Adventure Centre.

There are 2 options for making payment, (a) Internet Banking Funds Transfer or (b) Cheque.  Payment instructions will be available to you once you proceed on to the registration under the Ticket Information.

Your order will ONLY be confirmed upon successful Internet Banking Funds Transfer or Cheque clearance.

Once we received your payment, we will send you an email at that time informing you that your fees have been received and your order is secured. We seek your understanding that fees collected are not refundable.

Participants are responsible for their own personal safety. MOE Certified Outdoor Instructors will brief participants on safety rules to be observed before the start of event.

We can only accommodate up to 90 participants (parents + teens) in this event, so hurry!

 
Looking forward to your active participation! Please email keys.exco@rvhspta.com or call 93841446, if you have any query. Thank You.
Yours sincerely,
RVHS SC & RVH PTA EXCO
------------------------------------------------------------------------------------------------------------------------------------
亲爱的立化家长,
随着孩子的成长,孩子们对朋友的重视多过父母。希望通过这个家庭日能够让您与孩子一起来放轻松,一起享受亲子活动,加深与孩子的沟通。
学生理事将为您们精心策划这的全日家庭日。在这全日活动里,您也可以看到含蓄的立化学子的另外一面。除了优异的成绩,您也将会发现他们不同一般的领导才能和朝气与活力。
有关节目详情与收费,请参考以上英文版。
 ☆☆☆ 不要错过我们的家庭优惠, 只要在8月15日前付费,您便能享有二至六人的家庭配套优惠 ☆☆☆
 重要的报名细节如下:  
我们须要先收费以便跟

Adventure Centre

确定参加人数。

我们有

2

种收费方式

(a)

 

银行电子转账 或

(b)

支票。当您选择付费方式后,程序将会引导您如何付费。 

只有银行过账后,您的名额才会被确定。到时

PTA

会通过电邮通知您。

请谅解名额一旦确定,概不退款。

参加者必须对自身安全负责。活动开始前,拥有教育部认证室外讲师会与参加者讲解必须严格遵守的安全规则。

我们总共只有

90

位(家长与孩子)名额,请及早报名以免向隅。
如有任何询问, 请电邮 keys.exco@rvhspta.com 或拨 93841446。
希望您能踊跃参与这个亲子活动!
RVHS学生理事会与 RVH PTA执委敬上
Do you have questions about 2016 Family Day by RVHS & PTA 家庭日?
Contact RVH PTA
When & Where

MOE Dairy Farm Outdoor Adventure Learning Centre
30 Dairy Farm Road
Singapore 679058
Singapore

Saturday, 15 October 2016 from 08:00 to 20:00 (Singapore Standard Time Singapore Time)
Add to my calendar
Organiser
The RVH PTA recognises the importance of parents' participation on the learning journey of their teens. We believe we can complement and enhance the roles of parents in the following ways:
Engagement– The PTA serves as a networking platform for parents to provide mutual support while connecting with the school.
Enrichment– The PTA is also a platform for parents to improve their parenting skills so they can better understand and support their teens.
Support – The PTA supports the school in providing RVians with a holistic education.
PTA 给予您另一个了解您孩子成长的渠道, 她是一个让家长参与,学习和交流的平台。一人计短,众志成城。加入PTA 的大家庭,成为孩子成长过程中的良伴。