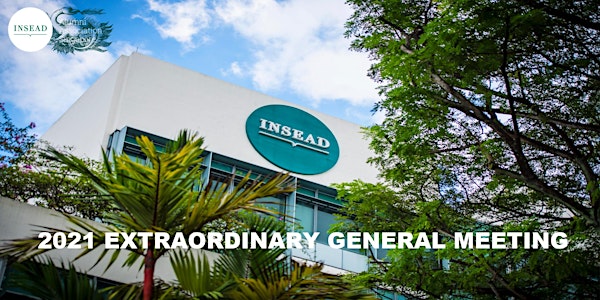 2021 Extraordinary General Meeting for INSEAD Alumni Association Singapore
Members-only online event to discuss and vote on 3 proposed motions followed by a fun social session to connect and reflect on 2021.
About this event
The Executive Committee is hosting an Extraordinary General Meeting to take collective action and seek your participation via a voting poll, on three important motions. Click here for more details.
Following the EGM proceedings, join us for a brief social session and virtual 'Cheers', as 2021 draws to a close. We've heard from many of you that it's been a challenging year, but also a year of change, growth, resilience, and in some cases, reinvention! As we look forward to 2022, we'll be taking this opportunity to catch up and do some informal sharing on the following topics, as well as some pure social time.
AGENDA
7:00pm: President's welcome message
7:10pm: Discussion on various proposals for voting
7:20pm: INSEAD Connection & Reflection
7:40pm: Social Time, Virtual Cheers + Group Picture
7:50pm : Declaration of results & closing remarks
8:00pm: Close
WHAT TO BRING: A festive cocktail or mocktail and your INSEAD spirit!
For more details about the event, please contact Vibhor Gupta EMBA'21Jan vibhor.gupta@insead.edu
Pricing - FREE
Members please check your mailers for the promo code.
Join the INSEAD Alumni Association Singapore now and contact us for the promo code so you can enjoy all the benefits, including special prices on this event.
Note: our event tickets are non-refundable. However tickets are transferable and may be resold/given away to fellow INSEAD alumni. Contact us for more details. This event is limited to INSEAD alumni and a guest each. If you signed up erroneously, we will reimburse you, but deduct the admin processing fee. We hope you understand. Check out our blog here.