2022 Singapore Market Outlook [Strategy & Stock Picks]
Entering 2022, we expect another positive year for equities. Join us as our analysts delve into the outlook for 2022 and share stock picks!
About this event
Entering 2022, we expect the relaxation of border controls, antiviral drugs, and higher vaccination rates to drive the recovery and re-opening themes.
Our undervalued re-opening trades are inland transport, building material, and even telecommunication sectors. Interest rates are expected to climb faster than anticipated but not derail global growth. Rate-sensitive beneficiaries will be banks and exchanges. Recovery in the emerging market consumer and easing of the electronics supply crunch will be other notable themes.
Join us as our analysts delve deeper into the outlook for 2022 and share their Stock Picks!
Register here: https://bit.ly/3pVDfk1
Programme:
15 Jan 2022
10.00am - 12.00pm Singapore Stock Picks
For more information, please visit our landing page here.
Do note you only need to register ONCE to attend both sessions!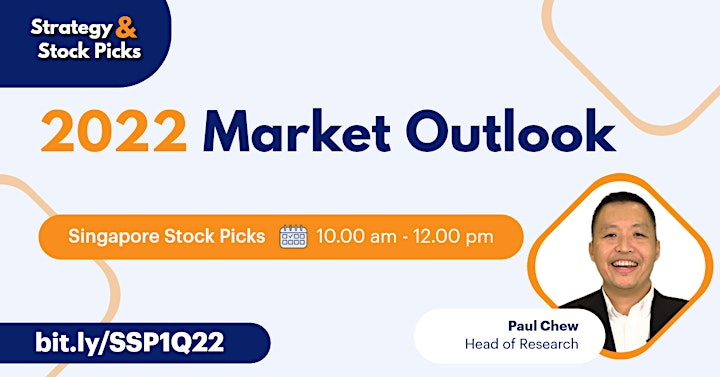 Organiser of 2022 Singapore Market Outlook [Strategy & Stock Picks]
Since its inception as a stockbroker in 1975, PhillipCapital has grown into an integrated Asian financial house with a global presence that offers a full range of quality and innovative services to retail and high net worth individuals, family offices, as well as corporate and institutional customers. 
PhillipCapital offers a comprehensive suite of financial products and services includes broking in securities, futures, foreign exchange, bonds, precious metals and commodities, unit trusts, contracts for difference, exchange traded funds; fund management, managed accounts, insurance planning, regular savings plan, investment research, equity financing and property consultancy. Institutions can also benefit from our corporate finance and advisory services as well as information technology solutions.
Today, the company headquartered in Singapore, operates in the financial hubs of 15 countries, including offices in Australia, Cambodia, China (and Hong Kong SAR), France, India, Indonesia, Japan, Malaysia, Singapore, Thailand, Turkey, UK, UAE, USA and Vietnam, serving over 1 Million clients with Assets Under Management of total more than USD 35 Billion.