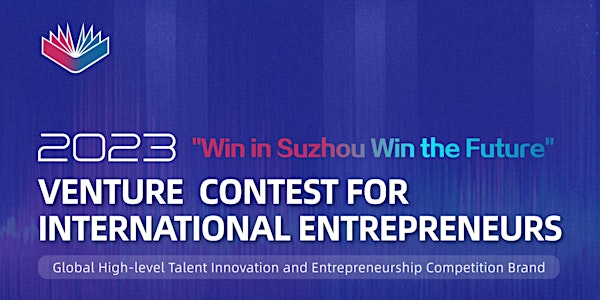 2023 "Win In Suzhou, Win the Future" Singapore Final!
⚜"Win The Future" 2023 is back!⚜ Attractive prizes and benefits for the Singapore Division Finalists:
Date and time
Mon, 12 Jun 2023 13:00 - 17:00 +08
Location
Singapore Business Federation 160 Robinson Road ##06-01 Singapore, 068914 Singapore
About this event
2023 "Win the Future" International Venture Contest Singapore Is Back!
Startup & Business Network Session
Let's chat over coffee, tea and a high tea buffet!
This networking session is specially curated to have a special startup and business networking session for founders, business owners and entrepreneurs to connect with innovation leaders, venture capitalists and authority leaders for collaboration and expansion.
To All Attendees (Event Perks)
🎈Funding opportunities
🎈Mentorship opportunities
🎈Partnership opportunities
🎈Business development opportunities
🎈Business clinic
More info about this event:
ACIES Ventures (https://aciesventures.com.sg/) is glad to be organising the 12th instalment of the Singapore Division of this International Venture Contest for entrepreneurs, once again with the hosts from Suzhou International Elite Entrepreneurship Enterprise Alliance, Suzhou Singapore International Maker Incubation Centre and Nanyang High-Tech Innovation Center (NTUIC).
Press Release: https://aciesventures.com.sg/press-release-singapore-division-win-the-future-2023-international-venture-contest/
-----------------------------------------------------------------------------------------------------------------------------------------
To All Entrepreneurs (Why should you partake?)
🔥🔥🔥
Attractive prizes and benefits for the Singapore Division Finalists:
🎈Cash prizes total of more than 20,000SGD (100,000 RMB)
🎈Gain access to a pool of qualified mentors and investors who can help accelerate your project
🎈Launchpad to establish and grow your business with government support from the Suzhou Municipal
🎈 Be our Singapore Division representatives to take part in the GRAND FINALS in Suzhou and win even more cash prizes and get more startup support
If you are keen to participate, click here to submit your entries!
➡
https://bit.ly/2023SuzhouSGM
You may find out more here: https://aciesventures.com.sg/press-release-singapore-division-win-the-future-2023-international-venture-contest/