This virtual event is part of SAW Dialogues 2022, organised by NAC in partnership with A&M, as part of Singapore Art Week.
About this event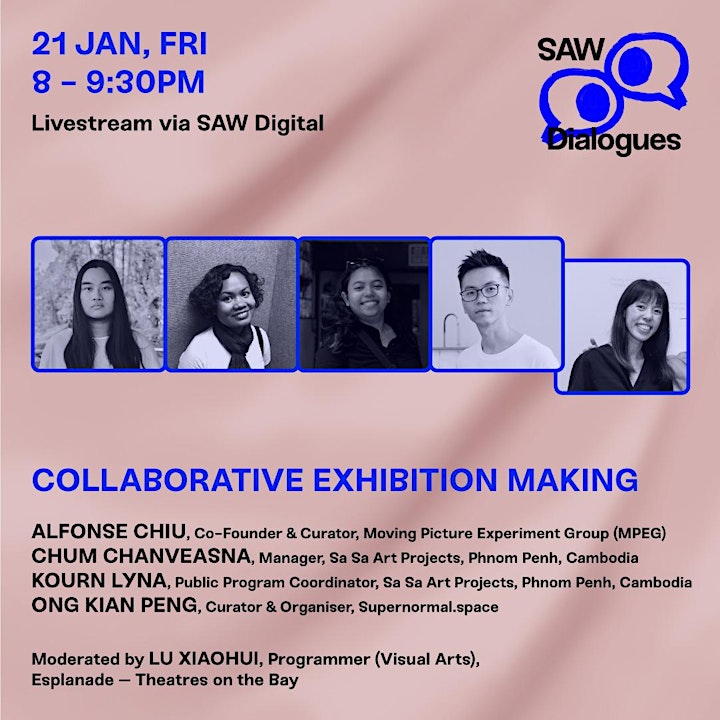 In recent years, art collectives and independent art spaces have increasingly engaged with exhibition-making, giving rise to different approaches to curating that catalysed cultural and artistic activity in their localities. This will be further highlighted through the programming of Esplanade's Visual Arts in 2022, with a key programming focus on featuring collaborative forms of exhibition-making alongside collectives and artist-run spaces. This conversation outlines the various activities and visions of each entity, and reflects on how collaborative models of production have impacted artistic and curatorial practice especially in the context of Singapore and Southeast Asia.
Speakers
ALFONSE CHIU, Co-Founder & Curator, Moving Picture Experiment Group (MPEG)
CHUM CHANVEASNA, Manager, Sa Sa Art Projects, Phnom Penh, Cambodia
KOURN LYNA, Public Program Coordinator, Sa Sa Art Projects, Phnom Penh, Cambodia
ONG KIAN PENG, Curator & Organiser, Supernormal.space
Moderated by LU XIAOHUI, Programmer (Visual Arts), Esplanade – Theatres on the Bay.
This virtual event will be livestreamed on SAW Digital. Register to secure your online spot!
This panel is co-presented by Esplanade – Theatres on the Bay. More information here.