シンガポールで投資を始めませんか? 無料セミナー

Saturday, 26 November 2016 from 09:30 to 13:00 (Singapore Standard Time Singapore Time)
Who's Going

Loading your connections...
3 of your friends are going.
Share it to get more people on board.
Share

Sara Haughty
San Francisco, California

Luke Picard
London, United Kingdom

Rick Vespucio
Florence, Italy
Event Details
This seminar is conducted in Japanese language only

**ご登録は、緑色の"Register" ボタンからお願いいたします**

シンガポールで投資を始めませんか?
シンガポール居住者はキャピタルゲイン非課税!今がチャンスです!
フィリップキャピタルグループ傘下のフィリップ証券とフィリップフューチャーズの日本語デスクより、シンガポールで投資を始めたいとお考えの方向けに無料口座開設セミナーを開催いたします。
シンガポールに在住している方で様々な金融商品に興味があり、今すぐにでも口座開設をして投資を始めたい方にお勧めのセミナーです。
コーヒー、軽食、2社からの素敵なグッズも用意しておりますので、この機会に是非ご参加をご検討ください。
 <各社 主要取扱い商品>
フィリップ証券: 株式・ETF・REIT
フィリップフューチャーズ: 外国為替(FX)・先物・オプション・金取引
各社共にオンライン取引システム(POEMS 2.0)はシンガポールで唯一、日本語に対応可能です。また、日本人スタッフが常駐しておりますので、シンガポールでも日本語で投資を行いたいと考えていらっしゃるお客様に安心して投資活動を行って頂けます。
当日は、各社取扱い商品やオンライン取引の詳細、シンガポールに口座をお持ちになる事のメリット等を初心者の方にも分かりやすく説明いたします。
*お取引商品に合わせて、フィリップ証券とフィリップフューチャーズにそれぞれ別に口座開設をして頂く必要がございます。
---
【日程】
09:30 ~ 10:30     : 各社 会社紹介/商品紹介/オンラインシステムのご紹介
10:45 ~               :口座開設会
 終了時間(予定)  :1社の口座開設のお客様は、11時45分。 2社の口座開設のお客様は、12時45分。
  ( *終了時間は多少ずれる可能性がございますので、あらかじめご了承ください。)
【必要な持ち物】
当日は、下記2点をご持参ください。
6カ月以上有効なパスポート、もしくはNRIC(永住者のみ)

シンガポール ID(EP、Spass、DP等、お持ちの方のみ)

住所証明書類 (下記のいずれか)

 銀行からの郵便物(3ヶ月以内)

SPサービスの明細(3ヶ月以内) 
その他必要な情報(申込書にご記入頂きますので、お手元にご準備ください)
ご勤務先の住所と電話番号

シンガポールの銀行口座番号(DBS/ POSB, OCBC, UOB, Maybank いづれかに口座をお持ちの方)-銀行カードに記載の番号は口座番号ではございません。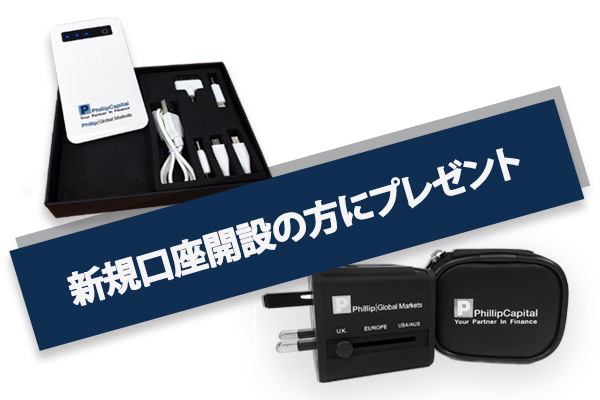 セミナー当日に新規口座開設申込書をご提出頂いた方に、変換アダプターかパワー・バンクのいずれかをプレゼント。
---
【よくあるご質問】

Q. 口座開設は無料ですか?
A. はい、開設にあたって手数料はかかりません。
売買手数料や口座管理費等の各種手数料は、セミナーでご案内いたします。
Q. 最低預入金額はありますか?
A. 証券:最低預入金額はございません。
A. フューチャーズ: 500 (SGD) シンガポールドル相当のご入金が必要となります。
Q. 口座開設に関して、勧誘はありませんか?
A. 勧誘は致しません。ご希望のお客様のみ、開設を承ります。
Q. 友人や家族と一緒に行っても良いですか?
A. もちろんどうぞ。席の数が限られておりますため、恐れ入りますが必ず参加人数分の席を予約してください。なお、誠に恐れ入りますが託児施設はご用意がございません。
Q. 証券口座は何歳から開設可能ですか?
A. 両社共に満18歳より開設が可能です。
Q. セミナー当日に共同名義口座の開設可能ですか?
A. 両社ともに可能です。両名義人が満21歳以上である必要がございます。 また、身分証明書、住所証明書などの必要書類は共同名義人となる各2名様分のご提示が必須となります。
【必ずご確認下さい】
当セミナーは個人口座の開設のみ対象です。法人口座の開設は当セミナーでは承りかねます。

セミナー当日は、証券ではカストディアン口座のみのお申込みが可能です。

ご参加者数が30人に達した時点で新規お申込を打ち切らせていただきます。

口座開設用紙を提出後の社内審査で口座開設をお断りする場合がございます。

口座開設セミナーの当日にご入金をすることは出来ません。予めご了承いただきますようお願い申し上げます。
口座、商品等の詳細は各社にお問い合わせください。
フィリップ証券: 株式・ETF・REIT
TEL : 6531 1276 (担当:佐々木、氏平)
Email : poems_otoiawase@phillip.com.sg
Web: https://jpweb.poems.com.sg/
フィリップフューチャーズ: 外国為替(FX)・先物・オプション・金取引
TEL : 6531 1789 (担当:興津、古出)
Email : sachiko@phillip.com.sg 
Web: http://www.phillipfutures.com.sg/
---
日時: 2016年11月26日(土)09:30 ~ 13:00(受付 09:15 ~)
会場: 250 North Bridge Road, Level 7 Raffles City Tower, Singapore 179101 (最寄駅: City Hall MRT)
会場は、同ビル7階のフィリップ・フューチャーズのセミナールームとなります。
North Bridge Road側の入り口が正面玄関となっておりますので受付カウンターにてセキュリティゲートの発券を受けてご入館ください。
*入館時に身分証明を求められますので、パスポート・ID等を必ずご持参ください。
ご来店方法:https://jpweb.poems.com.sg/about-japanese-desk
セミナーに関しての一般お問い合わせ(フリップ証券日本語デスク)
TEL: 6531 1276
Email : poems_otoiawase@phillip.com.sg
When & Where

250 North Bridge Road
Raffles City Tower,
Level 7 Presentation Room
Singapore, 179101
Singapore

Saturday, 26 November 2016 from 09:30 to 13:00 (Singapore Standard Time Singapore Time)
Add to my calendar
Organiser
Phillip Global Markets
Since 1975, the PhillipCapital network has grown into an integrated Asian financial house with a global presence that offers a full range of quality and innovative services to retail and high net worth individuals, family offices, corporate and institutional customers.
Our comprehensive suite of financial products and services includes broking in securities, futures, foreign exchange, bonds, precious metals and commodities, unit trusts, contracts for difference, exchange traded funds; fund management, managed accounts,  insurance planning, regular savings plans, investment research, equity financing and property consultancy*. Institutions can also benefit from our corporate finance and advisory services as well as information technology solutions.
With more than 3,500 employees and over 1 million clients worldwide, our assets under custody/management totals to more than USD 30 Billion with shareholders' funds in excess of USD 1 Billion.
Why trade in global stocks?
Diversification enables you to invest in different stocks across the world and helps to minimize risk. Be intrigued by the vast opportunities offered by global trading. Start diversifying your portfolio with easy access to more than 20 global stock exchanges from Phillip Global Markets.
Why Phillip Global Markets?
Global Markets round the clock trading assistance
Global Trading made easy through POEMS Online Multi-Currencies
Custodian services to take care of your trade settlements and corporate actions
Headline News, Multi-Country Watch list, Advanced Charting Tools
Leverage using Margin Financing (Terms and conditions apply)
More than 23 global stock exchanges at your fingertips!
Asia Pacific
Singapore (SGX) . Malaysia (Bursa) . Hong Kong (HKEx) . Thailand (SET) . Indonesia (IDX) . Philippines (PSE) . Japan (TSE, JASDAQ) . Sri Lanka (CSE) . Korea (KSE) . Australia (ASX) . Taiwan (TWSE) . China (SH-HK, SSE-B, SZSE-B)
North America
US (NASDAQ, NYSE-MKT, NYSE) . Canada (TSX)
Europe
UK (LSE) . Germany (Frankfurt Exchange) . France (Euronext Paris), Netherlands (Euronext Amsterdam), Portugal (Euronext Lisbon), Belgium (Euronext Brussels) . Turkey (Borsa Istanbul)