华文亲子讲座 : "我不能没有它!", 庄贻杰先生主讲

Saturday, August 13, 2016 from 9:00 AM to 11:00 AM (Singapore Standard Time Singapore Time)
Event Details
Declarations :
PTA has decided against the online payment offers by Eventbrite as we do not wish to pass on their imposed ticket surcharges to you. As such, please ignore the term, "Free" under Ticket Information which is unavoidable due to technical limitation.

For ticket price payable, please kindly refer to the information on each respective ticket type.

If you registering for your spouse, kindly enter exact name of the attendee as ticket(s) bearing identical name will deleted automatically.

 
"我不能没有它!"
网络i时代:与孩子一起探讨高科技和智能手机兴起的科技代沟
主讲员:庄贻杰先生
亲爱的家长,
在新加坡,我们不难发现使用智能科技有上升的趋势。超过百分之90的青少年在13岁之前早已拥有一架智能手机。当中百分之50拥有超过两架高科技产品,包括智能手机、笔记行电脑、平板电脑和随身携带行扩音器。
为什么青少年无法把高科技产品留在家中?为什么青少年都变成低头族?现今的智能科技如何放大传统网络健全的课题?
通过这个大开眼界和内容丰富的讲座,父母们将踏上一个以青年的视野去观看网络与电子科技世界的旅程. 我们的讲员将分享网络问题对于社会影响的见解和提供实际秘诀与例子让父母们更好的管教孩子。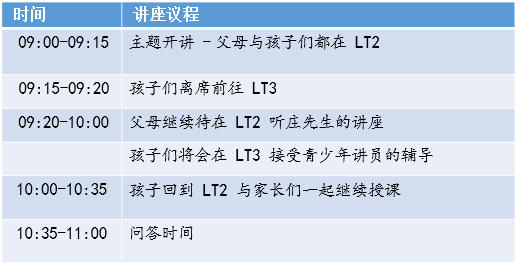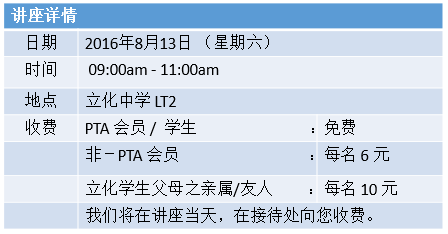 有意报名的学生家长们,请在 "END" date 前点击 "Ticket Information"里的 "Register"以及确定人数。 
我们欢迎您与孩子的踊跃参与。并恭候您们的光临。
RVH PTA EXCO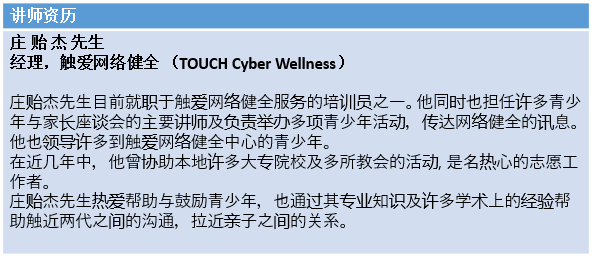 When & Where

RVHS LT2
6 Boon Lay Ave
Singapore, 649961
Singapore

Saturday, August 13, 2016 from 9:00 AM to 11:00 AM (Singapore Standard Time Singapore Time)
Add to my calendar
Organizer
The RVH PTA recognises the importance of parents' participation on the learning journey of their teens. We believe we can complement and enhance the roles of parents in the following ways:
Engagement– The PTA serves as a networking platform for parents to provide mutual support while connecting with the school.
Enrichment– The PTA is also a platform for parents to improve their parenting skills so they can better understand and support their teens.
Support – The PTA supports the school in providing RVians with a holistic education.
PTA 给予您另一个了解您孩子成长的渠道, 她是一个让家长参与,学习和交流的平台。一人计短,众志成城。加入PTA 的大家庭,成为孩子成长过程中的良伴。