Take your first step in learning Artificial Intelligence with our Summer Workshop
About this event
3 Days Artificial Intelligence Summer Camp Workshop for Kids is being delivered in May and June 2021 which has seven separate batches. Check the available dates to choose your slot.
Wondering why your child should learn AI?
Artificial Intelligence (AI) is leading the Fourth Industrial Revolution World-Wide. It is impacting all aspects of our lives already, from how we learn to how we drive to healthcare. AI will enable applications and processes to get smarter thus increasing the benefit to society. AI is poised to add Trillions of Dollars to Countries' Economies creating Millions of New Jobs.
This is one of the important reasons, for you to allow your child to get the right AI knowledge at an early age, so they have the opportunity to be part of this AI future.
How does this AI Summer Camp Online Workshop for kids work?
This is a 3 Day Online Summer Camp Workshop For Kids in Artificial Intelligence and is an Instructor-led and guided workshop being delivered over 3 days, 3 sessions, 3 hours per session. This workshop is recommended for children between 11 and 14 years of age. All Published Ticket Prices are in SGD Dollars and we have an early bird offer on the tickets which is less than INR 5850 equivalent.
What will be covered in the workshop?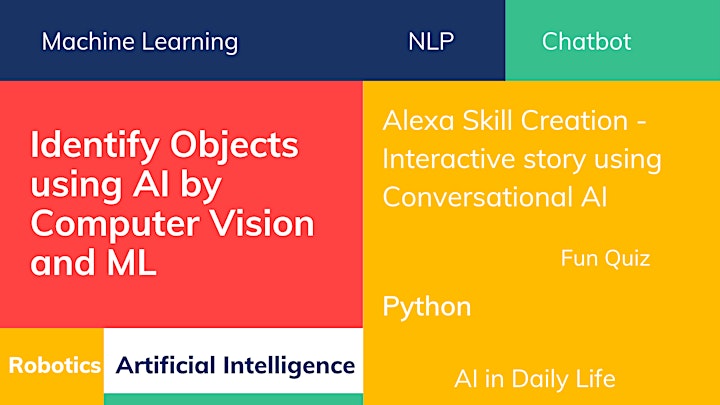 The workshop will be delivered in English language.
We will introduce the kids to Artificial Intelligence in a very interactive manner.
Kids will discover how AI is already being used in our daily lives
Various AI concepts will be introduced to the children, where they will be playing interesting games to understand the concepts. These will be full of fun, like Coloring using AI, and learning the concept of Machine learning via this game, Identifying objects using AI by using Computer Vision and ML, and many more concepts like Conversation AI and chat with a bot, NLP and robotics.
The Workshop is designed to be very interactive, with fun quizzes
They will need to put on their thinking caps to learn coding in Python
All kids will complete a special project, where they will create an Interactive story using Conversational AI and have their very own Alexa skill that will speak to them about their story.
By attending this workshop, your child will be ahead of the curve in getting to learn about AI. He/She would be able to participate in Hackathons, and have a stronger foundation, to be able to apply for Higher studies and Universities in the Future.
Children will get participation certificate at the end of the workshop. So get ready to enroll your kids to these 3 days of unbelievable learning in AI, Magic and fun!!
Register now to grab the early bird pricing. Limited seats available so hurry!
Date and time
Location
Refund policy
Organizer of 3 Days Artificial Intelligence(AI) Summer Camp Workshop
WiselyWise is an EdTech Startup focussing on AI Education. We are a highly experienced team with combined 50+ years of experience in MNCs like IBM, Xerox.  Chandra Kumar is the Founder & CEO of WiselyWise, earlier was the CTO for Dell EMC, Transformation Leader for IBM and CRM Practice Leader in Cognizant. Our Core product is WiseCentral - a Cloud-based AI Education Platform. https://ai.wiselywise.com
Our Vision is to Create a Better Digital Future for Everyone. To achieve our vision, we are currently offering an Artificial Intelligence Education platform for Student Skilling. Our Courses are age-appropriate for students across K-12 Schools, Colleges, Universities, and Corporates. We have very good traction with Students across India and Singapore. Each day, hundreds of students access our Online Courses to get skilled in AI.
Our Student Alumni have gone on to win Google Hackathon in Singapore, started new ventures in Conversational AI. They have used their projects for successful application to Higher Studies in Global Universities.