Description
Theme :
Essential Soft Skills For CRCs / CRPs
Synopsis:
Growing holistically and developing as a CRC / CRP in clinical research involves soft skills such as effective communication strategies, interpersonal skills, the right attitude and a service-oriented mindset towards clients and stakeholders. Learn from experienced practitioners on the topics below including how to develop a service excellence culture in your organisation.
Join us to upskill in navigating the complexity of human interactions and culture, and to excel in your role as a clinical research professional.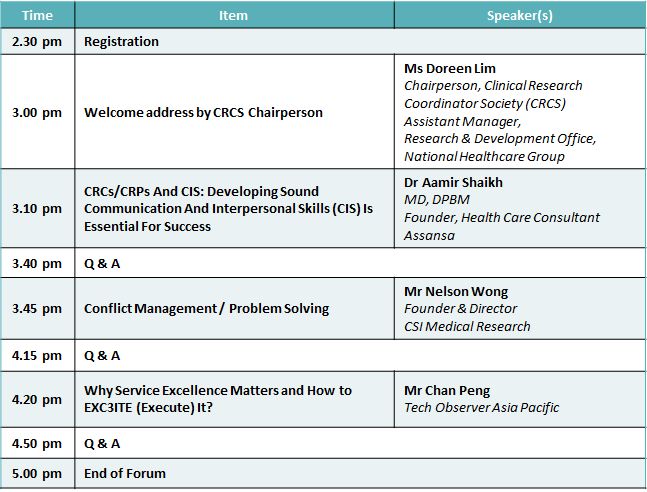 Note: Programme information is accurate at time of print, and may be subject to further changes without prior notice.
Brought to you by Clinical Research Coordinator Society (CRCS)
Supported by NHG Research & Development Office (RDO).

Please note: Data Protection Clause – By registering for our events, you are deemed to consent to the collection, use or disclosure of personal data by National Healthcare Group (NHG) Research & Development Office (RDO) for the purpose of dissemination of research newsletters and any form of publicity and updates in relation to activities by the office.