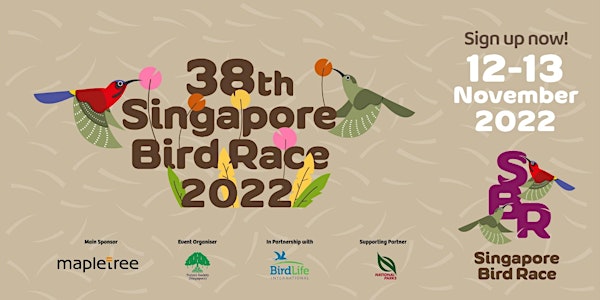 38th Singapore Bird Race 2022
The Singapore Bird Race is back for the 38th year! Join us for a weekend of birding all over Singapore.Registration extended to 16 Oct 2022!
When and where
Location
Mapletree Business City 10-80 Pasir Panjang Road Singapore, 117438 Singapore
Refund Policy
Contact the organiser to request a refund.
Eventbrite's fee is nonrefundable.
About this event
The Singapore Bird Race is organised by the Nature Society (Singapore) (NSS) to promote the appreciation, awareness and conservation of wild birds in Singapore, and local biodiversity more broadly to the Singaporean public. The Bird Race has also served as a source of scientific knowledge on the distribution and conservation status of endangered birds in the country. The data collected has also been used in guiding national conservation assessments. Held annually since 1984, the Singapore Bird Race is among the longest-running citizen science events in Southeast Asia.
This event is generously supported by our main sponsor, Mapletree Investments since 2019. We remain extremely grateful for their continuous support!
Registration is now open. Do register early. Registration is extended to 16 Oct 2022.
Build your own teams and select from one of these Race Categories:
Marathon (3-4 members a team)
Sat 12 Nov, 12.30pm to Sun 13 Nov, 12.30pm (24hrs)
Sprint (3-4 members a team)
Sun 13 Nov, 7.30am to 12.30pm (5hrs)
Novice (3-4 members a team)
Suitable for those with 2 or less years of experience in birdwatching
Sun 13 Nov, 7.30am to 12.30pm (5hrs)
Youth (3-4 members a team),(12 - 18 years)
Sun 13 Nov, 7.30am to 12.30pm (5hrs)
Family (2 to 4 family members per team, at least one parent and one child (12 years & below) )
Sun 13 Nov, 7.30am to 12.30pm (5hrs)
Photographer (2 members a team)
Sun 13 Nov, 7.30am to 12.00pm (4.5hrs)
Student (Primary School) (3-4 members a team)
(Pri 1 - Pri 6)
Sun 13 Nov, 8am to 10am (2hrs)
Note: Please ensure that you register as a team. You will be prompted to fill in all your team members' particulars after the selection of a ticket, so please be prepared with the necessary information stated below before proceeding with the registration.
Required information
Name
Email address
Age
Mobile phone number
Affiliated organisation / school (if applicable)
NSS / NPSS membership number (if applicable)
Team name
Appointed team leader
T-shirt size (if you wish to have one).
Covid-19 vaccination status
Dietary requirements
Every participant is required to register. Please provide the applicable membership details when required:
Nature Society (Singapore) Member: $15/person
Nature Photography Society, Singapore Member: $15/person
Non-members: $20/person
Youth & Pri School Students(18 and below): Free - Registration is still required
Start point will be Mapletree Business City for all categories (except Marathon). For Marathon category, there will not be any specific flag-off location; they are free to start the race from any location.
All teams will end the race at Mapletree Business City on Sunday 13 Nov, and submit hardcopy bird race logsheet (except Photo Category teams who will submit their results via the eBird Mobile App). Lunch will be catered for all participants.
The Bird Race Awards Ceremony will be held at Mapletree Business City after lunch.
A pre-race briefing (webinar) on rules, Q&A, and eBird basics for new users will be held on Wednesday 9 Nov evening. Participants will be informed via email.
Participants will receive the full Rules & Conditions of the Race via email.
Programme updates will be available on our website , Facebook and Instagram pages.
The main sponsor of the 38th Singapore Bird Race is Mapletree Investments, and the event is held in partnership with BirdLife International Asia, supported by NParks.
Terms and Conditions:
The webinars will be recorded and photographs may be taken. There will also be event photographers taking photographs of participants during the race. We may use the recording and photos for promotional purposes.
By registering for the event, you agree to abide by the following terms and conditions:
a) You understand, accept and acknowledge that by providing your personal data, information, you give your consent to Nature Society (Singapore) ("NSS") to collect, use and disclose your personal data for the specified purposes of enabling NSS to communicate with you; to facilitate the organization of Singapore Bird Race; to provide you with products and/or services; to respond to your enquiries or complaints; to provide you with information, invitations and/or updates; and to disclose the same to any relevant third parties that NSS has engaged for the specified purposes.
b) You understand, accept and acknowledge that the Nature Society (Singapore) retains the rights to use any photos / videos /sound recordings taken during the activity as deemed necessary without seeking consent of any person captured in the photographs. This includes any recording of the webinars in any form.
c) You understand, accept and acknowledge that you are solely responsible for your own safety during the course of the activity. The Nature Society (Singapore), all sponsors and organizers shall not be held responsible for any mishap, accident, injury or death, as well as loss or damage to personal property that may occur during the activity.