Learn the intricate techniques of 3D Jelly Art and elevate your cake decorating skills to the next level. Suitable for first-time beginners.
About this event
3D Jelly Floral Cake - Christmas Theme with Natural Colors Workshop (Basic Level)
Non-SkillsFuture Redeemable
We are pleased to phase in a Christmas Theme for our signature class, 3D Jelly Art Floral this year.
In this special edition, you will learn to use PM Floral Tool to design and create your masterpieces.
Flowers:
Everything you need to know on the fundamentals will be shared in class.
Course Outline:
Introduce to key ingredients
Demostrate on cooking the jelly canvas & flower mixture
Demonstrate 2 different ways to place wordings (e.g Merry Christmas ) to personalise your gift.
Use PM Floral Tool to create flower petal, leaves, and baby's breath
Demonstrate injection techniques which involving hand movements,
pressure and direction to achieve a life-like flower with filler encapsulated in a jelly canvas
Demonstrates how to place fruit in base
Troubleshoot and fix creation
Bring Home:
One 4" and 8"Jelly Floral Cakes
One set of PM Floral Tool
2 Recipes : Basic & Natural Colouring Fruits & Vegatables
1x 10ml syringe
Details:
Fee: $200 per pax
Instructor: Janet Su
For registration, kindly call or WhatsApp Karen Yee at 94881212 or visit our website https://vanillabeansg.com for more courses.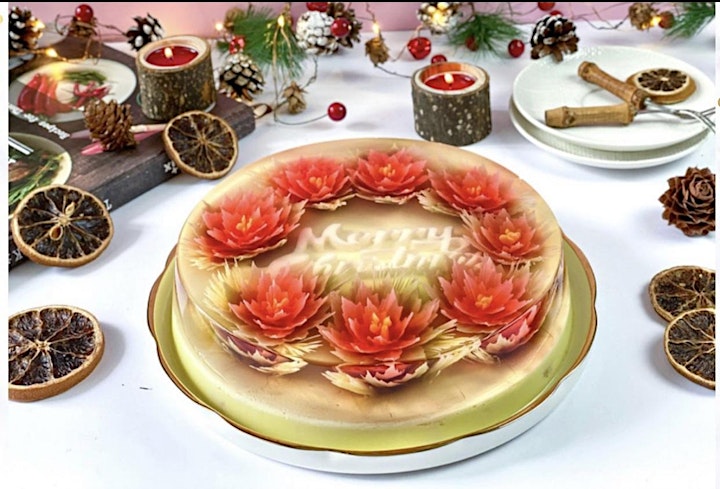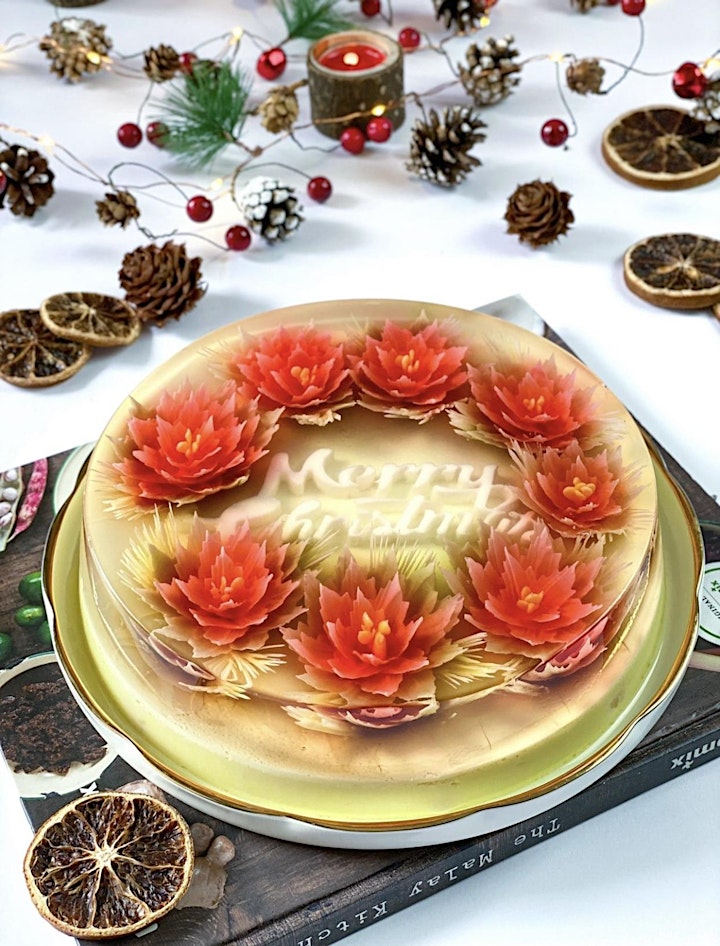 Organiser of 3D Jelly Art FloralCake Workshop - Christmas Theme (Basic Level)
Since their inauguration in 2016, The Vanilla Bean SG has pioneered the art of jelly cakes in Singapore, using meticulous and precise techniques to inject beauty into jelly cakes and bringing them to life.
The team at The Vanilla Bean SG also enjoys exploring and incorporating the latest trends in their work, and have been consistently bringing the latest innovative desserts and cake decorating workshops to both hobbyists and professionals alike.