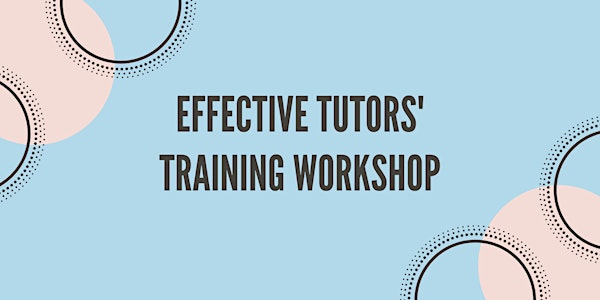 4 hrs Effective Tutors' Training Workshop
[Early Bird Tickets on SALE] Aspire to be a tutor or wish to get yourself Certified? Join us in a 4 hours Online Training Workshop today!
About this event
Are you NEW to tutoring, or considering freelance / part time / full time tutoring job as an alternate source of income? OR are you an experienced private home tutor who would like to upgrade and get yourself certified?
Don't miss out on this 4 hrs Effective Tutors' Training Workshop to learn useful insider tips / strategies on effective tutoring right away!
------------------------------------
------------------------------------
*Limited Slots Left!* Get yourself CERTIFIED today!
What's in it for you?
Learn everything you need to know to be a Certified Tutor!
Effective teaching techniques to cater to students of different personalities & learning needs
Strategies to motivate & inspire students, even the most challenging ones
Learn how to handle difficult parents & students
Certification will be awarded – to be a certified tutor!*
Priority allocation of tuition job assignments
BONUS: FREE Tutor's Toolkit & Materials for all participants
And more…
(*at least 80% online attendance & to complete a quiz at the end of the workshop)
Register your attendance today!
------------------------------------
------------------------------------
We understand your concern as a tutor whom may be new to tutoring - you may face challenges carrying out your lessons effectively or having to meet the high demands from parents & students.
There is so much more to tutoring than just being academically qualified. Such as motivating a child; managing parents' expectations; handling students with special learning needs & to impart knowledge using different teaching techniques.
*Limited Slots Left!* Get yourself CERTIFIED today!
------------------------------------
Who should attend?
This workshop is recommended for:
Aspiring tutors who are new to tutoring, or are keen to embark your career as a Part time / Full time / Freelance tutor,
Experienced tutors who would like to be certified,
Tutors with or without tutoring experience,
Age 17 & above, with a min. Olevel qualification.
Singaporean / PR
SIGN UP NOW and we will see you at the upcoming workshop!
About the Organiser
Super Brain Academy Singapore is an education hub with over 10 years of industry experience. More than 100,000 lives inspired and counting....