Description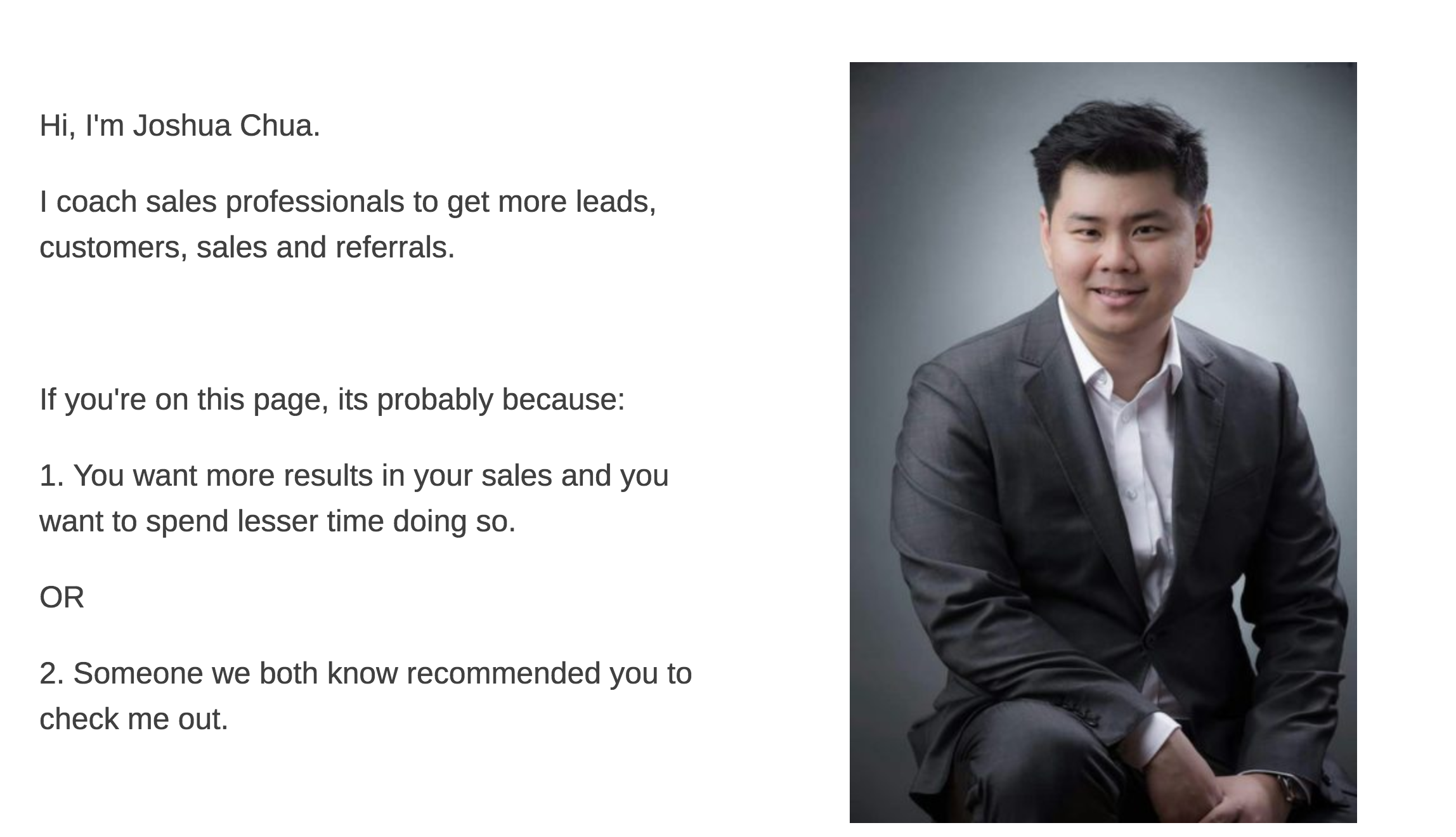 Good News For Financial Advisors:

This year, I'm launching my new coaching program specially for the insurance industry - MINIMUM MDRT.
The goal is simple; to help financial advisers to achieve MDRT this year.

To do so, let's look at the key challenges stopping many financial advisors to achieve MDRT year after year:

1. Not enough appointments
2. Not sure how to prospect cold market after warm market has been exhausted
3. Your agency's cold calling script doesn't work (You make 100 - 300 calls a day but still can't generate 10 appointments per week)
4. You spend 6 - 10 hours a day on your roadshow but don't close at least 1000 FYC per day
5. You attend networking events but leave without a single appointment (you send follow up emails without getting favourable reply either)
6. You tried online marketing like Facebook, LinkedIn, etc but not getting your desired ROI
7. The appointments you set often cancel or postpone on you
8. After your presentation and dealing with the objections, you get the "let me think about it" answer and nothing happens
9. You are not able to convince the prospect to buy from you instead of their family or friend who's also in insurance
10. You find it tough to convert prospects who say they have "no budget"
11. You only close the smaller premium deals like shield plans and personal accident plans (and you find MDRT a very uphill task)
12. Your client to referral ratio is less than 20%


So, how do we solve these problems and get you to MDRT?
You need to acquire and master the Mindset, Skillset and Toolset of these 4 areas.

1. Increasing Number Of Appointments
I'll show you the Elevate Prospecting System; comprising of offline and online strategies to get you 8 - 12 qualified appointments

2. Increasing Closing Rate to 80%
To do MDRT, time is not your friend. You need to maximise your closing rates to ensure you are on track every month. You need to create urgency so you reduce your sales cycle.

I'll show you the Elevate 7 Step Closing System, to close sales up to 80% of the time.

3. Increasing Case Size
To make your life easier (work lesser, serve lesser clients yet make MDRT), a useful strategy will be to close bigger cases. Knowing what product to sell, and how to package small premiums with larger premium products that pay higher commission will be extremely helpful.

I'll share 3 powerful strategies for you to close bigger cases; making it easier and faster for you to make MDRT.

4. Increasing Referrals & Repeat Sales
Again, to make your life easier (convincing a new prospect is 3 times more time/effort than a post sale from your existing client),

We'll discuss referral and upselling strategy that you can implement immediately.

___________________________________________________________________________________________________

Workshop Details

Date: 15th Or 19th March 2018
Time: 7 - 10pm
Venue: International Plaza, #36-05A, Singapore 079903
Workshop Notes will be provided. Please bring along your own writing materials.

*This is a hands-on, 2-way discussion session. For your fullest benefit, I ask for your participation and engagement in the various activities.

**If you are going to cancel in the last minute, please DO NOT sign up. Firstly, its irresponsibile and suggests why your prospects also cancel on you.
Secondly, I only have 20 seats (to ensure quality interaction), so if you sign up and not show up, someone else who was really keen could have benefitted from the session.
So only sign up when you are committed to make it.



FAQ

1. Are you a financial advisor?
No, I am a sales excellence coach and I've worked with hundreds of financial advisors over the past 5 years. A fraction of those people who've attended my personal coaching have gone on to make MDRT.

I am however, taking my insurance papers because I want to empathise with financial advisors and more importantly, show that whatever I teach, I also do. And it brings results.


2. Is this a preview session where I'm going to be sold something?

You bet. The first 2.5 hours will be comprehensive and valuable insights to help you attain your MDRT goals. My students will tell you I share a tremendous amount of content (almost 10% of my actual program) in my intro workshops.
The rationale is simple -

A. Every good quality product will cost you. And I only deliver the BEST.

B. You need to EARN THE SALE. I believe you wull benefit more than what you pay, and I have 0 fear in asking people to pay me.

The last 30 minutes, I will share with you about my program, and what you'll be entitled to. You make the decision if you want to sign up or not.


3. Do you guarantee I will hit MDRT this year?

If you sign up for the actual program, yes it comes with a guarantee that we'll work with you to make MDRT this year. There are of course, terms and conditions which will be released during the intro workshop.

___________________________________________________________________________________________________

My friend,

There is no point enduring the traumas and stress of insurance sales if you don't make it a point to hit Minimum MDRT.

Be Excellent. Everyone else is just average.

See you at the workshop.