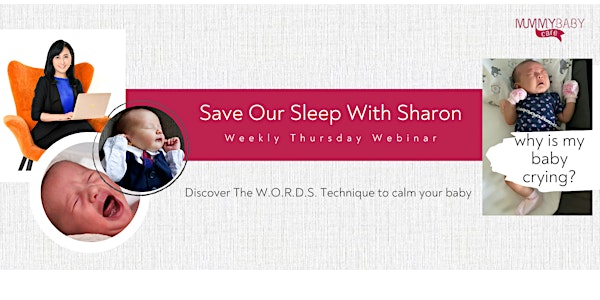 SOSwithSharon (Save Our Sleep) for First-Time Parents
SOSwithSharon (Save Our Sleep) Exclusive invitation to the webinar
About this event
SOSwithSharon
(Save Our Sleep)
Subject: Exclusive invitation to first-time parents
Who is this suitable for: -
1. Pregnant couple
2. First-time parent with a newborn less than four months old
3. First-time parent who wants more sleep
4. First-time parent who wants to help your baby get more sleep
5. First-time parent who wishes to get mental & emotional support
I created this circle of support for first-time parents to meet to help save their sleep.
Parenthood, especially Motherhood, is exhausting and full of crazy moments.
Preparation during pregnancy is the Key. Knowing what to expect after the baby is born is half the battle won.
One of the biggest challenges is the lack of sleep.
So, we meet every Thursday from pregnancy to the baby's first four months to ensure you do everything right.
a. 1.5hr weekly group zoom meeting
b. Topic sharing for the week on mummy & baby care
c. Open to all first-time parents
d. Join the private telegram group to post your questions HERE https://t.me/+vwWYNbQDgq02ZTc9
e. Sharon will review the questions & videos in the telegram group on Thursday at 730 pm
f. Sleep Well SOS
1. limit to 2 videos/week/couple
 2. record your baby's entire body when your baby is making noises for at least 20 seconds
g. Terms & Conditions apply
h. Click HERE to watch the previous recording #8 Does your baby wake up soon after you lower them down? https://youtu.be/DssjyN8nLlI
i Click HERE to watch the previous recording #9 Do you need to wake your baby up to feed? https://youtu.be/cO00J92GloI
j. Click HERE to watch the previous recording #12 Potty Training & Elimination Communication https://www.youtube.com/watch?v=izka8tFc6Wg