投资理财峰会

Sunday, 22 April 2018 from 10:30 to 17:00 (Singapore Standard Time Singapore Time)
Event Details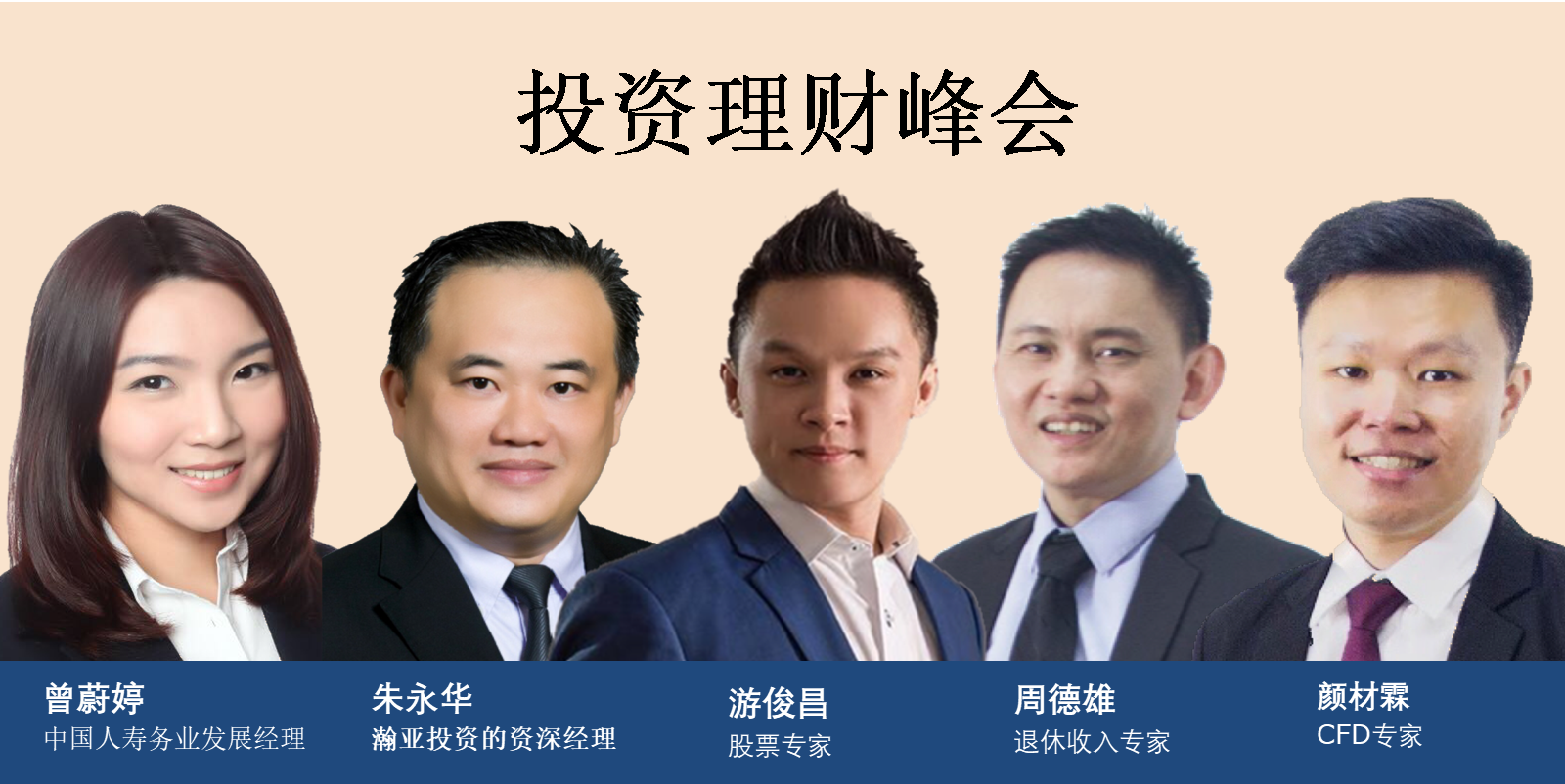 简介:
随着全球一致步入其二战后最长的经济扩张以及异常的货币扩张政策开始走向正常化的途径,投资者可能会质疑过去几年已获得高回报的"风险偏好-股票"趋势是否有望在2018年得以延续。
2017年亚洲市场录得几年来最强劲的股市反弹。相对估值仍然具有吸引力,有利的宏观经济状况以及提高企业盈利复苏能力都能吸引投资者的情绪。
2017年的股票和债券背后的升势驱动因素是否会得以延续到2018年?关于投资者应该在2018年左右剩下的时间和计划的定位,有哪些重要的警告?随着市场波动的王者归来,人们可以考虑哪些投资策略?
参与只限一天的投资理财峰会, 五位专家和资深投资人分享对金融市场的洞察与可突破此前的投资格局
1)如何提高在股海赚钱的机率 - 游俊昌主讲
2)熊市淘金策略 - 颜材霖主讲
3)股市是否牛市重臨 - 朱永华主讲
4) 波动时期的确定性 - 曾蔚婷主讲
5) 如何享受一辈子的被动收入 - 周德雄主讲
Event Details:
地点:Level 6 Presentation Rood, 250 North Bridge Road, #06-00, Singapore 179101
日期:2018年4月22日
时间:10.30am – 5.00pm
***票价包括午餐***Lunch included***
原票价:$50
在4月15号前报名就可享受一人15元的早鸟价!座位有限、预购请从速。

Directions: 
Raffles City Tower is above City Hall MRT (Exit A). 
Please use the Raffles City Tower (North Bridge Road) visitor entrance. Collect a temporary access card to the office building from the lobby.  
Click here for Raffles City Tower Location Map
Car Parking is available at Raffles City Tower: $3.00/entry from 6pm.
For further enquiries, please contact 6812-1540 or email JurongEast@phillip.com.sg  
IMPORTANT NOTES FOR SEMINARS:
Please note that under the Singapore Personal Data Protection Act (PDPA) 2012, Phillip Securities Pte Ltd respects the privacy of all our customers and visitors, and are committed to safeguarding the personal information you provided to us. For event registrations, you will be requested to provide your personal particulars, which include but are not limited to the following:
a) Full Name
b) Contact details, including telephone number/s and/ or email address
Please note that Phillip Securities Pte Ltd will send out "Email Confirmation", Short Message Service (SMS), and events/seminars via email to all registrants for all Phillip Securities Pte Ltd events. All personal data held by Phillip Securities Pte Ltd will be kept confidential, will not use and disclose to third parties.
When & Where

Raffles City Tower

250 North Bridge Road
Singapore 179101
Singapore

Sunday, 22 April 2018 from 10:30 to 17:00 (Singapore Standard Time Singapore Time)
Add to my calendar
Organiser
Since 1975, PhillipCapital has grown as an integrated Asian financial house with a global presence that offers a full range of quality and innovative services to retail, corporate and institutional customers.


Our comprehensive suite of financial products and services includes fund management, managed accounts, unit trusts, insurance planning, regular savings, contracts for difference, exchange traded funds, investment research, equity financing, property; and broking in bonds, securities, futures, foreign exchange, precious metals and commodities. Institutions can also benefit from our corporate finance and advisory services as well as information technology solutions.

With more than 3,500 employees and over 800,000 clients worldwide, our assets under management totals to more than USD 22 Billion with shareholders' funds in excess of USD 1 Billion.

PhillipCapital (with headquarters in Singapore) operates in the financial hubs of 16 countries, with offices in Singapore, Malaysia, Cambodia, Indonesia, Thailand, Hong Kong, China, Japan, India, Sri Lanka, UAE, UK, France, Turkey, Australia and USA.