家长华文讲座 : "要怎么说,孩子才会听!", 王雪伦女士 主讲

Saturday, July 13, 2019 from 9:00 AM to 11:00 AM (Singapore Standard Time Singapore Time)
Event Details
Declarations :
PTA has decided against the online payment offers by Eventbrite as we do not wish to pass on their imposed ticket surcharges to you. As such, please ignore the term, "Free" under Ticket Information which is unavoidable due to technical limitation.

For ticket price payable, please kindly refer to the information on each respective ticket type.

If you registering for your spouse, kindly enter exact name of the attendee as ticket(s) bearing identical name will deleted automatically.

 
 讲座简介 
大多数家长会察觉到,相比较与幼年时的孩子,与青少年期的孩子的沟通越来越困难。青少年不愿意服从家长,而且很容易被惹怒。与青少年沟通需要用特定的方式,才不会让他们敷衍你,而是愿意聆听和理解家长试图传达给他们的信息。
家长会在这讲座里学习到:
理解青少年的大脑发育

与有压力的青少年沟通时,父母常犯的错误

如何建立信任的桥梁,和如何经历少量(或没有)权威斗争就

达到增加青少年良好行为的效果

有效交流的技巧
讲座议程
08:30-09:00 :会议注册
09:00-09:05 :讲座会及主讲嘉宾介绍
09:05-10:45 :讲座开始 
10:45-11:00 :问答时间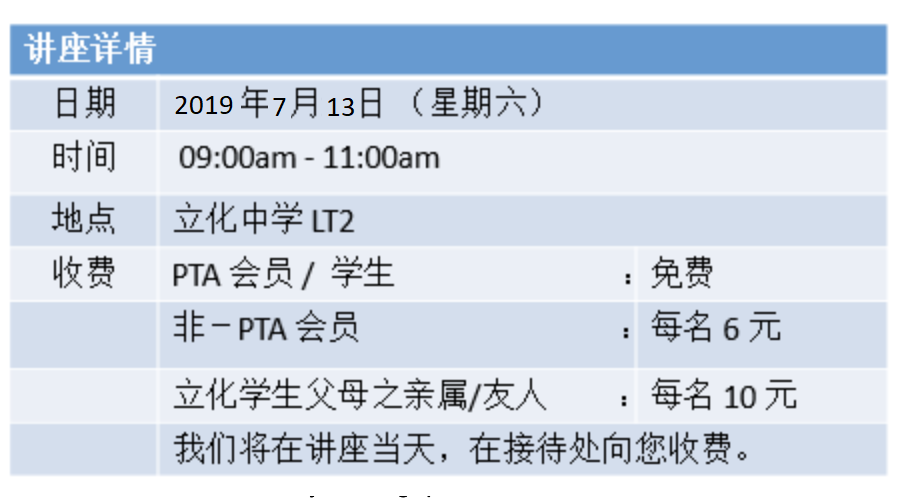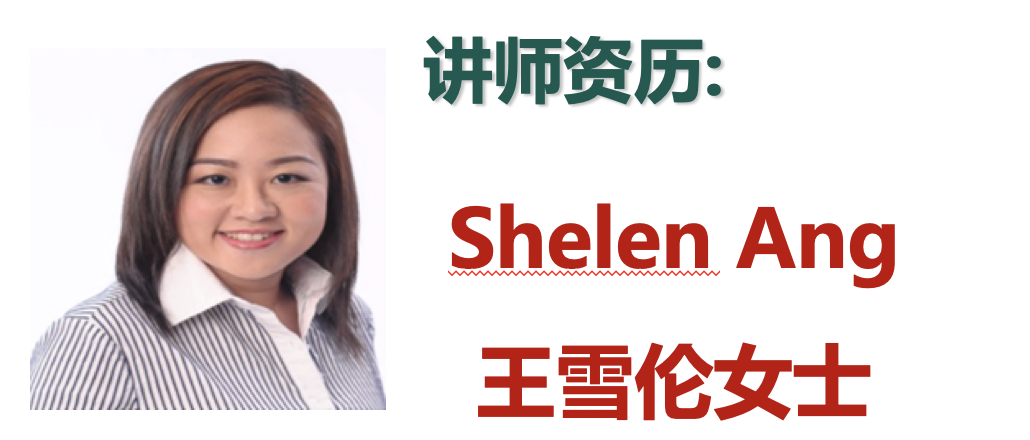 婚姻与亲子教育导师

(

Morning Star Community Services

)

美国西南浸信神学院教育学硕士学位

(

主修青少年事工

)

新加坡国立大学文学中文系荣誉学位

拥有

12

年的家庭教育工作经验

曾任

Focus on the Family Singapore

的课程与训导主任

多次在各大媒体中针对婚姻与亲子课题接受访问

为学校,企业公司和社区主讲了许多关于与青少年沟通和家庭生活教育的讲座和研讨会

领导过许多青年探险项目(

YEP

)下的团队到中国,指导当地青年和帮助他们如何实现自己的人生目标
注册链接: https://2019clpt.eventbrite.sg
有意报名的学生家长们

,

请在
"END"
date
前
点击
 "Attend Event" 并在 
"Ticket Information"
里注明参加
人数
RVH PTA EXCO
注意事项:
本讲座对象是家长。讲座过程中请保持安静,以免打扰其他听众.

原则上不鼓励家长携带婴幼儿参加讲座。如有必要,请听从现场工作人员安排,就坐于现场后排。
The target audience of this talk is parents. Please maintain silence during the event to avoid disturbing other audiences.

It is not encouraged to bring any toddler or young kid to attend this event. If have to, please follow committee's instruction to be seated at the back row.
When & Where

RVHS LT2
6 Boon Lay Ave
Singapore, 649961
Singapore

Saturday, July 13, 2019 from 9:00 AM to 11:00 AM (Singapore Standard Time Singapore Time)
Add to my calendar
Organizer
The RVH PTA recognises the importance of parents' participation on the learning journey of their teens. We believe we can complement and enhance the roles of parents in the following ways:
Engagement– The PTA serves as a networking platform for parents to provide mutual support while connecting with the school.
Enrichment– The PTA is also a platform for parents to improve their parenting skills so they can better understand and support their teens.
Support – The PTA supports the school in providing RVians with a holistic education.
PTA 给予您另一个了解您孩子成长的渠道, 她是一个让家长参与,学习和交流的平台。一人计短,众志成城。加入PTA 的大家庭,成为孩子成长过程中的良伴。