Description

We are back! For Founders Drinks this month, we are delighted to have Roger Chang, the cofounder and CEO of Pirate3D, with us to speak about his recent Buccaneer Kickstarter campaign.
For those unfamiliar with Pirate3D and Buccaneer, Pirate3D is a Singapore based startup focusing on creating a full 3D printing solution for home consumers. The end product, the Buccaneer is an easy to use household 3D printer.
Founded by Roger Chang, Brendan and YouJun, Pirate3D received a seed funding round from Red Dot Ventures last year. Shortly after the funding round, the team launched a Kickstarter campaign to raise more funding so that they can mass produce the 3D printer. Not only was the campaign a huge success, it hit its funding milestone ($100,000) is just 10 minutes after launched.
With 2 more weeks to go, the Buccaneer campaign has currently received more than $900,000 from over 2000 backers, and is well on its way to hit the $1 million dollars mark.
Here's the link to the Kickstarter campaign.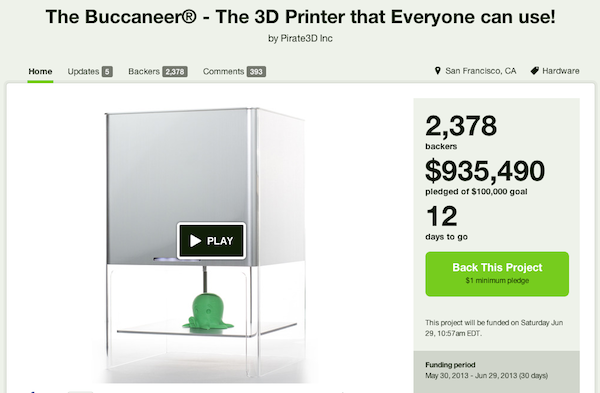 At our upcoming founders drinks, cofounder Roger will share with us his thoughts on 3D printing, what are some of its use cases and why are they bullish about the 3D printing vertical. Other than that, Roger will also talk on how do you run a successful kickstarter campaign and what are the things you should look out for.
Following our previous Founders drinks, it will be a paid event: Tickets go at S$20 and come with two complimentary drinks (beers or coke).
There will also be a lot of time for everyone to mingle around and network. On top of that, this is also a great time to meet with the e27 team, and for us to connect with you, our readers and community partner. Reserve your tickets now!
Event Details:
Date: 27th June 2013
Time: 6:30pm – 8pm
Venue: Shuffle Bar, Clarke Quay
Address: 3D River Valley Road, #02-03, Clarke Quay, Singapore 179023