5-Session Comedy Writing Workshop with Stephanie Dogfoot
Join Stephanie Dogfoot in this 5-part comedy writing workshop online on Saturdays from 4.30 pm – 6.00 pm.
About this event

Important Notice 
This programme/event is open to members of the National Library Board, Singapore. Please ensure you have your myLibrary username on hand before proceeding with the registration. If you do not have a myLibrary username, you can create one here: https://account.nlb.gov.sg/.
About the Programme/Event:
Please note that participants must commit to all 5 sessions every Saturday on 20, 27 Nov, 4, 11, 18 Dec from 4.30 pm to 6 pm.
About the Programme:
Ever dreamed of making a roomful of people roar with laughter (on purpose)? Ever watched a comedian on Netflix and thought, I could do that? Always wanted to sign up for a comedy open mic but never quite had the confidence? Here's your chance to learn about the art of writing and performing stand up in this five-part course with a comedian Stephanie Dogfoot!
Get an in-depth look into this exciting art form: learn the fundamentals of what it takes to stand on a stage and make people laugh, from body language to joke-writing techniques.
We'll also look at the history and styles of stand up comedy in Singapore and around the world. Learn how to develop confidence, a stage presence and lots of other skills you can use both on the comedy stage and in everyday life. This online programme will culminate in a mini-showcase where students will perform a five minute set for one another on Zoom.
LESSON 1: This lesson will cover a brief history of stand up comedy in Singapore, what is humour? The lesson will also cover body language and performing without words, how to defeat stage fright, using lists to generate joke ideas, the different parts of a joke.
LESSON 2: The lesson will cover stand up comedy in the US and the UK, understanding different types of humour and different types of comedy, introduction to joke structure, writing jokes following structures, using voice and tone to convey emotion.
LESSON 3: The lesson will cover the line between funny, offensive and outdated, and how far can boundaries be pushed. This lesson will also use newspaper headlines to generate jokes, how to use timing, silence and facial expressions when performing.
LESSON 4: The lesson will also cover stand up and storytelling, how to use personal/autobiographical stories to generate jokes, how to tell a funny story vs a boring story, transitions and segue and how to turn individual jokes into a comedy set, other genres and platforms for comedy writing.
LESSON 5:  The lesson will also cover stand up and the Netflix Special: how stand up is evolving in a digital age, the power of stand up to bring light to social issues, developing a comedy persona, mini comedy showcase: students to perform a 3-5 minute set each and feedback session.
About the Speaker(s):
Stephanie Dogfoot is a comedian, poet and storyteller who has been performing since 2014. She was first runner-up in Singapore's first-ever roast tournament in 2019. She is the co-founder of Siao Char Bors Comedy, a comedy night and online chat show. Her seven years in stand up have seen her performing on stages in Bangkok, Edinburgh, New Orleans, Melbourne, KL. More at https://stephdogfoot.wordpress.com/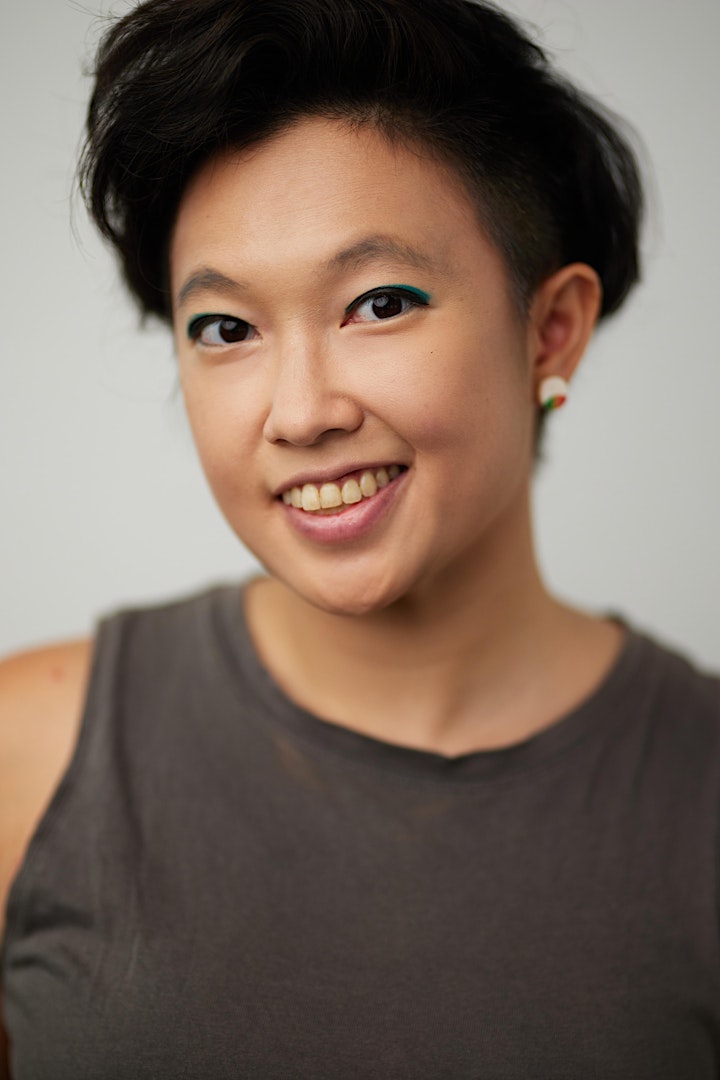 Photo courtesy of the Stephanie Dogfoot
Online Programme/Event Administrative Information
·       This programme is conducted entirely online. You may access Zoom via the app or using a web browser
·       Please ensure that you enter a valid email address as you will receive an email with the link to the online programme/event near the day of the programme/event
·       The link of the programme should not be shared with others
·       Do ensure you have a strong internet connection. Using your mobile data is not recommended
The National Library Board, Singapore (NLB) reserves the right in its absolute discretion to disqualify or refuse admission to any registrant without any reason and notice
Organiser of 5-Session Comedy Writing Workshop with Stephanie Dogfoot
The National Library Board (NLB) manages a network of 27 public libraries, the National Library and the National Archives of Singapore. NLB promotes reading, learning and information literacy by providing a trusted, accessible and globally-connected library and information service through the National Library and a comprehensive network of Public Libraries.