| | |
| --- | --- |
| | |
Event Details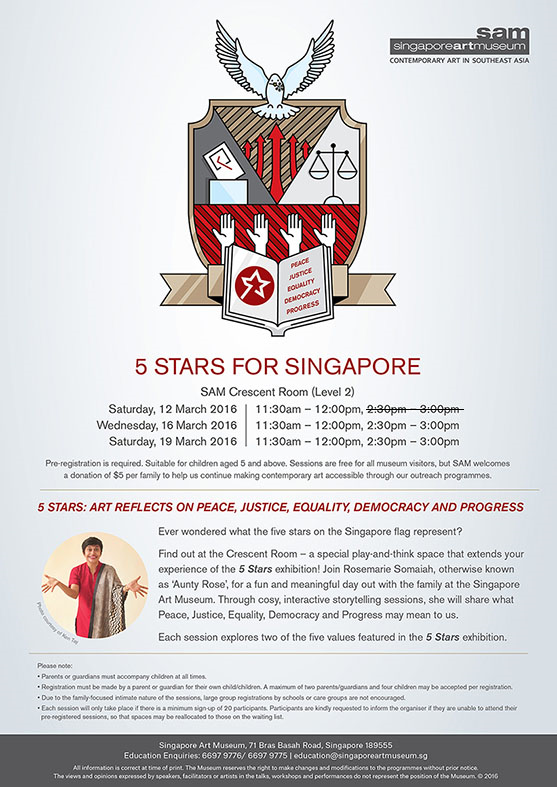 ABOUT THE PROGRAMME
Ever wondered what the 5 Stars on the Singapore flag represent? Drop by the Crescent Room to find out in fun ways! In these cosy interactive storytelling sessions, Rosemarie Somaiah or 'Aunty Rose' will share what Peace, Justice, Equality, Democracy and Progress may mean to us. Join us for a meaningful family-bonding day out at the museum.
Suitable for children 5 to 8 years old, each 30 minute session explores two values highlighted in the 5 Stars exhibition.
Sessions are scheduled during the March school holidays and are free for museum visitors. Capacity is limited and pre-registration is essential. We welcome a donation of $5 per family to help us continue making contemporary art accessible through our outreach programmes.
Saturday, 12 March 2016 | 11:30am – 12:00pm | Peace & Justice
Saturday, 12 March 2016 | 2:30pm – 3:00pm | Equality & Democracy*
Wednesday, 16 March 2016 | 11:30am – 12:00pm | Progress & Peace
Wednesday, 16 March 2016 | 2:30pm – 3:00pm | Justice & Equality
Saturday, 19 March 2016 | 11:30am – 12:00pm | Democracy & Progress
Saturday, 19 March 2016 | 2:30pm – 3:00pm | Peace & Justice
*Please note that the session on Saturday, 12 March 2016 | 2:30pm - 3:00pm | Equality & Democracy is cancelled.
IMPORTANT INFORMATION
Parents or guardians must accompany children at all times.
Registration must be made by a parent or guardian for their own child/children. A maximum of two parents/guardians and four children may be accepted per registration. Due to the family-focused intimate nature of the sessions, large group registrations by schools or care groups are not encouraged.
Each session will only take place if there is a minimum sign-up of 20 participants. Participants are kindly requested to inform the organiser if they are unable to attend their pre-registered sessions, so that spaces may be reallocated to those on the waiting list.
When & Where

Singapore Art Museum
71 Bras Basah Road
189555
Singapore

Organiser
The Singapore Art Museum focuses on international contemporary art practices, specialising in Singapore and Southeast Asia. 

Our Vision: The Singapore Art Museum will be pivotal among contemporary art museums in the region and on the region, inspiring humane and better futures. 

Our Mission: The Singapore Art Museum breathes Art into Life. Through contemporary art, we make infinite room for everyone to think, feel, experience and imagine. 

Housed in a restored 19th century mission school, it opened its doors in 1996 as the first art museum in Singapore. Also known as SAM, the museum is now a contemporary art museum. 

SAM has built one of the world's most important public collections of Southeast Asian contemporary artworks, with a growing component in international contemporary art. SAM draws from its collection and collaborates with international contemporary art museums to co-curate and present contemporary art exhibitions. Contemporary art of the region is also given international exposure through SAM's travelling exhibition programme and collection loans. 

Visitors can extend their SAM experience through complementary and exhibition-related education and public programmes
such as:
exhibition-related public programmes and workshops
educational programmes and workshops which cover a diversity of art trends and contemporary art practices for all ages
outreach programmes where SAM programmes are extended outside of the museum to schools, community centres, and partner locations
SAM exhibition downloadable activity sheets for pre-schoolers, primary, secondary and tertiary level students
SAM is the organiser of the Singapore Biennale in 2011, 2013 and 2016. 

On 13 November 2013, SAM became incorporated as an independent company limited by guarantee.
| | |
| --- | --- |
| Supported by |   |
| |   |