5D4N (22-26 July 2019) 新加坡 微信及移动互联网 上海游学浸濡团 WeChat Digital Immersion Progra...
Description
Experience How Wechat Can Empower Your Business To Greater Height!
In this specially tailored programme, participants will learn about how the WeChat mobile platform impacts government services, transportation services, retailing, service ordering, e-payment and other areas of a consumer's lifestyle.
Benefits you can gain:
Learn how to leverage on WeChat as a business tool to improve marketing and sales through an immersive hands-on training

Learn about the Tencent eco-system and opportunities to harness the prowess of new retail, mobile commerce social media & big data

Discover how WeChat mobile commerce accelerates customer engagement and business growth through case studies and onsite visits to successful enterprises

Explore and experience WeChat features and marketing techniques first-hand to attract and engage customers for sales conversion & loyalty

Gain insights on how to leverage the mobile commerce culture and lifestyle to your advantage

体验如何用微信提升您的业务到更高的领域!
在
这个特别定制的计划中,参与者将了解微信移动平台如何影响政府服务,转换服务,零售,服务订购,电子支付和消费者生活方式的其他领域。
您可以
获得的好处:
•
了解如何利用微信作
为商业工具,通过身临其境的实践培训来改善营销和销售
•
了解
腾讯生态系统以及利用新零售,移动商务社交媒体和大数据的实力的机会
•
通
过案例研究和对成功企业的现场访问,了解微信移动商务如何加
速客
户参与和业务增长
•
亲自探索和体验微信功能和营销技巧,以吸引和吸引客户进行销售转换和忠诚度
•
获得有关如何利用移动商务文化和生活方式的见
解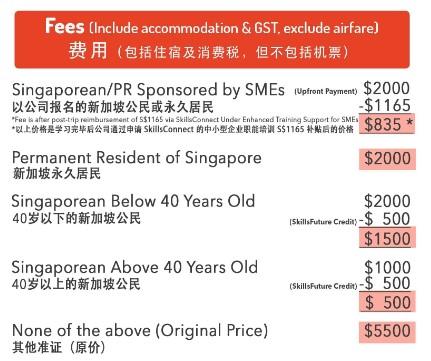 Interested, please click on the Register button to submit your name, email, and contact number.
A professional enroller will contact you and help with your application on the study trips with all relevant information and payment details.
Payment Instruction:
Payment by cheque should be crossed and made payable to "Nanyang Polytechnic".