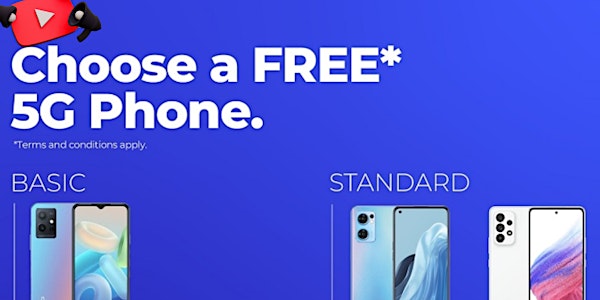 5G Contest - Free 5G Phones
Watch, Answer, Share & Win YouTube Contest! Global 5G Evolution 25 Prizes of 5G Mobile Phone each to be won. Contest period: until 31st2022
About this event
About this event
Watch, Answer, Share & Win
YouTube Contest!
Global 5G Evolution
25 Mobile Phones Prizes worth to be won. Contest period: until October 2022, and the winner will be contacted on November 2022.
To Participate You Must Follow Below Rules:
1. SUBSCRIBE TO OUR YOUTUBE CHANNEL : https://www.youtube.com/c/Global5GEvolution
2. Tag 5 of your friends.
3. Watch our XCHANGING IDEAS #29 Presentation whole video and answer THREE (3) questions below to stand a chance to win 25 5G Mobile Phones Prizes.
Questions on XCHNAGING IDEAS #29:
1. Explain the Digital Twin product details not more than 200 words
2. What do you benefit from the presentation ? Please share your thought.
3. Give a Summary if the Presentation in XCHANGINGS IDEAS #29?
Email your answers to the THREE (3) simple questions to : christopher@global5gevolution.com Please include your full name, mobile number and your town/ state in the email. You will be contacted if you are our lucky winner.
Watch the full video here:
https://www.youtube.com/c/Global5GEvolution