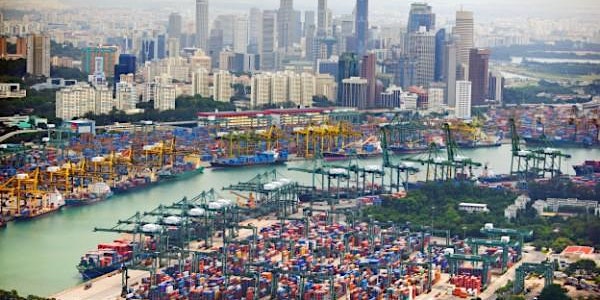 5th ExeWkshop on Strategic Planning for Ports& Term., 5-6 Jul 23, SPR
5th GPF Executive Workshop on Strategic Planning for Ports & Terminals, 5-6 Jul 23 SPR
By Global Ports Forum Pte Ltd
Date and time
Wed, 5 Jul 2023 09:00 - Thu, 6 Jul 2023 17:00 +08
Location
M Hotel Singapore Anson Road Singapore, 079908 Singapore
Refund Policy
Contact the organiser to request a refund.
About this event
1 day 8 hours

Mobile eTicket
5th GPF Executive Workshop on Strategic Planning for Ports & Terminals, 5-6 Jul 23 Singapore. 
SIGN UP TODAY!
5th GPF Executive Workshop on Strategic Planning for Ports & Terminals, 5-6 Jul 23 Singapore.
Dear colleagues
Key Learning Outcomes
1. Review of strategic developments in:
·        Shipping trends
·        Issues facing port infrastructure development
·        Port organization, ownership and institutional structuring
·        Marketing of port services
·        Port performance and its impact
·        Port risks and mitigation
2.  Understand the Port Strategic Planning process
3. Understand the Tools used for Strategic Plan Analysis and Strategies Development
4.  Learn how to develop and implement a successful strategic plan
5.  Apply what has been learnt through case studies and exercises
About the Course
This 2-day course is aimed to provide a deep understanding of the subject matter.
The course will commence with a strategic analysis of various developments in the port and logistics arena.  Aspects covered would include infrastructure review, developing shipping trends, ports design, marketing, pricing, operations management and financial performance of ports.  Having reviewed these developments, it will delve into the processes of strategic planning.
Participants will learn to develop vision, mission and value statements, understand goals and objectives, learn the tools and strategies that can be used for strategic planning, formulate strategies and learn how to develop and successfully roll out a strategic plan.
The course would engage participants to the fullest. It will test the knowledge application of the skills imparted to the participants through developing a strategic plan for a port.
Course Outline
Review of Strategic Developments:
Shipping trends
Evolution of supply chain
Port infrastructure developments
Port structures
Port risks management
Marketing of Port Services:
Port pricing Port competition
Port tariff structure
Port Operations and Management Performance:
Port operations key performance indicators
Port Financial Key performance indicators
Port HSSE Key performance indicators
Benchmarking
Capacity Management and Planning
Strategic Planning Processes:
Defining Vision, Mission and Values Setting Strategic Goals and Objectives
Understand Tools used for SWOT Analysis
Learn possible strategies to be used
Learn how to develop and implement a successful strategic plan
(Throughout the sessions, participants will participate in exercises and analyse and provide solutions to case studies presented.)
Endorsement for the executive workshop from past participants:
"Very good course, academic but at the same time practical."
Shahariah Tahir, GM Strategic Planning, Port of Tanjung Pelapas Malaysia
Who should attend:
Port Authorities; Port / Terminal developers, Port operators; Port investors, Port Service providers; Shipping Companies, Port Designers / Planners; Port Consultants;
About the Course Director
Thomas Ng
Thomas Ng has over 28 years of consulting experience in the ports and shipping industry. Thomas is known for developing innovative solutions for players within the ports & shipping industry, — in areas of investments advisory, port strategy, development, marketing, planning & redesign, customer services and port operations; and delivering superior results.
He is the Executive Chairman of The Global Ports Forum (GPF) since 2008. The Global Ports Forum is a platform where all ports stakeholders in the ecosystem- port customers, port authorities, port operators, port people, port suppliers & service providers are gathered together to discuss about issues furthering the interests of ports globally.
Thomas is well-respected in the ports & shipping circles — recognized for his in-depth industry knowledge and far-reaching personal industry network and linkages. Some of his recent port investments advisory work include ports in the Middle East, Africa, Southern Europe, South East Asia, Latin America, etc.
Given Thomas' far-reaching personal port industry network and linkages, Thomas is often seek out by port investors and port privatisation candidates all over the world for collaborative partnership.
Thomas is invited regularly as speaker & facilitator for Ports conferences, roundtable and executive programs and workshops.
He is the senior port & terminal training expert for the Singapore Ministry of Foreign Affairs (MFA) Singapore Cooperation Programme (SCP) for foreign ports officials for over 10 years. Recent programmes conducted by Thomas include the 5 days executive program in "Port Development and Competitiveness", Singapore on 12-16 Dec 2016 where Thomas was the key trainer for over 60% of the whole executive program. Some other early SCP programmes that Thomas taught over 20 senior foreign government transport officials included the 2 weeks Singapore MFA Executive Programme in Logistics & Distribution Management on 28 Aug – 10 Sep 2007 & again on 6 Oct – 17 Oct 2008.
Thomas spoke at the Transport Intelligence Singapore 2013 Infrastructure panel, together with senior executives from the World Bank & UPS, the Container Depot Association Singapore Conference 2014 on ports and infrastructure, Tank Storage Asia Conference in 2015 and an exclusive Roundtable on Smart ports & ships and Internet of Things in Jun 2016.
On a professional level, Thomas founded the non-government voluntary organization — The Global Ports Council (GPC) in 2008. As of today, over 192 C-level executives globally presents themselves as members of our council. Our prestigious list of Council members are as follows:
http://globalportsforum.com/the-global-ports-council/
Thomas is also a veteran Chartered member (since 2001) of the Chartered Institute of Logistics & Transport Singapore. He serves as a Board Member of the Singapore Branch of Chartered Institute of Logistics & Transport for over 16 years.
15th GPF Anniversary Special. Pay for Two participants, another Two comes free. No other promotion applicable.
Costs:
On or Before 5 May 2023: The 'Early Bird' Rate is USD3995 – Save USD800! Special Offer! – 3 Delegates For The Price of 2 in This Category! Save USD3995!
From 6 May 2023: The Regular Rate is USD4795
Special Offer! – 3 Delegates For The Price of 2 in This Category! Save USD4795!
Note: All fees stated include luncheons, refreshments and complete set of documentation. It does not include the cost of accommodation and travel.
REGISTER NOW !
To register, please submit the following details to thomasng@globalportsforum.com:
Name:
Position:
Organisation:
Address:
Tel:
Fax:
Email:
What Best Describes Your Industry Sector?:
Billing information:
For cheque payments: To be made payable to 'Global Ports Forum Pte. Ltd.' Please do not send post-dated cheque.
For telegraphic transfers: 
Account Name:             Global Ports Forum Pte. Ltd.,   
Account No. :                695 477 141 001. 
Beneficiary Bank:          Oversea-Chinese Banking Corporation Limited, Singapore. (Swift: OCBCSGSG), Address : 65 Chulia Street #01-00, OCBC Centre, Singapore 049513.
Please supply confirmation via email of the TT from your bank. Transmitting bank charges must be paid by sender. Please quote both delegate and company name as reference.
Kindly note that as we are providing a special rate for 'early bird' sign up, we will need to receive your company payment by 5 May 2023 to enjoy the discount.
Look forward to welcoming you at the executive workshops/forums.
Kind regards
Thomas Ng
Chairman
The Global Ports Forum
GLOBAL PORTS FORUM PTE. LTD.
10 Anson Road
#18-11
International Plaza
Singapore 079903
Website: http://www.globalportsforum.com/
DID:    +65 65197662
Fax:    +65 6725 8438
Email:  thomasng@globalportsforum.com
Terms & Conditions:
No delegate registration will be accepted without completing registration details and full payment.
Upon receipt of your registration details and full payment, further programme information will be emailed to you including your proforma invoice and, if required, a letter of invitation for entry visa application.
Delegates will not be admitted unless payment has been received in Full.
Flights, Airport Transfers and Accommodation are not included in your delegate registration fee.
Refund Policy - a reimbursement of the registration fee, minus administrative charges will only be made if the participant has notified Global Ports Forum Pte. Ltd. in writing that he/she is unable to attend the event no less than 45 days prior to the commencement of the event. No cancellation is allowed after that, but a replacement with another participant is allowed.
This programme (including the trainers) is subject to change without notice, E&O.E.
About the organiser
Global Ports Forum Pte Ltd
(GPF) is committed to improving global ports and furthering the interests of ports globally!
GPF offers an overview of emerging trends in the ports industry covering ports, harbours and terminals across the globe.
Collaborating with Port Authorities around the world, the Global Ports Forum today bring together members from the ports ecosystem and organises quality port related events, executive workshops and short courses.
Working in collaboration with our senior port experts, we also provide port consultancy services, feasibility studies, survey and research.
Yours sincerely,
Thomas Ng
Global Port Singapore