Singapore Marriott Tang Plaza Hotel 15th February - 18th February 2022 8.00 am - 5.15 pm Singapore Standard Time
About this event
Transforming Singapore for a post-Covid-19 Future
"In this new normal, the countries which are united, disciplined and put in place sensible safeguards will be able to reopen their economies, reconnect to the rest of the world, grow and prosper. Singapore will be among these countries – more confident and resilient than before, and toughened by what we have overcome together as one nation".
–Prime Minister, Lee Hsien Loong
These words of cautious optimism by PM Lee seek to prepare Singaporeans for a life beyond COVID-19. He outlined the future beautifully by saying that "Singapore's priority is to get through this pandemic and position ourselves strongly for the future." As we all prepare to return to new "normalcy" in our lives, what does this future look like?
How technology will be supporting the reshaping of the world with lessons learnt from COVID-19?
How would the citizens expectations change?
What kind of new citizen facing touchpoints would have to be invented to best serve our future needs?
Are we ready to embrace this next normal?
What and how should we be preparing ourselves for the "new normal"?
Singapore OpenGov Leadership Forum 2021 in its virtual edition gathered the Singapore public sector and financial sector digital leaders to discuss, deliberate, share and plan for the next phase of transformation. We are now ready to take this discussion to the next level and invite you to attend the physical edition taking place on the 15th -18th February 2022.
We will have:
DAY 1: Data and AI Day – SPURRING ORGANISATIONS' CAPABILITY IN AUGMENTED INTELLIGENCE, BIG DATA AND ADVANCED ANALYTICS
DAY 2: Cyber Resilience Day – FOCUS ON ZERO TRUST APPROACH AND RANSOMWARE PROTECTION
DAY 3: Cloud, Automation and Hybrid Workplace Day – SCALE, AGILE, FLEXIBLE, SECURE – ADAPTING TO THE NEXT NORMAL
DAY 4: Citizen Engagement and Experience Day – EARNING CITIZEN TRUST AND KEEPING THEM ENGAGED WITH NEXT-GEN SERVICES
The Singapore OpenGov Leadership Forum has attracted many delegates with the unique OpenGov gamification format and networking opportunities. Technology leaders in Government, Education, Healthcare, Government-Linked Companies (GLC) sectors and Financial Services Institutions (FSI) benefit from coming to the forum. Being key influencers and decision makers within their organisations, delegates learn about the new technology and strategy at our forum and introduce positive change in their organisations.
How Our Award-Winning OpenGov Gamification Table (OGT) Works
At the start, you will be assigned to an OpenGov Gamification Table (OGT), where there will be a technology partner and a speaker. The technology partner and speaker will engage you and the other delegates in a 30-minute discussion on a specific topic, with the use of innovative props.
At the end of each gamification session, delegates will rotate to the next gamification table for the next round of discussion. You will be engaged in another series of discussion on a new topic with gamification.
Come join us at the Singapore OpenGov Leadership Forum 2022!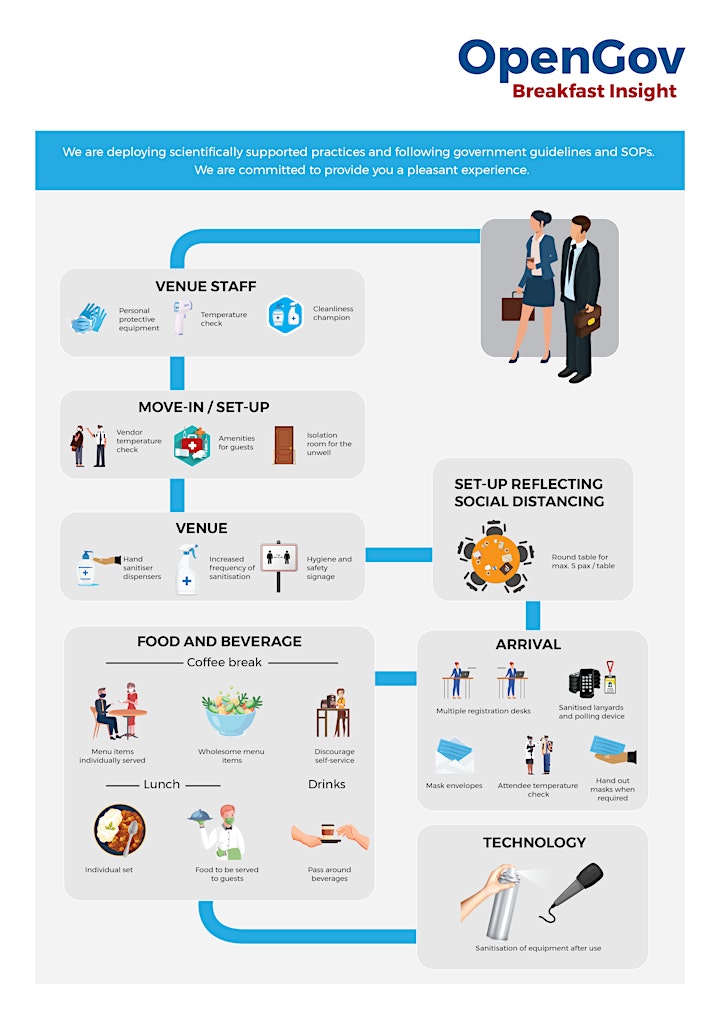 Organiser of 6th Annual Singapore OpenGov Leadership Forum 2022
OpenGov has over 20 years' experience in providing a platform enabling collaboration. The last 5 years, solely to Public Sector within the Asia Pacific Region, including Australia and New Zealand. We are a team that has revolutionised the traditional conference platform, having developed a method to return real and tangible value to the delegates that attend. By creating an environment that enables and enhances true collaboration and knowledge exchange, OpenGov enhances the experience which provides true insights from lessons learnt. These insights are delivered from, and by the many leaders in government agencies from around the world that attend these events. These events cover ICT, Health, Education and Crisis Assessment Response Effectiveness (CARE). Our team has been past winners of the "Best CEO Level Conference in Asia" award.
In speaking with over 500 Government ICT officials this year, we have detailed the challenges many government CIO's face. Due to the ever changing digital environment, CIO's struggle to keep up with all these changes. To assist these CIO's, OpenGov has embarked on a journey of exploration, finding solutions and best practice examples to assist CIO's in bridging this knowledge gap.
OpenGov has organised many types of events. These events being small training seminars, large scale conferences and industry based exhibitions. They specifically focus on Government, in the areas of Public Sector ICT, Health care and Education. To add further value to these events, we have included private sector representation, which has further expanded on our knowledge based and understanding in the delivery of services to our citizens.