Description
For the first time in Asia!
What are you really hungry for?
Rediscover a joyful relationship with food, change unhealthy patterns that do not serve you and learn to enjoy food for what it is – nourishment and pleasure for the body, mind and spirit.
Based on the Mindful Eating Conscious Living (ME-CL) foundational professional training developed and taught by Jan Chozen Bays, MD and Char Wilkins, MSW at the University of California, San Diego (UCSD) Center for Mindfulness.

8 Weekly Classes: every Wed from 7.00pm - 9.30pm
12, 19, 26 Oct 2016
2, 9, 16, 23, 30 Nov 2016
All-Day Mindful Eating Retreat: Sunday, 20 November 2016. 10am - 4pm
Investment: S$795 (early-bird promo till 18 Sep 2016) / S$895

Free Intro Sessions on Wed, 31 Aug 2016
Session A: 11am to 12pm
Session B: 7pm to 8pm
Please register early as spaces are limited.
About ME-CL
ME-CL is an 8-session program that focuses on helping people re-establish a healthy and joyful relationship with food and eating. This program has been designed by experienced mindfulness practitioners/instructors who work with people struggling with disordered eating and body image. After listening to the experiences of thousands of people who find that dieting does not work, and finding a similar consensus in the medical literature, the instructors have made a responsible commitment not to advocate diets or focus on weight.
Throughout the program mindful eating exercises, simple meditations, gentle movement, helpful information and discussions lay down a path that if taken in small steps, can lead to knowing how to better take care of yourself.
The Eight Sessions
1. What is Mindfulness? Why and how to apply it to eating
2. Slowing Down/Pausing and Hunger
3. Fullness and Satisfaction
4. Identifying Conditioned Patterns around Eating
5. Emotions and Body Awareness
6. Food and Mood
7. Craving
8. Working with Heart Hunger
Why Mindful Eating?
Why are people turning off their phones, televisions and other plug-in devices and tuning in to the taste of food? Growing research suggests that distraction while eating prevents a person from enjoying the bite in the mouth. Coined "mindless eating," this innocent behavior has been linked to overeating, stress and increased anxiety.
How would you know if you are eating in a mindless or distracted way? One quick way is to recall what you ate at your last meal. Can you describe the flavor, the taste, the texture? If you are struggling to remember any of the specifics about your choice, you are not alone.
Mindful eating helps individuals learn how to check in with their direct experience when eating. Reconnecting to your direct sensory experience can become the start of a food and eating awakening. People often discover that the flavor of common foods can be transformed by bringing a mindfulness practice to the meal.
How does mindful eating change a meal? Pausing and becoming curious focuses the mind. Questions stimulate the mind and create a focus on the bite in the mouth. Mindful eating cultivates becoming grounded in the present moment's awareness of eating. Many people who try eating more mindfully discover that mindfulness may be just the perfect seasoning for any meal.
MINDFUL EATING...
Is empowering.

Nourishes not only the body but also the heart.

Becomes easier and more enjoyable with practice.

Brings awareness of your interrelationship with other people and beings.

Helps you choose to contribute to the well-being of the Earth.

Is fun.

Promotes understanding of your true needs.

Helps you become aware of your thoughts, feelings and physical sensations related to eating.

Helps you reconnect to your innate inner wisdom about hunger and satiety.

Helps you shift the locus of control from external authorities to your body's inner wisdom.

Empowers you to make healthier choices, unlike dieting, which can lead to feelings of deprivation.

Helps you bring acceptance and balance to your life.

Offers the possibility of freeing yourself from habitual reactive pattern
Principles of Mindfulness:
Mindfulness is deliberately paying attention, non-judgmentally.

Mindfulness encompasses both internal processes and external environments.

Mindfulness is being aware of what is present for you mentally, emotionally and physically in each moment.

With practice, mindfulness cultivates the possibility of freeing yourself of reactive, habitual patterns of thinking, feeling and acting.

Mindfulness promotes balance, choice, wisdom and acceptance of what is.
Mindful Eating is:
Allowing yourself to become aware of the positive and nurturing opportunities that are available through food preparation and consumption by respecting your own inner wisdom.

Choosing to eat food that is both pleasing to you and nourishing to your body by using all your senses to explore, savor and taste.

Acknowledging responses to food (likes, neutral or dislikes) without judgment.

Learning to be aware of physical hunger and satiety cues to guide your decision to begin eating and to stop eating.
Someone Who Eats Mindfully:
Acknowledges that there is no right or wrong way to eat but varying degrees of awareness surrounding the experience of food.

Accepts that his/her eating experiences are unique.

Is an individual who by choice, directs his/her awareness to all aspects of food and eating on a moment-by-moment basis.

Is an individual who looks at the immediate choices and direct experiences associated with food and eating: not to the distant health outcome of that choice.

Is aware of and reflects on the effects caused by unmindful eating.

Experiences insight about how he/she can act to achieve specific health goals as he/she becomes more attuned to the direct experience of eating and feelings of health.

Becomes aware of the interconnection of earth, living beings, and cultural practices and the impact of his/her food choices has on those systems.
The Instructor: This 8-week program is conducted by Balanced Living's resident practitioner Tiffany Wee.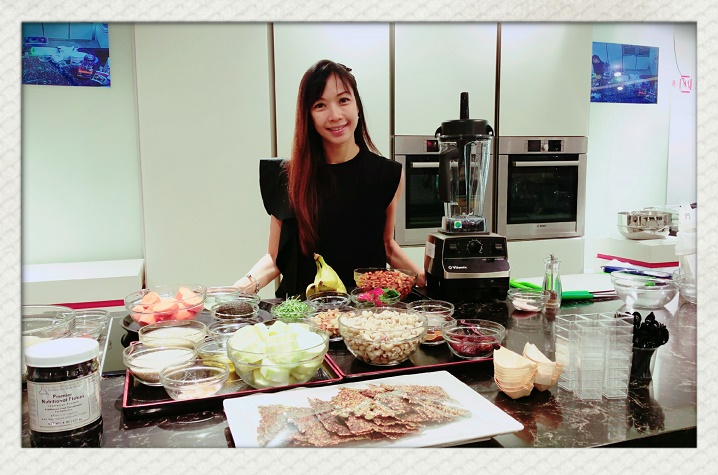 Trained in Australia, she is a passionate naturopath, nutritionist, herbalist and Reiki practitioner who has consulted in world-renowned health establishments like Chiva Som and ESPA.
Combining her passion for nutrition and meditative practices, Tiffany is the first in Asia to offer an 8-Week Mindful Eating course based on UCSD's Mindful Eating Conscious Living program. In her spare time, she enjoys precious moments with her husband and three princesses.
Please note that upon registration, the instructor will contact you via email to arrange for a short phone interview and simple intake process to ensure suitability and alignment of expectations for the program. All payments for courses or event registrations are non-refundable.