A-CERTS Training: WSQ Respond to Fire Emergency in Buildings (2 Day) Run 76
Covers basic firefighting, rescue techniques & procedures for a CERT member to be used during an emergency [Tier 1 HRI /Tier 2 premises]
About this event
Time: 9.00 am to 6.00pm
Duration: 2 Day
Training Fees: S$425 per pax for A-CERTS Members / $460 per pax for non-members (WSQ funding available for this course)
Accreditation: WSQ Module / SCDF: 20 CPD points / WSHO: NIL
You may visit A-CERTS website at https://www.acerts.org.sg/list-of-training/ to download the full training directory.
Course Overview & Aim (Recommended Course for Premises with Fire Safety Manager and store less than 5 metric tonnes of Petroleum & Flammable Materials ; Tier 1 high risk installations & tier 2 premises)
The 2-day course will provide members of the Company Emergency Response Team (CERT) in the Public and Industrial premises with Fire Safety Manager and store less than 5 metric tonnes of Petroleum and Flammable materials with the essential knowledge and application skills to function as a member of an emergency response team. It equips the team to implement the emergency response skills during an emergency incident in buildings. This training covers basic firefighting, rescue techniques and procedures as a CERT member that can be utilised during an emergency.
This is also a WSQ module accredited by WDA.
Target Audience
Response Team members and Site Incident Controller (SIC) from commercial, industrial and workplaces who are the first responders for incidents in premises with Fire Safety Manager and store less than 5 metric tonnes of Petroleum and Flammable. Persons who want to be recognised as a competent person applying emergency response skills during an emergency incident in buildings.
Course Content
- Interpret emergency response legislations and guidelines- Identify fire hazard scenarios and usage of fire protection system in buildings- Demonstrate use of breathing apparatus according to BA wearer guidelines and entrapment procedures- Assess the emergency situation and conduct firefighting to contain fire in high rise buildings- Participate in rescue and evacuation exercise- Hand over incident and provide operational assistance to the appropriate authorities
Certification
Participants will be awarded a downloadable e-Statement of Attainment by SSG upon passing the assessment
Pre-requisite
Compulsory declaration of health using Medical Form A for Trainees (forms to be submitted prior to training)
FAQs
How much is the training fees?
S$425 per pax (all inclusive) for A-CERTS Members and $460 per pax for non-members. You can write to A-CERTS at enquiry@acerts.org.sg for more details.
Is this course subsidized?
Company sponsored participants (Singaporeans & PRs) can apply for subsidies under the WSQ funding scheme. For more details of the subsidies, please refer to www.ssg.gov.sg.
What are my transport/parking options getting to the event?
The directional details will be sent to participants upon registration of this training.
Is lunch and refreshment provided for the event?
There is a variety of dining choices readily available near the training venue. 
Where can I contact the organiser with any questions?
You can contact the administrator at enquiry@acerts.org.sg
Is my registration transferrable?
Your registration can be transferred but you will have to inform the administrator, at enquiry@acerts.org.sg, at least 10 working days in advance.
How do I pay for the training?
Upon registration, the administrator will advise you on the payment details. Please note that event confirmation is only confirmed with full payment.
What is the refund policy?
A-CERTS does not refund but you are allowed to transfer your seats. Please give notice of at least 10 working days.
The name on the registration doesn't match the attendee. Is that okay?
As Certificate will be issued upon completion of this training, please ensure that your details are correct.
A-CERTS Terms and Conditions
- By participating in the above programme, you certify that the information provided is correct. You will not hold the organiser responsbile for any mishap occur during my participation.
- All decisions made by the organiser shall be final.
- By attending this event, you agree to be photographed (if photos are taken by organiser). You hereby grant the organiser a royalty-free right to use photos and information in media press and materials and marketing materials connected to the event.
- For SSG-approved/funded courses, personal/office email address and mobile number are required for submission to SSG for generation of electronic Statement of Attainment and for survey purposes.
- Information provided will be treated with confidentiality and is collected for the purposes to be submitted to the governing bodies, third party service providers, agents and other organisations for, and if applies:
a) accreditation of CPD points,
b) accreditation of SDU point,
c) assessment result submission to SSG,
d) generation of electronic certificates/Statement of Attainment,
e) notification to trainees from SSG,
f) Submission of Info to SSG for TRAQOM surveys (Training Quality and Outcomes Measurement), and
g) for performing obligations in the course of or in connection with our provision of the goods and/or services requested by you;On Training Grant:
*Trainee must attend full training, sit for and pass all required tests/assessments.
*Trainee must not have applied for SSG (previously known as WDA) course fee subsidy for this particular training course, previously, to be eligible for training grant.
Upon failing the above, trainee is required to pay full fees.
- Please note that event confirmation is only confirmed with full payment.
- Registration is on First-Come-First-Served basis. We regret to inform that reservation of seats will not be entertained.
- Email confirmation generated by Eventbrite is an acknowledgement of your registration. A-CERTS will follow up with another email update prior to the training.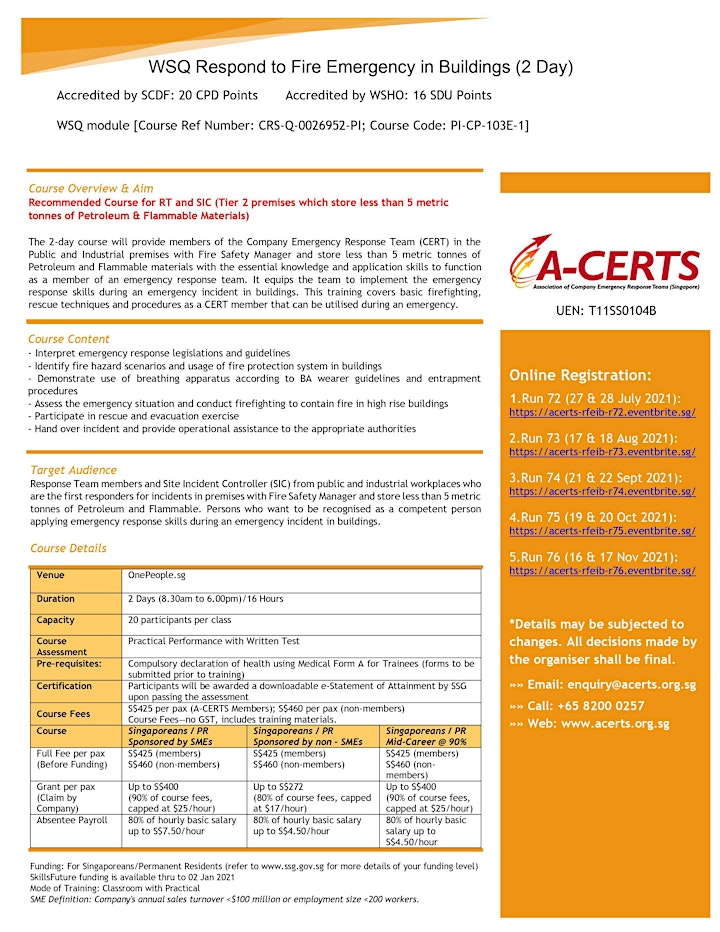 Organizer of A-CERTS Training: WSQ Respond to Fire Emergency in Buildings (2 Day) Run 76
The Association of Company Emergency Response Teams (Singapore) or "A-CERTS" is established with support from the Singapore Civil Defence Force (SCDF).
The Mission of A-CERTS is to promote continual development, professionalism and excellence in the field of Emergency Response & Crisis Management. A-CERTS will work with the relevant Government Agencies in the development and enhancement of programs and standards relating to emergency response.  It will also create a platform to share valuable information & professional development opportunities for members. 
It is also with this aim that A-CERTS will continually identify relevant training and services delivered by the team of accredited providers that will improve and enhance the preparedness of CERT through development.