A-CERTS Training: WSQ Response to Fire and Hazmat Emergency (3 Day) Run 48
Description
Date: 12 to 14 December 2018, Wednesday to Friday
Time: 8.30am to 5.30pm
Duration: 3 Days
Training Fees: S$980 per pax (A-CERTS Members only); S$1250 per pax (non-A-CERTS members) (WSQ funding available for this course)
Accreditation: WSQ Advanced Certificate Module / SCDF: 30 CPD points

Overview
Fires often cause explosions in vessels, particularly those containing liquids common in Process plants. Fire fighting in the petrochemical, pharmaceutical and chemical process industries may be particularly complex, where, potentially every fire is a Hazmat incident. Large quantities of toxic fumes are frequently involved and may lead Company Emergency Response Team (CERT) members to undertake rash actions which constitute hazards to personnel.
This is also a WSQ module accreditated by WDA.
Aim of This Course
This course is designed to enable a person to function as a member of an emergency response team in order to meet and respond to fire and Hazmat emergencies, such as prepare for fire and Hazmat emergencies, participate to contain fire and hazmat emergencies and assist in
search and rescue operations.

Who Should Attend?
RT and SIC from CERT Team of Tier 1 Premises:

PIB (High Risk Installations Buildings)

Petroleum & flammable material (> 5 matrix tonnes)
It is targeted at individuals with operational responsibilities from all sectors such as:
• Chemical Production • Plant Construction
• Plant Equipment Maintenance • Water Management
• Waste Management • Building Management
• Energy Management
Course Content
Identifying Hazards
Use of PPE
- Chemical suits
- breathing apparatus
Use of mitigation equipment
-Detectors
-Plugging / Sealing equipment, absorbent and overpack drums
Decontamination & Containment Measures
Usage of Fire Protection Systems in Buildings / Process Plants
Firefighting using various extinguishing mediums (e.g. foam, dry powder, CO2 extinguishers)

What Will You Get Upon Completion?
A downloadable electronic copy of Statement of Attainment (SOA) issued by WDA upon passing of assessment tests.

Do You Need Any Pre-requisite(s) to Attend This?
• Trainee recommended to be medically fit due to the physical requirement of the training.
• Compulsory declaration of health using Medical Form A (form to be submitted prior to training). Please email the administrator at enquiry@acerts.org.sg for the Medical Form A.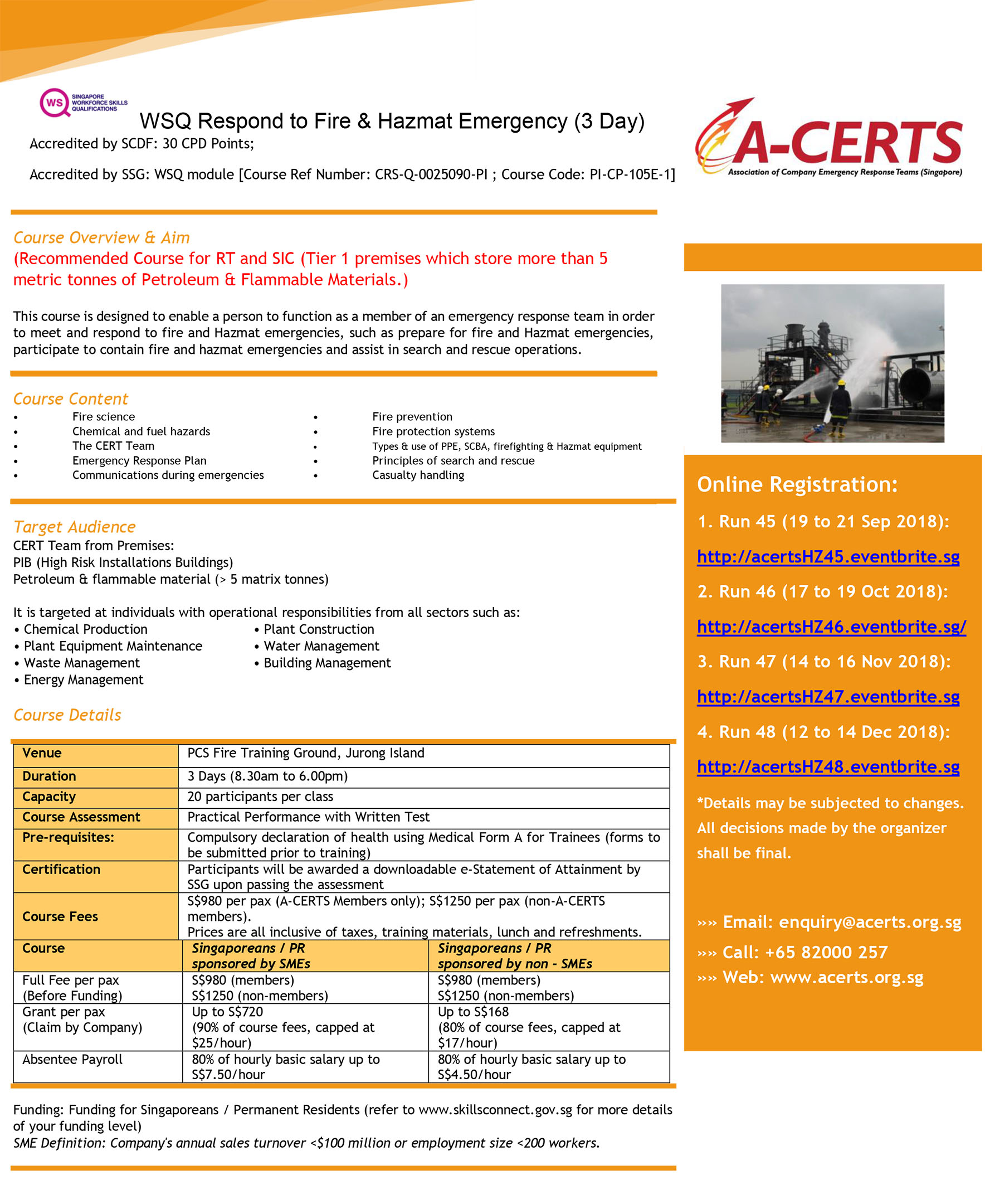 FAQs
How much is the training fees?
S$980 per pax (A-CERTS Members only); S$1250 per pax (non-A-CERTS members). (WSQ funding available for this course)
Is this course subsidized?

Company sponsored participants (Singaporeans & PRs) can apply for subsidies under the WSQ funding scheme. For more details of the subsidies, please refer to www.skillsconnect.gov.sg
What are my transport/parking options getting to the event?
The directional details will be sent to participants upon registration of this training.
Where can I contact the organizer with any questions?
You can contact the administrator at enquiry@acerts.org.sg
Is my registration transferrable?
Your registration can be transferred but you will have to inform the A-CERTS Administrator at enquiry@acerts.org.sg at least 10 working days in advance.
How do I pay for the training?
Via cheque or online credit card payment.
What is the refund policy?
A-CERTS does not refund but you are allowed to transfer your seats. Please give notice of at least 10 working days.
The name on the registration doesn't match the attendee. Is that okay?
As certificate will be issued upon completion of this training, please ensure that your details are correct.
A-CERTS Terms and Conditions
- I hereby wish to participate in the above programme and certify that the information provided is correct. I will not hold the organizer responsbile for any mishap occur during my participation.
- All decisions made by the organizer shall be final.
- I hereby grant the organizer a royalty-free right to use photos and information in media press and materials and marketing materials connected to the event.
- Registration is on First-Come-First-Served basis. We regret to inform that reservation of seats will not be entertained.
- Participant's data is collected to be submitted to the governing bodies and related agencies for accreditation of CPD points, SDU points and generation of certificates.