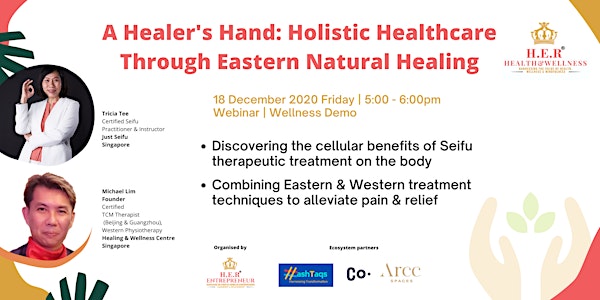 A Healer's Hand: Holistic Healthcare Through Eastern Natural Healing
Discover the cellular benefits of Seifu therapeutic treatment and Eastern and Western techniques to alleviate pain as well as relief
About this event
What is the Seifu method of therapeutic treatment of of the body?
Are you able to combine both Western & Eastern treatment techniques to alleviate pain and relief in your body?
Join Renee with invited speakers, Tricia Tee, Certified Seifu, Practitioner & Instructor of Just Seifu, Singapore and Michael Lim, Founder, Certified TCM Therapist (Beijing & Guangzhou), Western Physiotherapy of Healing & Wellness Centre, Singapore for this Health & Wellness webinar on 'A Healer's Hand: Holistic Healthcare Through Eastern Natural Healing', where they will be sharing what are the the cellular benefits of Seifu therapeutic treatment on the body and understanding the Eastern & Western treatment techniques to alleviate both pain & relief.
DETAILS
Date: 27 November 2020 (Friday)
Time: 5:00pm to 6:00pm SGT
Venue: Zoom
Register for the Premium Pass to receive the full recording of the event.
We will be conducting the session via a webinar, so do RSVP by registering here to receive the webinar link.
Early bird Premium tickets ends 16 December 2020! Get your tickets now!
TICKETS
1. Freemium Pass
+ LIVE Broadcast only
+ Q&A
2. Premium Pass
+ Live Broadcast
+ Q&A
+ Video recording
Contact us at marketing@herentrepreneur.com or +65 8868 1418 for any inquiries.
*Content creation and training sessions are self-funded, support us to get this going if you can. 😊