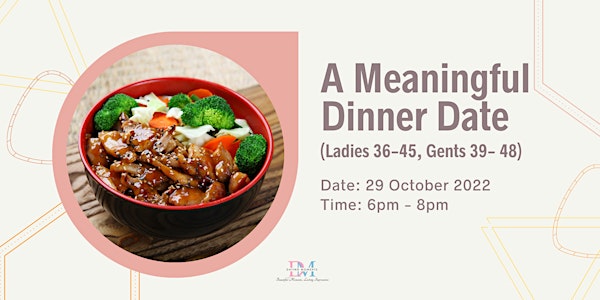 A Meaningful Dinner Date (Ladies 36-45, Gents 39-48)(CALLING FOR LADIES)
Come and dine for a good cause!
When and where
Location
The Social Kitchen 1 Orchard Road, #04-00, YMCA@One Orchard, Singapore 238824 Singapore, 238824 Singapore
Refund Policy
Contact the organiser to request a refund.
About this event
Join us at The Social Kitchen for a scrumptious meal made with ingredients from sustainable sources and love from the vulnerable community. By having a meal here,, you will also be playing a part in empowering a person from a vulnerable community to provide for himself by working in a space where new skills can be learnt.
There will be 1-to-1 rotations during the event where you can get a chance to interact with participants of the opposite gender as you enjoy the exclusive Dinner Set Menu which includes a main, ice cream and drink.
Come and dine for a good cause!
Do take note:
- Requires a minimum of 3 gents and 3 ladies to run this event
- Requires a gender ratio of 50/50 to 60/40 
- Dating Moments Terms and Conditions Apply
- This dessert date is specially curated for ladies aged 36-45 and gents aged 39-48 (Based on year of birth).
- Please indicate you choice of 1 Main, 1 Drink and 1 Ice Cream Flavour from the Menu in the form provided upon payment.
Price : $40
Price includes:
- Exclusive Dinner Set Menu
- 1-to-1 rotations 
- Facilitation of event
- Secret Date Matching after event
If you are a DM Member, please email to elza.tan@datingmoments.com for a 10% discount and kindly do not make payment.
Kiasu? No such thing! We at Dating Moments believe that when it comes to something as important as Love, the word "Kiasu" does not apply! So do subscribe to our Telegram channel and follow us on our Instagram to be the first in the know for our events and latest happenings!