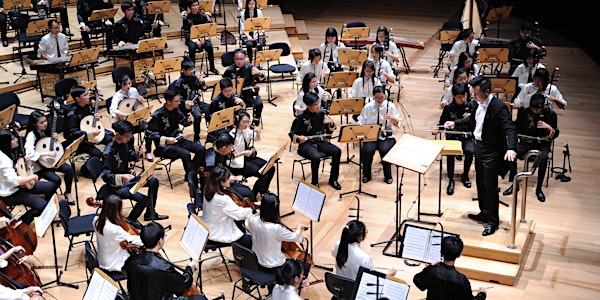 天涯共此时 — 青春乐韵迎中秋 A Moment We Share - Moonlight Charms by SYCO
Location
China Cultural Centre Theatre (Level 4)
217 Queen Street
Singapore, 188548
Singapore
Description
2016年9月11日(星期日)
3pm & 5pm
中国文化中心剧院 (四楼)
指挥:倪恩辉
新加坡青年华乐团将到中国文化中心欢庆中秋!指挥倪恩辉将带领新加坡青年华乐团呈现以月圆中秋为主题的节目包括吕文成的《平湖秋月》、邱大成改编的琵琶与古筝二重奏《春江花月夜》、卢亮辉为展示拉弦乐器作曲的《弦情》和亨利•曼西尼作曲的浪漫情歌《月河》。
平湖秋月
吕文成作曲、瞿春泉编曲
彩云追月
杨培贤编曲
春江花月夜
古曲、邱大成改编
台湾民谣三首
罗伟伦编曲
弦情
卢亮辉
十五的月亮
全运驹编曲
城里的月光
陈佳明作曲、陈家荣改编
花好月圆
黄贻钧作曲、彭修文编曲
< 注意事项 >
入场免费,需登记后凭票入场。因为会有部分门票登记者当天缺席音乐会的情况,因此网上登记的门票数量将比音乐厅座位多出20%。

自由入座。入场时间分别为下午2点15分和4点15分。因座位有限,我们建议观众提早到场,入场时间将开放到音乐厅满座为止。

我们欢迎更多的观众到场观看音乐会。如果音乐厅仍有空余座位,我们将在音乐会开始15分钟之前允许未在网上登记的观众入场。
---
11 Sep 2016 (Sun)
3pm & 5pm
China Cultural Centre Theatre (Level 4)
Conductor: Moses Gay
Celebrate mid-autumn festival with Singapore Youth Chinese Orchestra (SYCO) at the China Cultural Centre with your family and friends. SYCO conductor Moses Gay will lead SYCO with a festive programme to celebrate mid-autumn such as Lu Wen Cheng's Autumn Moon over a Placid Lake, Qiu Da Cheng's re-arrangement of pipa and guzheng duet Spring Blossoms on a Moonlit Night by the Riverbank, Lo Leung Fai's composition for bowed-string instruments Strings Sentiments and Henry Mancini's romantic piece Moon River.
Autumn Moon over a Placid Lake
Composed by Lu Wen Cheng, arranged by Qu Chun Quan
Rousing Clouds Chasing the Moon
Arranged by Yeo Puay Hian

Spring Blossoms on a Moonlit Night by the Riverbank
Re-arranged by Qiu Da Cheng
Three Taiwanese Folk Tunes
Arranged by Law Wai Lun
Strings Sentiments
Lo Leung Fai
The Full Moon
Arranged by Chuan Joon Hee
Moonlight in the City
Composed by Chen Jia Ming, re-arranged by Tan Kah Yong
Full Moon Blossoms
Composed by Huang Yi Jun, arranged by Peng Xiu Wen
< Notes >
Free admission. Ticket registration is needed. We will be allowing for 20% overbooking online due to no show experienced in past events.

Free seating. Entering of theatre will commence at 2.15pm and 4.15pm. Once the seats are fully occupied, there will NOT be further entry allowed. Audience are encouraged to come early to avoid disappointment.

Walk-in audience will only be allowed for entry at 15 minutes before the concert if there are available seats. Walk-in audience are welcomed.