A Novel Sleep Diagnostic - System Simple to Implement into Primary Care Settings
About this event
A Novel Sleep Diagnostic - System Simple to Implement into Primary Care Settings
Synopsis:
Sleep health is currently not routinely addressed by primary care doctors due to lack of access and the complexity of sleep test and follow-up thereafter. However, with the advancement of technology now there is a novel sleep that is FDA-cleared for use in children and adults that is simple to implement into primary care and for patients to record their sleep. This home sleep test should be something primary care doctors can implement easily to assist them with addressing sleep complaints and diagnosing their patients that have sleep disorders. SleepImage will be a tool to satisfy this: easy for patients to use, result analysis is automated in the cloud server and appear quickly, and result presentation that is easy to understand for primary care givers.
Speaker:
Dr Solveig Magnusdottir MD, MBA
Dr Solveig Magnusdottir is a graduate MD from the University of Iceland and she took her MBA from University of Reykjavik. Despite her busy schedule, she is currently studying MSc in Sleep Medicine at Nuffield Department of Neuroscience Oxford University UK. Dr Solveig's interest in sleep health saw her penning down various researches and publications. She is currently the medical director of SleepImage, a privately held company offering FDA cleared medical solutions (Software as a Medical Device; SaMD) based on cardiopulmonary coupling analysis (CPC) to calculate Sleep Quality, Sleep Duration and Sleep Pathology measurements for objective sleep disorder identification, diagnosis of sleep apnea and therapy tracking solutions.
Schedule:
Note:
The three Q&A breaks are suggested by the society for submission purpose only. The actual talk can have only one 30-minutes Q&A at the end of the webinar.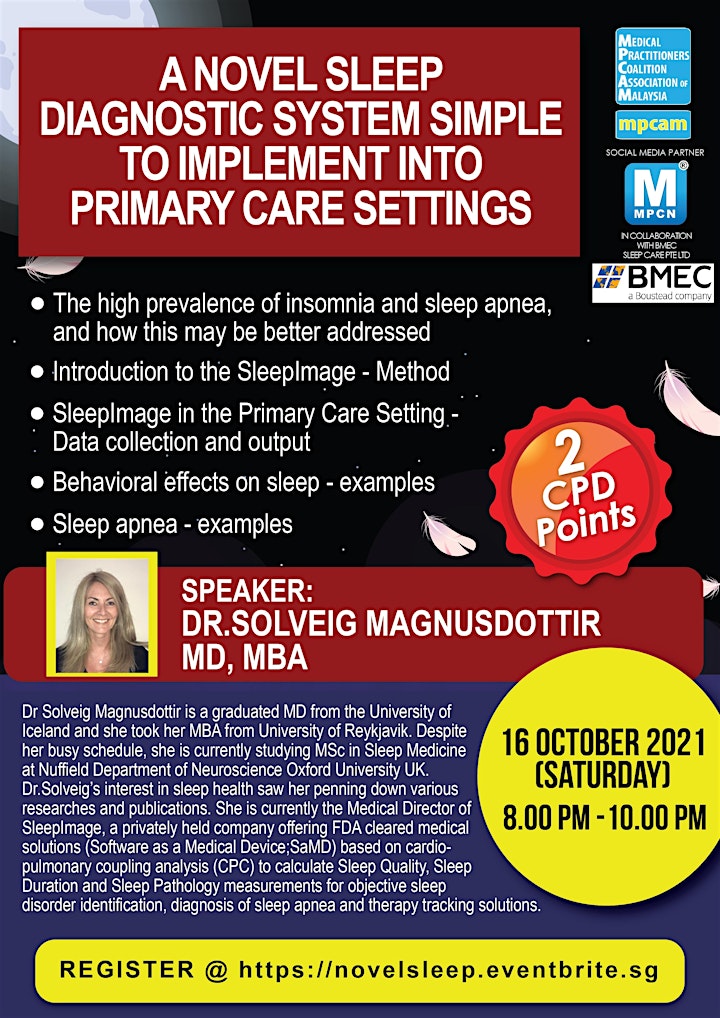 Organiser of A NOVEL SLEEP DIAGNOSTIC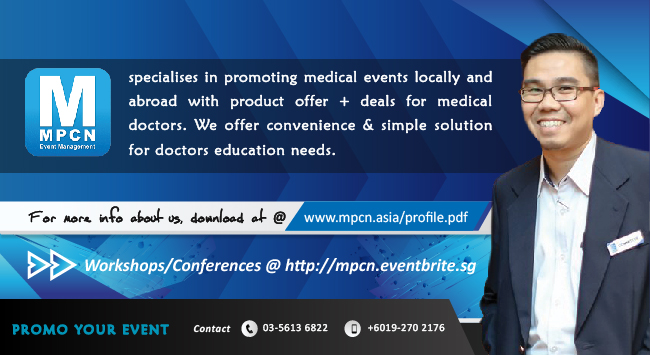 NOTICE AND CONSENT UNDER THE PERSONAL DATA PROTECTION ACT 2010
The Personal Data Protection Act 2010 (hereinafter referred to as "the Act"), which regulates the processing of personal data in commercial transactions, applies to MPCN. For the purposes of this Notice, the terms "personal data" and "processing" shall have the same meaning as prescribed in the Act.
This written notice serves to inform you that your personal data is being processed by us or on our behalf.
The personal data processed by us may include your name, NRIC No., passport number, telephone numbers, e-mail address, house address, gender, religion, race, nationality, occupation, marital status, birth state, monthly income, family income, spouse's NRIC NO., beneficiary name, beneficiary address, beneficiary telephone numbers provided by you in the documents as prescribed in paragraph 4 of this Notice and all other details relating thereto.
We are processing your personal data, including any additional information you may subsequently provide, for the following purposes ("Purposes"):
(a) registration for workshops/ conferences/ seminars;
(b) promotion for upcoming medical event;
such other purposes as may be related to the foregoing.
Your personal data is and will be collected from you and/or from the information you have provided in your emails, all application/registration forms, information that you may provide us from time to time, and from third parties such as banks and insurance companies.
You may access and request for updating and correction of your personal data and to contact us with any inquiries or complaints in respect of your personal data as follows:
Designation of the Contact Person :
Telephone No :
Facsimile No :
E-mail address
In accordance with the Act:
(a) We may charge a prescribed fee for processing your request for access or correction;
(b) We may refuse to comply with your request for access or correction to your personal data and if we refuse to comply with such request, we will inform you of our refusal and reason for our refusal.
Your personal data may be disclosed to parties such as but not limited to auditors, governmental departments and/or agencies, regulatory and/or statutory bodies, our related corporations, business partners, service providers, and any such third party requested or authorized by you for any of the above Purposes or any other purpose for which your personal data was to be disclosed at the time of its collection or any other purpose directly related to any of the above Purposes.
If you fail to supply to us the above personal data, we may not be able to process your personal data for any of the above Purposes.
Your personal data may be transferred to a place outside Malaysia.
You are responsible for ensuring that the personal data you provide us is accurate, complete and not misleading and that such personal data is kept up to date.
If you give us personal data or information about another person, you must first confirm that he/she has appointed you to act for him/her, to consent to the processing of his/her personal data and to receive on his/her behalf any data protection notices. We may request your assistance to procure the consent of such persons whose personal data is provided by you to us agree to do so. You shall indemnify us in the event we suffer any loss or damage as a result of your failure to comply with the same.
In the event of any inconsistency between the English version and the Bahasa Malaysia version of this notice, the English version shall prevail over the Bahasa Malaysia version.
Specific Consent for Direct Marketing
In relation to direct marketing please indicate your preference with a [ ✓ ] :-
☐ Yes, I /we expressly agree for MPCN to disclose, share and process my/our personal data with, MPCN's related corporations for the purposes of promoting MPCN, MPCN's related corporations' services, including providing me with information about MPCN's other services;
Or
☐ No, I /we do not expressly agree for MPCN to disclose, share and process my/our personal data with MPCN's related corporation for the purposes of promoting MPCN, MPCN's related corporation other services.
Please ensure that you have ticked either box before returning this Notice to us.
**if you have received this notice by post, please return this Notice to us within fourteen (14) days from the date of this Notice.
---
DECLARATION
To : MPCN
I hereby confirm receipt of your above Notice under the Personal Data Protection Act 2010 and consent to the processing of my personal data and sensitive personal data in accordance with your said Notice.
Name : ………………………………………….                                  NRIC : ………………………………………….
Signature : ………………………………………….                           Date : ………………………………………….