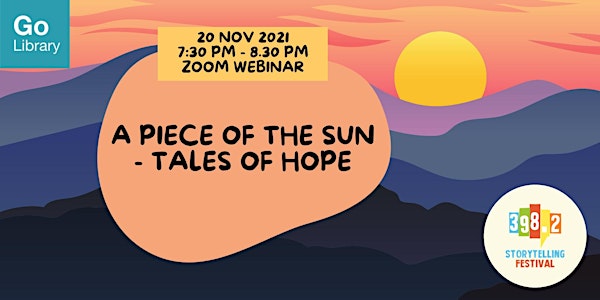 A Piece of Sun - Tales of Hope [398.2 Storytelling Festival 2021]
398.2 Storytelling Festival 2021 is back with exciting, new sessions! Be enchanted by these fascinating fairy tales and folktales.
About this event
398.2 Storytelling Festival 2021 is back with exciting, new sessions! Be enchanted by the fascinating stories as our talented storytellers whisk you and your family away on extraordinary adventures. Let the world of fairy tales and folktales mesmerize and enthral you!  
This festival is brought to you by Storytelling Association (Singapore) and Public Libraries Singapore.
This programme is suitable for children aged 4 to 9 years old.
Online Programme/Event Administration Information
This programme is conducted entirely online. You may access Zoom via the app or using a web browser.
Please ensure that you enter a valid email address as you will receive an email with the link to the online programme/event near the day of the programme/event.
The link of the programme should not be shared with others.
Do ensure that you have a strong internet connection. Using your mobile data is not recommended.
The National Library Board, Singapore (NLB) reserves the right in its absolute discretion to disqualify or refuse admission to any registrant without any reason and notice.
Theme: A Piece of the Sun (Tales of Hope)               
In a time of darkness, or when one is lost, what can guide us and show us the way? Perhaps, a tiny spark called hope.  Come listen to stories that that remind you that even in our darkest of hours, hope shines a bright, warm beacon.  
About the Storytellers
Edward Lysander Clark 
Edward, an 11 years-old and a third culture kid, will only tell stories that touch his heart and encourage mindfulness. Occasionally, he tells stories with his mummy. This story will be told with his mother, Alice.
Alice Bianchi-Clark 
Alice is a storyteller based in Singapore who tells stories in English, Italian and French. Her style is particularly suited to young audiences and involves elements of music, dance, art and craft.
Yohana Nandy
Yohana loves bringing the world of the stories to the listeners. She has been sharing a potpourri of stories to children and adults at schools, public libraries, festivals, etc.
Krupa Vinayagamoorthy 
Krupa is the consulting director of FEAST. She enjoys humorous stories and has been part of 398.2 Festival (2018, 2019 ,2020), Story Carnival (2017, 2018 ,2019) and NLB's Saturday Storytime.