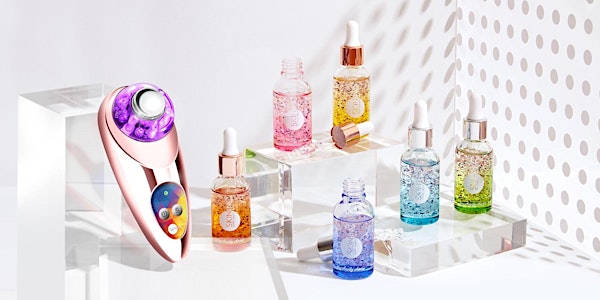 A Private Conversation with Sabrina Tan, Founder and CEO of Skin Inc.
Virtual interview organised by RCLG, WiB and Entrepreneurship Alumni Clubs
About this event
Rooted in Singapore and operating in 78 cities worldwide, the award winning brand Skin Inc. has become the industry gold standard for skinnovation and skintech. Since its launch in 2008, the brand has launched over 60 data driven formulations and tech products, including the world's first "Customized Serum Cocktail Bar". It sells in major retailers like Sephora, Nordstrom, Bergdorf Goodman, Urban Outfitters and also e-commerce giants like Amazon and Alibaba globally. The woman behind it all, rebooting beauty, is Sabrina Tan, Founder and CEO and resident girl boss.
Sabrina has been featured by The New York Times, The BBC, CNN, CNBC, Bustle, Huffington Post, Harper's Bazaar, and as a Hero Case Study for Google's Go Global campaign. As co-founder of GalbossAsia Symposium, she is also grooming the next vanguard of female disruptors and game-changers by providing a platform for the actualization of entrepreneurial dreams.
During our 60-minute conversation, Sabrina will be sharing her take on the beauty and luxury and retail sector followed by her journey as a successful woman tech entrepreneur both from a Singaporean and a global lens. Representatives from the RCLG, Women in Business and the Entrepreneurship alumni clubs will be interviewing her in three 15-minute segments followed by an audience Q&A. This is a rare opportunity to hear from one of the icons of the beauty industry who has turned the sector on its head using technology and creating a unique customised digital beauty brand. This is bound to be an enriching and inspiring conversation.
For more details about the event, please contact Masud Rahman MBA'17J at masudur.rahman@insead.edu.
Images by Skin Inc.
Pricing
FREE - Alumni members of the INSEAD Alumni Association (check your member mailer on 23 March for access code to free ticket)
S$30 - Alumni non-members of the INSEAD Alumni Association (Join us now and contact us alumniassoc.sg@insead.edu for access code)
Practical Details
Zoom link is embedded in the order confirmation of registered participants (check "additional information" at the bottom). It will also be sent a couple of hours prior to the event using e-mail provided on Eventbrite (make sure to type in correct e-mail address!).
Be sure to check your email prior to the event. In case you have not received the email with the Zoom link, try your SPAM or CLUTTER folders for emails from noreply@eventbrite.com and orders@eventbrite.com or check your order confirmation.
Join the INSEAD Alumni Association Singapore now and contact us for the promo code so you can enjoy all the benefits, including special prices on this event.
Note: our event tickets are non-refundable. However tickets are transferable and may be resold/given away to fellow INSEAD alumni. Contact us for more details. This event is limited to INSEAD alumni and a guest each. If you signed up erroneously, we will reimburse you, but deduct the admin processing fee. We hope you understand. Check out our blog here.