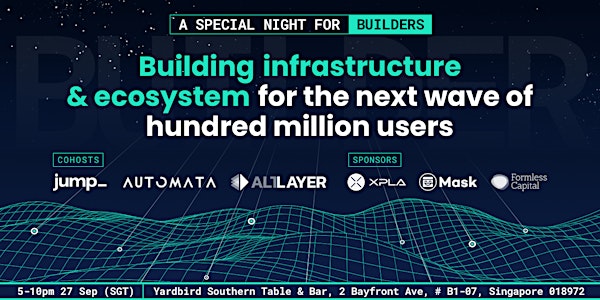 A special night for Builders
A special night for Builders [Private Event]
When and where
Location
Yardbird Southern Table and Bar 10 Bayfront Avenue #B1-07 Singapore, Singapore 018956 Singapore
About this event
This private drink is co-hosted by Jump, Automata Network and AltLayer, and sponsored by XPLA, Mask and Formless Capital.
We are building infrastructure & ecosystem for next wave of hundred million users and we are gathering together in Singapore to celebrate in conjunction with TOKEN2049.
Featured Guests
Agenda
17:00 - 18:00 | Registration & welcome drinks
18:00 - 19:00 | Panel Discussion: "Building infrastructure and ecosystem for the next wave of hundred million users" -- led by Tak (Jump), along with featured guests Yaoqi (AltLayer), Deli (Automata), Paul (XLPA), Cecilia (Mask, Formless Capital).
19:00 - 21:50 | Networking session, food and drinks
21:50 - 22:00 | Farewell
Location
Yardbird Southern Table & Bar, 2 Bayfront Ave, #B1-07, Singapore 018972
About Automata Network
Automata was founded in 2019 by leading computer scientists and Web3 industry veterans in security research. We are a decentralized middleware service protocol. Our mission is to make privacy and fairness accessible to all Web3 users, by providing and integrating with multi-chain solutions.
We offer protective features such as NFT fair mint, 2FA authentication, anti-front-running, anti-phishing, anonymous voting, unbiased randomness, and etc for dApps on multiple L1, L2s. Our vision is to make privacy & fairness the highest level of priority for ensuring a truly level playing field in Web3 space.
Website | Telegram | Discord | Twitter
About AltLayer
AltLayer is developing a novel application-tailored scaling solution that allows developers to launch highly scalable optimistic rollup-like execution layers. AltLayer can be seen as a system of individual optimistic rollups that derive security from an underlying Layer 1, with each rollup tailored to a specific application.
The system is designed for a multi-chain and a multi-VM world and hence will have factory support for EVM as well as WASM. Furthermore, each application-tailored execution layer will come with several application-specific tooling, products and applications in the form of add-ons to improve user and developer experience and therefore aims to provide a tailored product compared to the one-size-fits-all offering by existing appchains.
Website | Telegram | Discord | Twitter
About Jump Crypto
Jump Crypto is committed to building and standing up critical infrastructure needed to catalyze the growth of the crypto ecosystem. They are builders, partners, and traders who take a long-term view of crypto's prospects and operate to unlock the full potential of open, community-driven networks. Since its inception as a skunkworks intern project in late 2015, Jump Crypto has grown into a dynamic and seasoned team of high performing players across a range of functions. Today, Jump Crypto plays an important role in the development of some of the largest and most innovative crypto communities. Jump Crypto is the crypto division of Jump Trading Group, a research-driven quantitative trading firm that's one of the largest traders by volume across traditional asset classes.
About Formless Capital
Formless Capital, is a Crypto-Native, Cross-Border Capital that provides hands-on support to the best and innovated teams. Cecilia has invested in & advised many top-tier projects including crypto native protocols as well as Web2 companies that want to enter the Web3 area. For example: Mythical games, Concept Art House, Matter labs, Gunzilla, Highstreet, splinterlands, c2x, Thetan Arena, Community Games, matter-labs, Altered state machine etc.
About Mask Network
Mask Network aims to bridge the Web2 users to Web3. By bringing the amazing decentralized application ecosystem onto traditional social networks, the Mask extension provides a decentralized option for features that Web2 users are familiar with. Users could enjoy secure, decentralized social messaging, payment networks, file storage, and file sharing without leaving the mainstream social media networks. Hence, users could get a glimpse of the magic of the Web3 world in an easy and effortless way. We, Mask Network, are strong believers in the ownership economy: People should own what they produce - their assets, their personal data, and the virtual space they choose to contribute to. And we hereby invite everyone who sees this message to join us in the course of regaining control of our personal data.
For any enquiries or support, kindly email events@ata.network