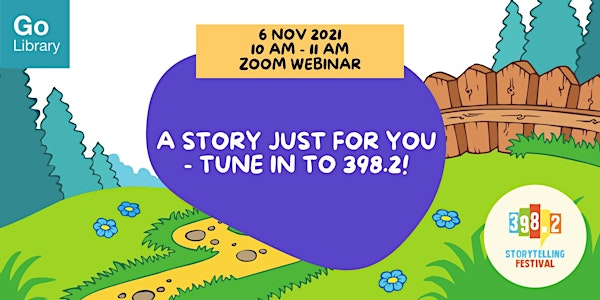 A Story Just for You - Tune in to 398.2 Storytelling Festival 2021!
398.2 Storytelling Festival 2021 is back with exciting, new sessions! Be enchanted by these fascinating fairy tales and folktales.
About this event
About the Programme/Event
398.2 Storytelling Festival 2021 is back with exciting, new sessions! Be enchanted by the fascinating stories as our talented storytellers whisk you and your family away on extraordinary adventures. Let the world of fairy tales and folktales mesmerize and enthral you!  
This festival is brought to you by Storytelling Association (Singapore) and Public Libraries Singapore.
This programme is suitable for children aged 4 to 9 years old.
Please note that this programme will be livestreamed to Public Libraries Singapore Facebook from Zoom.
Theme: A Story Just For You, Tune in to 398.2! 
The 7th annual 398.2 Storytelling Festival is now underway in the capable hands of Chef Marco and his new assistant, Singapore's one and only talking dragon. On the menu with them today is an array of engaging storytellers with three captivating stories guaranteed to delight the audience! Be on the lookout for other wonderful sessions the 398.2 Storytelling Festival will be bringing to you, both online and at the libraries, for children and adults alike!  
About the Storytellers
Juriah Atan 
Juriah is a storyteller from Singapore. As an educator and workshop facilitator, she uses stories to engage participants. She has been telling stories to children and adults since 2006.
Wong Swee Yean 
Swee Yean is a storyteller who tells stories for all ages--(ranging from 3 to 93!) . She was formerly a school teacher and loves to take people on a journey of imagination to see the mind's eye and travel to new places.
Anna Ong  
Anna is the host and creator of What's Your Story Slam. She believes in the power of personal narratives to connect, engage and inspire.
About the Hosts
Roger Jenkins 
Roger founded the 398.2 Festival in 2015. He is delighted to continue as a performer, sharing stories in his conversational and often comical style.
Priti Modyiyer 
Priti is an enthusiastic and engaging storyteller. She tells stories in her workshops, libraries, schools and at storytelling festivals. She loves that stories create joy and healing as well as inspire change.
Online Programme/Event Administrative Information
This programme is conducted entirely online. You may access Zoom via the app or using a web browser.
Please ensure that you enter a valid email address as you will receive an email with the link to the online programme/event near the day of the programme/event.
The link of the programme should not be shared with others.
Do ensure that you have a strong internet connection. Using your mobile data is not recommended.
The National Library Board, Singapore (NLB) reserves the right in its absolute discretion to disqualify or refuse admission to any registrant without any reason and notice.