Description
Welcome to Singapore's first independent community museum
Do you know that the first HDB flats, first branch library and polyclinic are located in Queenstown?
Take a stroll around our community museum and take part in our weekly community-centric participatory progammes. The tour around Museum@My Queenstown features the intriguing people, places and stories of Singapore's first satellite town.
Participants will also hear first-hand accounts of the charming neighbourhood from long time residents in Tanglin Halt.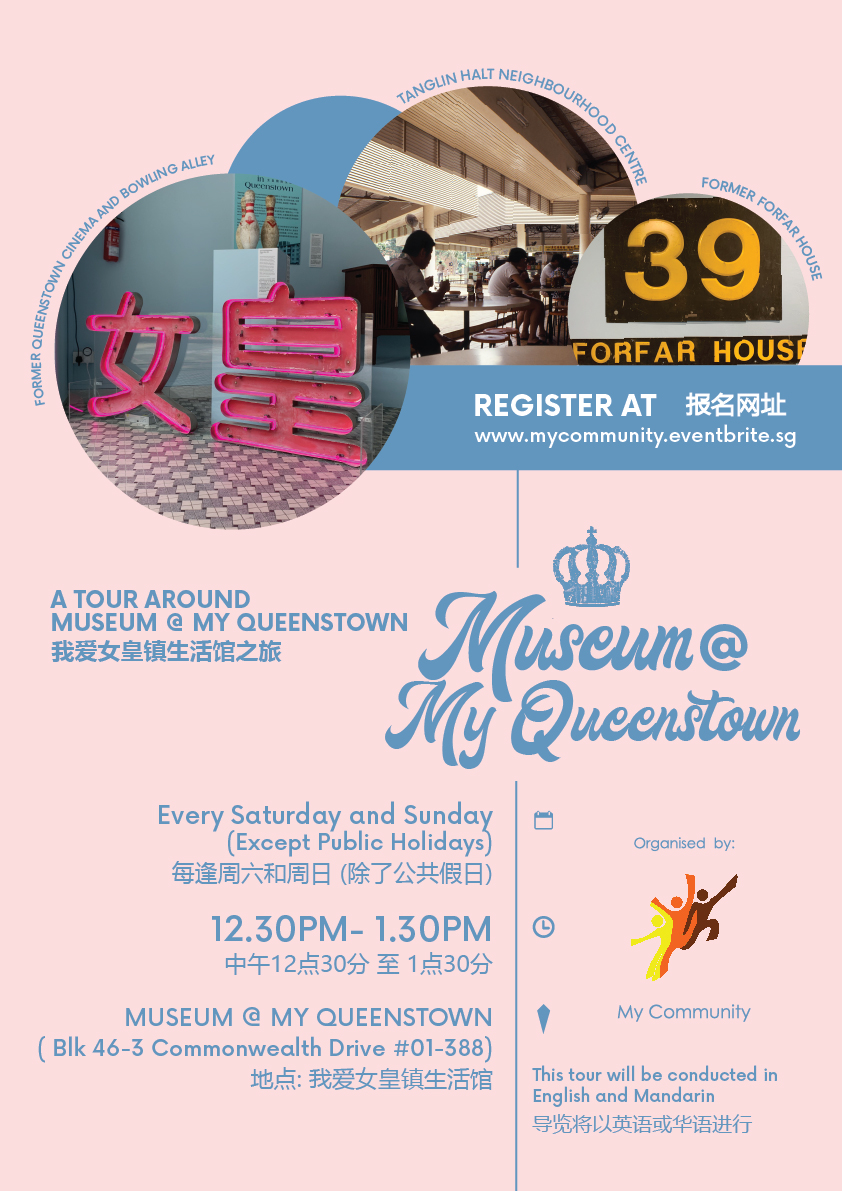 Who should come?
Everyone is welcome to participate in this tour!
Duration & Meeting Place
Approximate Duration: 1 hour (12.30pm to 1.30pm)
Language: English
Address: Museum@My Queenstown (Block 46-3 Commonwealth Drive 01-388 or opposite Alexandra Neighbourhood Police Post
Please arrive at Museum@My Queenstown 10 minutes before 12.30pm. The tour guides will be wearing pink crown T-shirts with a conspicuous "Kaki" at the back of the shirt.
The tour will proceed rain or shine. We have never cancelled our tours in the past 10 years, except for LKY.
The tour will start and end at the museum, a stone's throw from Commonwealth MRT Station.
What to bring?
Wear comfortable clothes and suitable shoes for a 1 hour long walk
Bring along EZ-Link card, a bottle of water and an umbrella
Asthmatic individuals are encouraged to bring their inhaler.
Disclaimer
By agreeing to participate in the tour, every participant will be responsible for any injury, loss of damage due to careIessness of other actions on his/her part or that of children under his/her charge.
It is compulsory for a parent/guardian to accompany any child of or under the age of 12. children under his/her charge.
For updates:
Visit www.facebook.com/myqueenstown or www.mycommunity.org.sg for updates