Multiple Dates
A Two-Day Course on Optimizing Compressed Air System for Energy Efficiency
About this Event
2 Days Training . HRDF Claimable . 8 CDP by ST
The objectives of this course is to educate and provide understanding of compressed air system; the various air compressors, air storage system, air treatment system, as well as the efficient design consideration and system optimization of the compressed air system. The system optimization approach provides an overall energy saving besides ensuring the compressed air system performance and reliability. Efficient and reliable compressed air system reduces energy consumption and downtime besides ensuring smooth production and operation in the industrial plants.
At the end of the course, we hope plant engineers and facility users will be able to optimize the existing compressed air system and reduce the energy consumption hence the cost of energy.
Learning Outcomes:
✅ Compressed air system performance improvement.
✅ Types of air compressors and their applications.
✅ Air dryers, filters, piping and energy related aspects.
✅ Basic design and the effect of system components on compressed air operation.
✅ System optimization approach to improve overall compressed air system energy efficiency.
✅ The effect of leakage, artificial demand and inappropriate use on system efficiency.
✅ Good practices in maintenance in keeping system reliability.
Course Outlines:
✅ Basic of Compressed Air System.
✅ Energy Usage and Efficiency Comparison.
✅ Compressed Air System Component.
✅ Sizing and Type of Control Method
✅ Compressed Air System Design
✅ Optimizing of Compressed Air System.
✅ Demand Side Management
✅ Best Practices in Operation and Maintenance.
Course Benefits:
✅ Reduce your energy costs
✅ Improve the energy efficiency of the mechanical equipment in your facilities
✅ Gain professional recognition
✅ Prepare your organisation for setting up energy management system
FAQs
How can I contact the organizer with any questions or get the full workshop outline?
Mr Axel Looi
Phone: +6016 716 7248 (Whatsapp)
Email: training.prospect@utm.my
What's the refund policy?
There is no refund, but you may get another person to replace. Get in touch with us to find out more.
Is this workshop HRDF claimable?
Yes, it is claimable.
Can this workshop eligible to claim CPD points?
Yes, it depends on the course. Get in touch with us to find out more.
When do I need to make a payment?
You will need to make the relevant payment at least 7 working days before the training in order for you to receive the receipt which you will need if you would like to claim from HRDF.
Can I make payment using Local Government Order (L.0.)?
Yes, payment is accepted using LO.
Any In-house Training available for this course?
Yes, kindly contact us for more arrangement on this.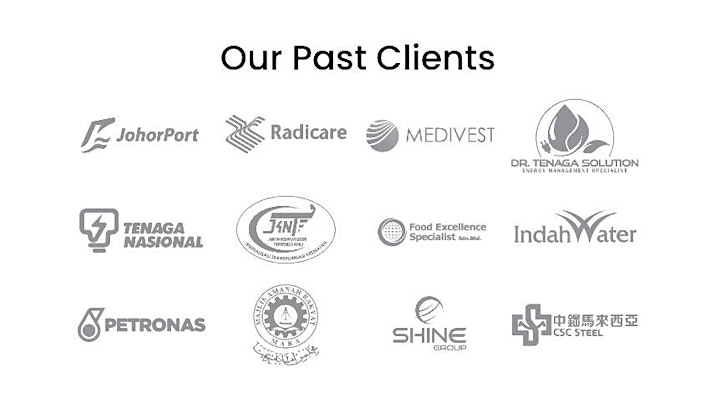 Quick Links:
Registration Online
Course Info
Brochure Download