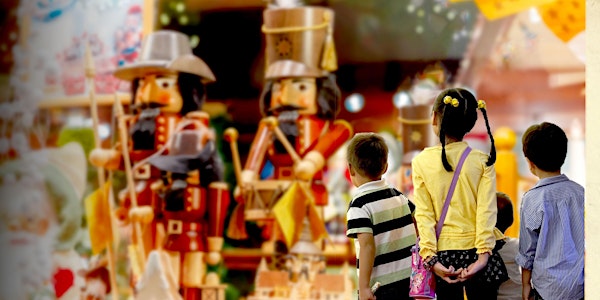 Multiple dates
A Wonderland Of Toys
Date and time
Sat, 27 May 2017 10:00 - Sun, 4 Jun 2017 17:30 +08
Location
ION Art Gallery ION ORCHARD Level 4 2 Orchard Turn Singapore, 238801 Singapore
Description
A Wonderland of Toys
Welcome to a World
One filled with toys
So magical and special
For little girls and boys
Come hang out with a bunch of smiling tin soldiers, the plushest teddy bears, deft-defying airplanes, a cute choo choo train and many others in a colourful, wonderful, magical wonderland of TOYS! Once again, the beautiful ION Art Gallery will be decked out in a mishmash of colour and excitement as you build the moment with imaginative creativity and have amazing fun!
Specially catered for children aged 4 to 8, this experiential and immersive event will kick off with a fun and engaging theatrical performance as you meet the owner of the toy store. After that, your child will participate and enjoy being a part of not one, but three fun workshops – a drama workshop where the children will learn how to use their bodies to tell stories and create different characters, a visual arts workshop where they will learn how to make their own toy costumes, and a singing and dancing workshop where they will learn a simple song and dance piece.
And at the end, the parents will be treated to a lovely parade of marching and performing toy-children as they take you around their incredible wonderland. Last but not least, sit back, relax and be surprised as the children let their confident stars shine as they perform their song and dance number in front of a live audience of family and friends.
---
For Children 4 to 8 years
May 27 (Saturday) to June 4 (Sunday)
10am to 12:30pm or 3pm to 5:30pm
For More Information, please call ACT 3 International at 6735 9986 or email us at act3int@act3international.com.sg
About the organiser
ACT 3 International is Singapore's leading arts company that believes in promoting the Arts to children. Believing in an all-round learning environment when it comes to children, ACT 3 International covers all aspects of Drama and Theatre.
ACT 3 International organises ACT 3i Festival for Children, a celebration of Art and Theatre specially catered for the very young.  This upcoming second instalment will present great quality Children's Theatre performances that will inspire, surprise and fascinate young children and push them to dream, feel, observe and make sense of the world.