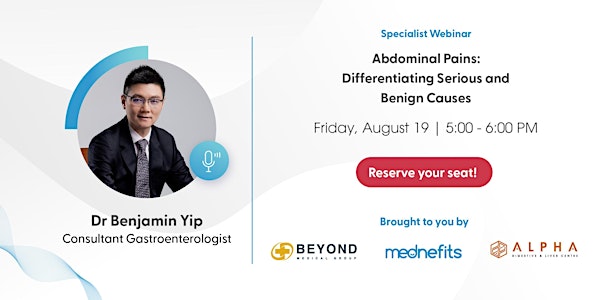 Abdominal Pains: Differentiating Serious and Benign Causes
Abdominal pain usually points to gastrointestinal conditions — it may be your run-of-the-mill tummy ache, or it could be something serious.
About this event
Tune in on Friday, 19 August 2022 at 5:00 - 6:00 PM via this Zoom Link:
https://us02web.zoom.us/j/89056548593?pwd=ZGpTRTNaRHJEZzAvWWkwQS9NbVhFZz09
Through this engaging webinar, Consultant Gastroenterologist Dr Benjamin Yip will be giving a concise sharing on how to identify the cause of your abdominal pain, when it is serious and when it is benign, as well as a detailed overview of four common gastrointestinal conditions:
- Irritable Bowel Syndrome (IBS)
- Functional Dyspepsia
- Gastric Cancer
- Colorectal Cancer
Dr Yip will also share some lifestyle tips to help you avoid developing gastrointestinal issues.
We look forward to seeing you!
Mednefits Customer Success