ACADEMY XCHANGE - Co-Development, Mentoring and Advanced Techniques for Peer Group Learning with Don Rapley

Tuesday, May 6, 2014 from 9:00 AM to 4:00 PM (Singapore Standard Time Singapore Time)
Event Details
Co-Development, Mentoring and Advanced
Techniques for Peer Group Learning
In the morning…
 Co-development (or Peer coaching) can be a great way to work through whatever is troubling you at work, bounce ideas off a trusted thinking partner, and overcome isolation on the job. 
 The benefits of this process is quite transformational as what emerges in the process is a platform where two or more colleagues work together to reflect on current practices; expand, refine, and build new skills, share ideas; teach one another; or solve problems at the workplace and for their teams.
  As a result, organizational relationships are improved and opportunities to work positively with others and self often leads to greater employee involvement, (especially cross functionally and within teams) and happier employees with a higher sense of organizational purpose.
 With so many benefits, it is a wonder why it is not practiced regularly. The challenge is that it is a structured process and needs to be implemented correctly if it is to achieve the benefits it is meant to.
 In this session, participants will get to experience, 'first hand' the power of the co-development (peer coaching) process and learn how to:
  Apply a structured peer coaching approach (co-development) to a specific situation, problem or challenging issue
 

Practice questioning & listening skills

 

Build bonds and trust in Peer Groups

 

Identify concrete ways to transfer learning to improve coaching skills




And.....

 

Help peers group appropriate an approach that will help them work effectively together
 In the afternoon…
 For an organization to function successfully, people at all levels need to have informal networks, sometimes outside their direct teams, that can provide them with new perspectives on the challenges they are facing and help them develop.
 That's exactly the support that Mentoring can provide.
 We believe Mentoring can not only help employees to identify and achieve their professional goals but also to improve their performance through a better understanding of how to successfully navigate the complexities of the business.
 But the notion of Mentoring is often misunderstood…
 What is mentoring:
Is it coaching?

Is mentoring remedial or only for juniors? 

Should mentors only be highly experienced and seasoned managers? 
 These are all very real questions and we will share our experiences to help you to set up the right Mentoring                  Program for you that would include:
What is Mentoring?

The framework of the Mentor /Mentee relationship 

Key Mentoring Skills

 
AGENDA
9:00 AM

Welcome & Introductions 

Icebreaker 

Objectives, Expectations and Program for the day 

Co Development - an innovative way to develop dialogue and cooperation across teams.

Workshops to understand the Co - Development process and practice facilitation

12:30 PM 

L U N C H 

01:30 PM 

Energizer

How Mentoring can help to bring new perpspectives to managers facing challenging situations

Workshops and Discussion to Explore:

What is Mentoring?

The framework of the Mentor & Mentee  relationship

Key Mentoring Skills

Open discussion

Learning Review

04:00 PM


End of Programme 
---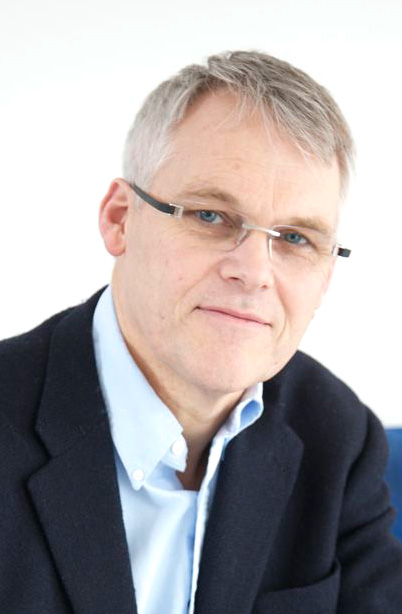 About our Guest Speaker - Don Rapley

Don has a wide range of leadership, training and coaching experience in multicultural and international environments. As a consultant since 2002, he has worked extensively in Europe, USA, Asia and the Middle East, 25 countries in total. He coaches, designs and delivers leadership, personal impact and management development programs for major international companies, facilitating both in English and French.
Don's recent experience spreads across a wide range of sectors internationally: Oil and Gas, Healthcare, IT services, Travel, Banking, Audit & Consulting, Food & Drink, Retail, Aeronautics and Space Engineering. The programs that he facilitates are not only for very large global organizations such as Total, Technip, GE Healthcare, Air France, SociétéGénérale, BNP and Safran, but also for medium and small sized ones.
Join us 
and meet with Don Rapley and your peers from other organizations at The American Club Singapore!
* This event is a private event for a selected group of people
Please visit our event website: www.creativeleadership2014.com. You may also consult us @ 6738 9917 or e-mail us @ leadersnetwork@cli-asia.com to know more. 
When & Where

CLIA Heritage Lounge
62 Koon Seng Road
Singapore, Singapore 426997
Singapore

Tuesday, May 6, 2014 from 9:00 AM to 4:00 PM (Singapore Standard Time Singapore Time)
Add to my calendar
Organizer

CLIA is a Learning & Development training and consultancy business using primarily Serious Play, Arts and Drama within innovative, action-learning methodologies.
 CLIA Purpose: 
"We bring about Serious Play & Joyful Learning into adult training and organisation Learning & Developmen".
CLIA mission: 
"CLIA's mission is to Activate Behaviour Change Through Creative Engagement and Human Integration"
 CLIA vision:
In CLIA vision, we focus on 3 playing fields:
Youth:

Discovering your inner career compass for satisfying life and work 

Enterprise

: Values based leadership to improve employee engagement, innovation and strengths-based diversity 

The larger community

: Improving relationships in life, business and the community to achieve longer-lasting prosperity
CLIA BUSINESS BUILDERS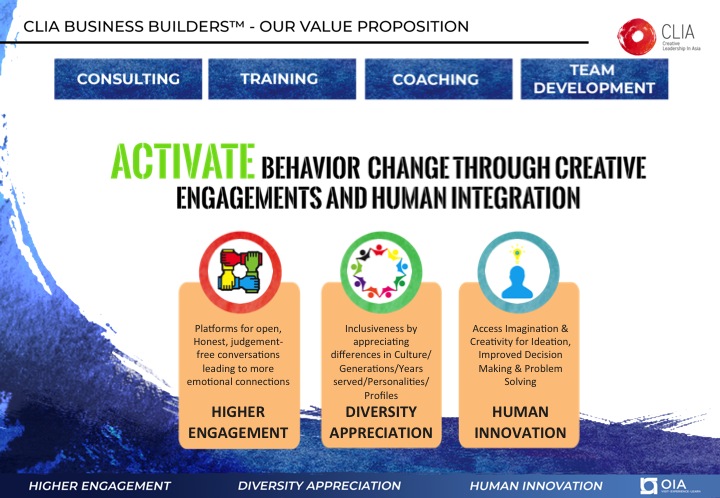 CLIA METHODOLOGIES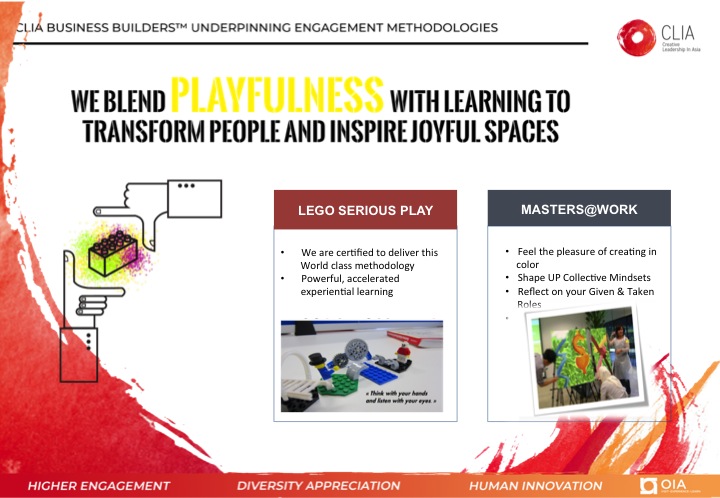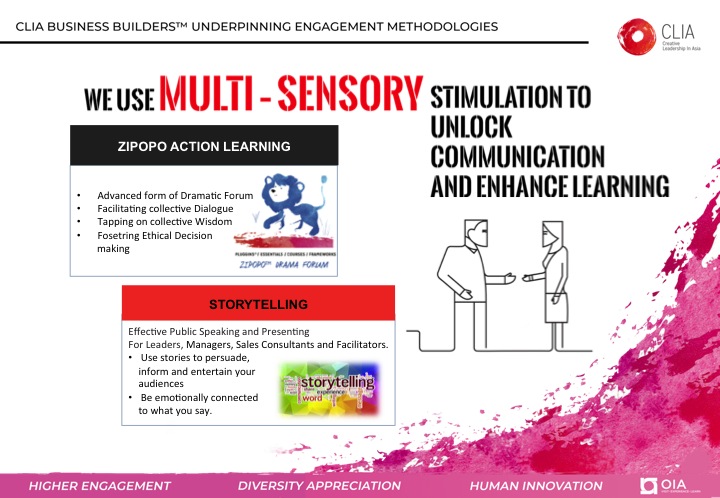 CLIA TRAINING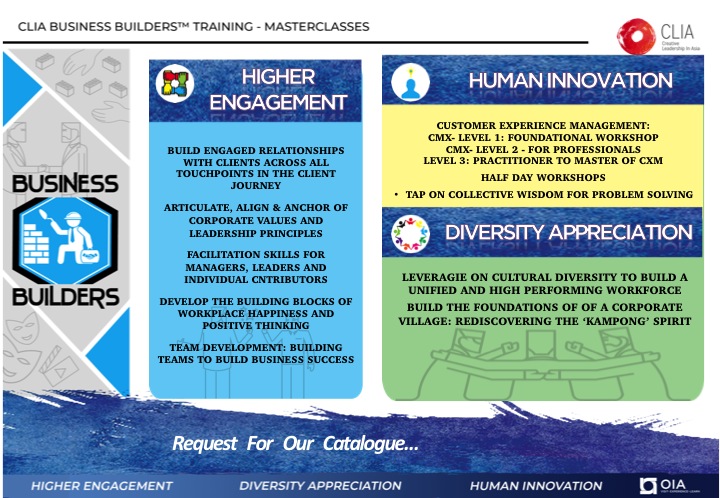 Websites
http://www.creativeleadershipinasia.com
http://www.outdoorinasia.com