A*Career Services and A*PECSS Career Development Symposium Series: Career M...
Description
This event in jointly organised by A*Career Services (A*CS) & A*STAR Postdoc and Early Career Scientist Society (A*PECSS).

How does an early career researcher develop his/her career? What resources would one need to manage one's career? We have invited three esteemed current and former scientists to share their personal experiences on career development and management. Their sharing would include aspects about their career history track, the resources and pathways that enable them to reach their current positions and how they balance career with their personal goals/family life.
Lunch will be provided during the networking session after the panel discussion.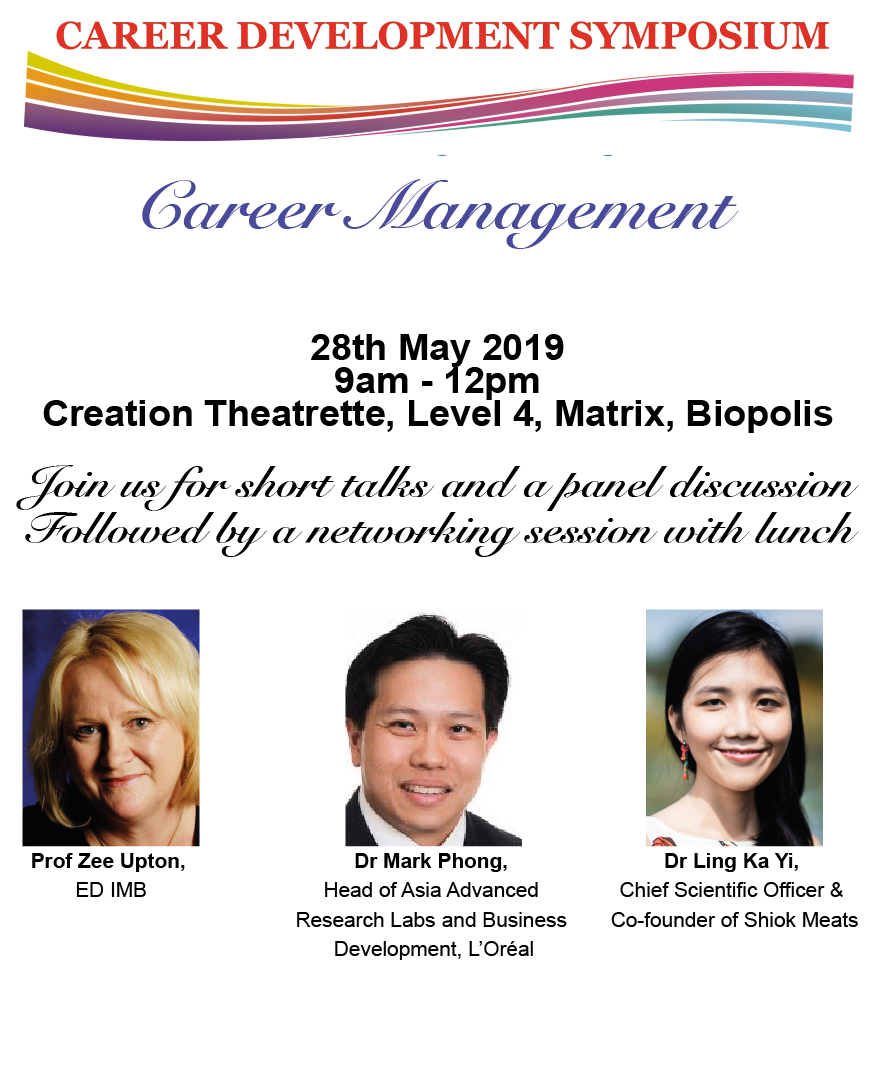 Dr Ling Ka Yi, Chief Scientific Officer & Co-founder of Shiok Meats
Dr Ling Ka Yi is a developmental biologist with over 10 years expertise in tracing and studying stem cells during development. Ka Yi received the prestigious A*STAR's National Science Scholarship and graduated with a Bachelor's and PhD from the University of Wisconsin-Madison. She worked closely with stem cell and developmental biology experts like James Thomson, Davor Solter and Barbara Knowles. Following graduation, Ka Yi did her postdoc at IMCB, A*STAR. She is an active science communicator since her days in Madison and frequently takes part in Singapore's science outreach events. She also did a podcast called "Science Now" and "Life after PhD" with fellow scholar. Ka Yi is passionate about marrying her experience in biotech research and her love for food to produce sustainable food products. In August 2018, she co-founded a cell-based crustaceans startup called Shiok Meats, along with Dr Sandhya Sriram.
Dr Mark Phong, Head of Asia Advanced Research Labs and Business Development, L'Oréal
Mark Phong has been with L'Oréal for the past 6.5 years. Currently, Mark is the Director of Advanced Research Labs and Business Development in Asia. The L'Oréal Asia Advanced Research labs are located in China, India, Japan, Korea and Singapore where they work on generation of new knowledge and creation of innovative technologies for hair and skin applications within the L'Oréal portfolio. He also heads the Business Development and Scientific Foresight teams in Asia. This involves creation and negotiation of all business models related to external innovation for L'Oréal R&I. In addition, this includes identification and sourcing new opportunities with small & medium size enterprises and startups; offering the opportunity to bring new innovation and technologies into the L'Oréal pipeline with fast time to market. Prior to L'Oreal, Mark had extensive experience in the biotechnology and pharmaceutical industry, having worked as the VP of R&D at Curiox Biosystems and as a Group Leader with Eli Lilly & Co at the Lilly Singapore Center for Drug Discovery. Mark graduated with a double degree in Bioengineering and Economics from the University of Pennsylvania, followed by a PhD in Pharmacology from the National University of Singapore. He also received his MBA from INSEAD (SG) in 2012.
Prof Zee Upton, ED IMB
Zee Upton joined IMB as a Research Director in July 2015 to establish, along with David Leavesley, the Tissue Technologies Group in the IMB. She is now the ED of IMB, as well as Leader of the Skin Integrity, Repair and Regeneration Theme in SRIS. She is a biochemist by training, a tissue engineer, an inventor and entrepreneur. Zee is internationally renowned for her research in molecular, biochemical and cellular aspects related to growth factors, extracellular matrix proteins and tissue repair. She believes that innovation commonly arises in the "white spaces" between disciplines. Prior to relocating to Singapore, she was a senior research leader and research manager at the Queensland University of Technology (QUT) in Brisbane, Australia, where she held various roles, including Assistant Dean (Research) in the Faculty of Health. She also established the Tissue Repair and Regeneration Program at QUT. At IMB/SRIS, she has built a similar highly inter-disciplinary consortium of researchers focussed on chronic wounds through the establishment of the pan-Singapore Wound Care Innovation for the Tropics IAF-PP Programme.