Local Comics & Creators • Marvel & DC cheap back issues • Blank cover commissions • Live Caricaturing & Art demonstrations!
About this Event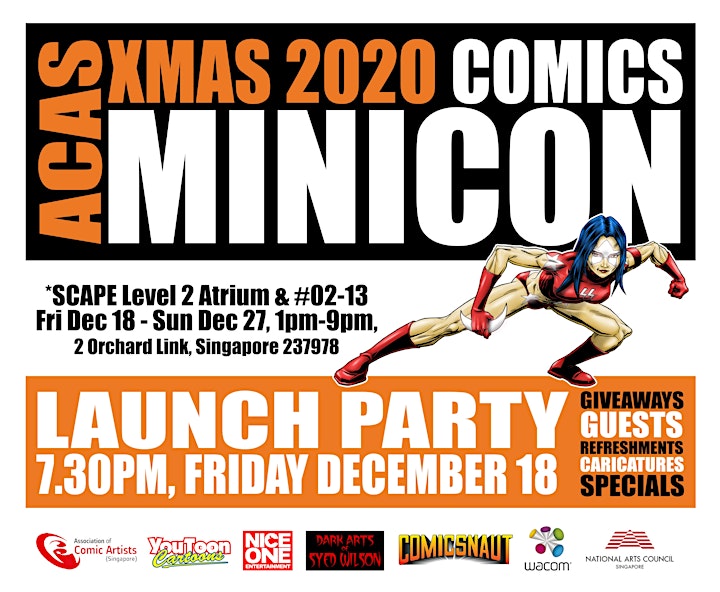 The Association of Comic Artists (Singapore) (ACAS) is so proud to be organising this momentous event to round up the year.
ACAS XMAS 2020 COMICS MINICON @ SCAPE 10-DAY EVENT features local SG talent like Facebook sensation: Dark Arts of Syed Wilson – Illustrated True Ghost Stories!
Plus Marvel & DC cheap back issues for as low as 20 cents!
Free digital drawing experiences on Wacom tech, with perfect seasonal gifts in live caricaturing and fanart commissions!
Don't miss it!
FANTASTIC HAPPENINGS
Friday, 18 Dec, 7.30pm - LAUNCH PARTY!
FREE GIVEAWAYS, SPECIAL GUESTS, LIGHT REFRESHMENTS, LIVE CARICATURES & MORE!
Saturday, 19 Dec, 5pm - MEET META!
Engage in conversation and find out what the life of an SG Pro Wrestler is like!
Sunday, 20 Dec, from 3pm to 4pm - LIVE DEMONSTRATIONS!
Watch as experienced Artists digitally draw on Wacom technology & Photoshop, LIVE!
Sunday, 20 Dec, 4pm - ANDRE FROIS ANSWERS ALL!
Pro Wrestling is scripted! What could possibly go wrong? ANDRE ANSWERS ALL!
Monday, 21 Dec, full day - YOUTOON CARTOONS DIGITAL CARICATURE SPECIALS!
Send us a photo of yourself to be illustrated in a Caricature and collect it 24 hours later at the MINICON!
Wednesday, 23 Dec, 1pm to 2pm - COVID COMIC RELIEF!
Huge Comics Sale down to 20-Cents per Comic!
Thursday, 24 Dec, 7pm to 9pm - YOUTOON CARTOONS CHRISTMAS CARICATURE SPECIALS!
10% Discount on YOUTOON CARTOONS Live Caricatures!
Thursday, 24 Dec, 7.30pm - MEET & GREET WITH SYED WILSON.
Calling all Dark-Fans of the Dark Arts of Syed Wilson in this Meet & Greet session with the creator of your favourite illustrated True Ghost Stories!
Friday, 25 Dec, 7.30pm - CHRISTMAS CREEP-OUT!
The Creepout SG Crew will be sharing their experiences and not to mention some actual footages and pics from their paranormal encounters!
Sunday, 27 Dec, 3.00pm - ROCK THE NAM' WITH BOON!
A graphic novel trilogy inspired by real Singaporean bands that toured the Vietnam War. Complete with 60s rock tracks, this is one special Show & Tell - QnA - Signing session!
For enquiries about the event, you may DM ACAS on Instagram or Facebook! Or, drop us an E-mail at events@acas.org.sg.